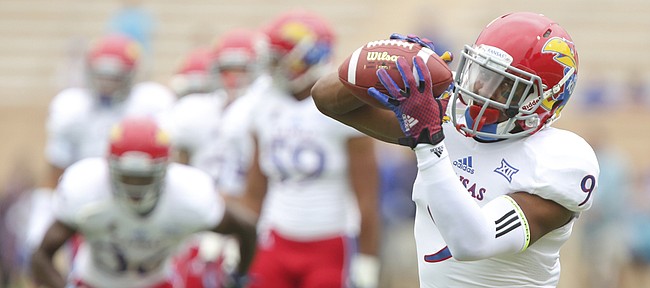 Entering the football season, first-year Kansas University safety Fish Smithson knew he had his work cut out for him to break into a secondary that returned five starters from a season ago and had high hopes for becoming one of the top units in the Big 12.
It never fazed him.
Given all the 5-foot-11, 190-pound junior-college transfer had been through in his life to get to this point, it's hard to imagine anything would.
The story begins a half a dozen years ago in Baltimore, where Fish, one of eight children of Lori and Tony Smithson, first started to understand the reality of the harsh environment in which he was being raised.
"Baltimore's kind of like a different world," Fish said. "There's not really too many things to do out there besides get in trouble or get involved in sports. It's a rough place to live. It's really rough."
As Fish tried to keep his mind focused on academics, family and football, several friends and acquaintances around him found trouble. For some it was drugs. For others it was crime. And for a few more it was a combination of the two and a laziness and apathy toward life that quickly created a dead-end existence.
Enter Fish's brother Shaky, a standout athlete at Baltimore's Frederick Douglass High, who, after a stint at East Los Angeles Community College, had earned a scholarship to the University of Utah in 2009. Thrilled for his own chance to get out of Baltimore, Shaky was not about to leave his younger brother behind. So he took him with him.
"It wasn't an overnight decision," Fish recalled. "And it was bigger than football. I remember everything about it. My freshman year in Baltimore, I didn't really have a good year, not football-wise, just school and life and personally."
With the blessing of their mother, Shaky, now 27, embarked upon a yearlong battle to gain legal custody of Fish. By the time Fish turned 14, everything was in place, and the young boy from Baltimore packed up his belongings and headed to Salt Lake City to begin a different life.
Different world
Fish said the transition was a culture shock like he'd only seen play out in movies.
"Honestly, it didn't hit me then," Fish said. "I was too young. Now, when I look back on it, I really understand what it was all about and what he did for me."
Shaky tells a different story.
Both remember sharing chores, simultaneous study sessions, shopping for groceries together and making certain that work and other responsibilities were taken care of before play.
"I was good at breakfast, so I cooked breakfast, and he cooked dinner," Fish recalled with a grin. "It was kind of tough at times, but we got through it."
Shaky said their situation rarely resembled a parent-child relationship, even though Fish said he respected Shaky as a father figure.

"It was unique," Shaky said. "But it helped me become a man at an early age. I think he helped me more than I helped him."
So rare was their situation that the Smithson brothers had to petition the NCAA for Shaky to be allowed to take Fish with him when the Utes went on road trips. Team plane. Team hotel. Team meal. Fish had a spot at each.
"Everywhere I went, he was there," Shaky said.
'He was one of us'
Being responsible for a high-school-aged younger brother also took opportunities away from Shaky. When teammates and friends hit the party scene, Shaky stayed home to hang with Fish. When those same guys were in tutoring sessions or doing extra work in the film room, Shaky was watching Fish compete for nearby Highland High. Frequently, though, Shaky's closest teammates joined him.
"Man, they loved him," Shaky said. "I have a lot of former teammates and friends who are in the NFL now that still ask about him. He was one of us. He was their little brother just as much as he was mine."
Fish smiles when talking about the old days and Shaky's former teammates. It didn't hurt that, shortly after Shaky graduated from Utah and signed a free-agent contract with the Green Bay Packers, some of his older brother's teammates became NFL stars. This helped Fish in ways he would've never expected.
Instead of just taking instructions from his high school coaches and learning a few tips from his brother, Fish now was talking shop with guys like former Packers defensive backs Charles Woodson and Nick Collins and competing in one-on-one drills with Baltimore Ravens star Torrey Smith and former Green Bay tight end Jermichael Finley.
"I feel as though God put me here to sacrifice for my brothers and sisters," Shaky said. "I feel I was in the NFL for a couple of years just to let my brother know it's possible. And now he's in a situation to make it happen for himself. When he's up at Kansas making the plays he makes, that's based off of the time he spent with us."
'He was my motivation'
While Shaky and Fish built a new life more than 2,000 miles west of their hometown, their hearts never left Baltimore. Both remain proud to call the city home, and Fish said he regularly talked with his family during his days in Utah.
"At least three or four times a day," he said when asked about his conversations with Lori. "I'd be like, 'Ma, I'm fine. I'm fine.' I still felt her there. It was just hard because sometimes I would get homesick, and I would think about why I did this, and why couldn't I just go back home? It was hard to see the big picture."
Shaky has been to all but a couple of KU's games already, and as he follows his brother's blossoming career, he can't help but feel proud of what the two accomplished together.

"If we never moved out there, I just feel he'd be lost, just as I'd be lost as well," Shaky said of that time in Utah. "He was my motivation to keep going and it worked hand-in-hand."
Asked if he thought he'd be playing at Kansas, let alone alive, without his brother's influence, Fish paused and gave an answer as hard and real as the city from which he came.
"No, I wouldn't," said the junior safety who ranks fifth on the KU defense with 26 tackles and a pass break-up through seven games. "Not too long ago, we were just talking, and I thanked him for everything he had done for me. He said that meant a lot coming from me. He just told me over and over, everything you want, you can have it."