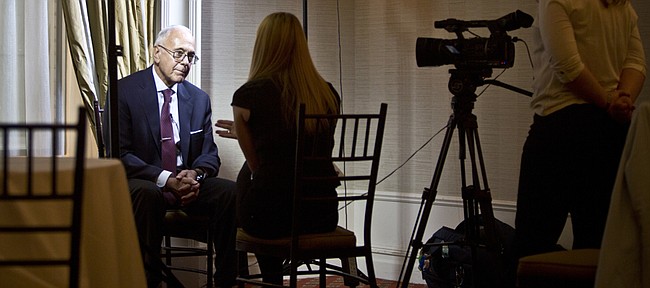 Hall of Fame basketball coach Larry Brown of SMU, the only coach to win both an NCAA national championship (Kansas, 1988) and an NBA championship (Detroit, 2004), said Wednesday he's against shortening the college shot clock from 35 seconds to the pro and international game's 24.
"I think (coaches who want 24 seconds) are crazy," Brown said at Wednesday's American Athletic Conference Media Day in New York as quoted by Nola.com.
"When I was a young coach with coach (Dean) Smith at North Carolina, he wanted a 10-second clock — until he got to the fourth quarter. Our game is ugly right now, in my mind. Too many young kids are playing. Fundamentals are terrible. You look at the NBA, they have a lot of young kids that I don't think we got enough time with (in college). They come out in one year or two years and fundamentally I don't think they are sound. I think our game will get ugly with a shorter clock," Brown added.
Coaches such as Memphis' Josh Pastner have been outspoken about wanting to shorten the college clock to 24, apparently to increase scoring.
KU coach Bill Self has said he'd "be OK with 30 (-second clock as the college women use)" instead of 24.
"If we were to change the clock, we'd be one of the teams affected most," Self said. "So much of what we do is predicated on getting the ball to the second and third side. Twenty four seconds is not as much time to do that.
"I think 24 is pretty quick. So much of the NBA clock relies on guys getting their own shot, late clock. I don't know about our players across the board ... I think it could make for some pretty bad ball, guys playing 1-on-1 the last six seconds of the clock. Thirty would be as low as I want to go."
Self said he would be in favor of changing the rule to having eight seconds, not 10, to bring the ball past halfcourt.
But again, as far as the clock ... "I sat in on a meeting with the rules committee, the selection committee and powers-that-be that have studied it, studied it, studied it. There is not near as strong a movement from the consensus of the coaches about going to 30," Self said.
"We hear individual coaches, which I've been one of them saying we need 30. This would be better. Why would we have the longest shot clock in the game? Blah blah blah blah. We say those things, but the people who have actually studied it and researched it and done surveys don't feel as strongly as a lot of the voices.
"It used to be 45 (seconds)," he noted. "That now would seem like an eternity. I think we could lower the clock, but 24 is too quick."
No threes?: Brown was a popular interview at his conference's Media Day back in his hometown of New York.
He suggested getting rid of the three-point shot and giving three points for layups.
"Our challenge is to make the game better and I worry about it. I really, really do," Brown said as quoted by Nola.com. "But I'm 74 and I'm on my way out. I had to walk up the steps. I saw Frank (Haith, Tulsa) jump up."
Tanking is wrong: Brown also blasted the perception that the Philadelphia 76ers last year tried to "tank" at the end of the season to get a higher draft pick.
"No, I wouldn't do it. We wouldn't lose (on purpose)," Brown, a former Sixers coach, told philly.com at Media Day. "Brett (Brown, current Sixers mentor) can coach. He's one of Pop's (Gregg Popovich, Spurs) guys. But what they are doing to that city to me is mind-boggling. That's the greatest basketball city in the world with its fans, and you want them to sit back and watch you lose.
"Can you imagine telling Allen Iverson that this is a rebuilding season so we're going to be bad on purpose?" Larry Brown added. "I love (Nerlens) Noel, I love Joel (Embiid). But you can't put that stuff into them. Again, it boggles my mind. I understand you have to get assets to get better. You get assets by developing young players, draft picks and moving contracts. But how much teaching is going on?"
European option: Brown is concerned more high school players will copy former SMU signee Emmanuel Mudiay and elect to play overseas a year before entering the NBA Draft instead of being a college one-and-done.
"I think it will get worse," Brown told Zagsblogcom. "If he's as good as I know he is and he's the first, second or third pick in the draft, which I'm pretty confident he will be, I'm worried that a lot of kids will think about it. They won't think of (Jeremy) Tyler, they won't think of (Brandon) Jennings, they won't think of so many kids that have come out early and are not playing anymore. So we gotta address that."
Mudiay is expected to be a top 2 draft pick in the 2015 NBA Draft after playing a season in China.
"I hear about him every day and I'm excited for him. I am not excited for the precedent it might set but you gotta recognize a lot of kids when they have the opportunity to help their families, it's tough to pass up but it's not a good message for young people and hopefully the NBA will address it," Brown told Zagsblog.