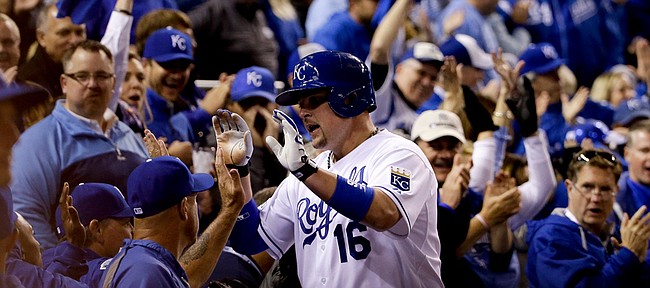 I'm trying to figure out how losing Game 7 of the World Series instead of winning it made the Kansas City Royals any less worthy of the respect and gratitude typically reserved for World Champions.
Really, would you love the 2014 Royals any more than you do right this minute had they won Game 7 of the World Series, instead of losing it, 3-2, with Alex Gordon standing 90 feet away from scoring the tying run and San Francisco Giants left-hander Madison Bumgarner, among the greatest Fall Classic pitchers in history, standing so tall on the mound?
The empty feeling from finishing second quickly gave way to admiration for the remarkable baseball team that showed such toughness, such remarkable defensive prowess, such an appealing bullpen that stood out in equal parts because it dominated with such overpowering stuff and celebrated itself so little.
Kelvin Herrera (1.80 postseason ERA), Wade Davis (0.63) and Greg Holland (0.82) didn't have the stylish nickname to match the 1990 Cincinnati Reds of Randy Myers, Rob Dibble and Norm Charlton, known as the Nasty Boys. But the Royals' three-headed monster did have enough substance to log 51 strikeouts in 40-1/3 innings.
If Bash Brothers Mark McGwire and Jose Canseco were the poster boys of baseball's steroid era, then the 2014 Royals are the poster boys of the post-steroid era. Not long ago, team chemistry meant finding the right mix of performance-enhancing cocktails to inflate muscles, statistics and contracts. For the Royals, team chemistry meant creating runs by stealing bases and bunting, preventing runs by turning hits into outs, extra-base hits into singles.
Photo Gallery
Royals fans watch Game 7 in Lawrence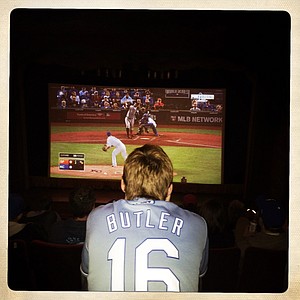 Kansas City Royals fans in Lawrence watch Game 7 of the World Series, Wednesday, Oct. 29, 2014. The Royals lost to the San Francisco Giants, 3-2.
In posting the best possible postseason record a team could have without winning the World Series (11-4), the Royals showed baseball is about making winning baseball plays. It's not a glorified home run derby. Last among 30 major-league teams in home runs and first in stolen bases, the Royals swept the Baltimore Orioles, first in home runs and last in stolen bases, to get to the World Series. Before that, the Royals swept the Los Angeles Angels, tied for seventh in home runs, 22nd in stolen bases.
Hall of Fame slugger Reggie Jackson, known as Mr. October for his clutch World Series play, long has been fond of saying, "If you're going to stand in the corner, you better be able to lean on the pole."
Sound conventional wisdom. It's difficult to pack a lot of punch without getting home runs from the men playing first and third base, left and right field. It didn't apply to the Royals. Right fielder Nori Aoki hit one home run, first baseman Eric Hosmer nine.
What the Royals lacked in power they compensated for with stellar defense from the four corners, especially Hosmer, third baseman Mike Moustakas and three-time Gold Glove winner Alex Gordon in left field.
Up the middle, no foursome in baseball can match the leather and arms of catcher Salvador Perez, shortstop Alcides Escobar, second baseman Omar Infante and center fielder Lorenzo Cain, a burgeoning star who first played organized baseball as a sophomore in high school.
These Royals played as pure a brand of baseball as has been seen in a long, long time and for four of the games wore home whites so beautiful as much for their simplicity as their style.
The Giants had the best pitcher in Bumgarner, who threw 21 innings, allowed one run and one walk, struck out 17 and limited the Royals to a .127 batting average. And they had the two best hitters. Right fielder Hunter Pence, eyes, bat and long strides on fire, batted .444 and knocked in five runs for the Series. Pablo Sandoval hit .429 because that's what the Panda Bear does in the World Series.
Sometimes, the most pure sense of the word "team" is embodied by one in which naming the best player is no easy task. For Kansas University's 2008 basketball national champions was it Brandon Rush, the leading scorer and best defender? Darrell Arthur, who had 20 and 10 in the title game? Sherron Collins, who broke down a defense in a way nobody else could? Mario Chalmers, peerless in the clutch?
For the Royals, was it Cain with his big catches, timely hits and swift baserunning? Davis or Holland out of the bullpen? Salvador Perez behind the plate and at it?
And then there was Ned Yost, who spent more time under the french-fry lights of second-guessing than any man ever should and never once wilted, never once showed his players a face other than one that reminded them they were playing their favorite game on the ultimate stage so enjoy it to the fullest.
Not to be forgotten, The K crowd backed the Royals with the sort of passion that drew the respect of the opposition, even when hecklers drew dangerously close to the inappropriate line without crossing it.
In one of the games before the Series moved to San Francisco, a father-and-son tandem sitting within earshot of Pence in right came armed with all sorts of personal history about him, including that he used to date Houston Texans cheerleader Lindsay Slott.
"Hey Pence," they hollered at him all night, "your girlfriend's a Slott!"
Finally, after being the target of relentless verbal assaults for eight innings, Pence turned to them, smiled and gave them a thumbs-up. Without blinking, they responded with two-fisted, one-finger salutes of the variety that as of a few days ago, Canseco no longer can execute. Pence's smile grew broader.
The Giants earned the right to be called World Champions for the third time in five years. In the hearts and minds of those in this slice of the world, the 2014 Royals will fondly be remembered as nothing less than champions.
---