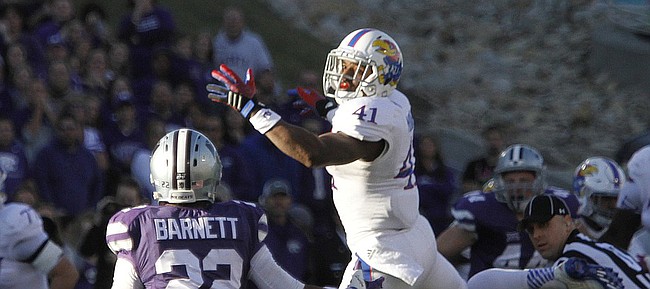 Photo Gallery
Kansas football vs. Kansas State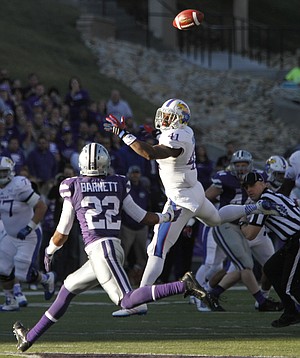 Images from Saturday's game between the Jayhawks and the Wildcats in Manhattan.
Podcast episode
Clint Bowen breaks down KU's season-ending loss to K-State and the future of Kansas football
Podcast episode
KU athletic director Sheahon Zenger discusses Clint Bowen's 9 weeks as interim head coach of KU football.
KANSAS STATE 51, KANSAS 13
Manhattan — Clint Bowen said after Saturday's 51-13 loss at Kansas State that senior tight end Jimmay Mundine suffered an injury during the loss and was unable to continue.
Mundine caught two passes for 20 yards and finished the best season of his career with 584 yards and three touchdowns on 45 receptions. Mundine leaves KU first among tight ends with 11 career touchdowns and third at the position with 1,082 career yards and 86 career receptions.
Mann back in action
Junior running back De'Andre Mann, who missed last week's game to be with his wife for the birth of their son, returned to the field and finished with 19 yards on four carries, three of which came on consecutive plays during KU's first scoring drive.
Mann said after the game it was a different feeling carrying the ball as a father.
"I told him I'm dedicating this game to him," he said of his son, Alijah. "It didn't turn out for the best, but I played my heart out. It's extra motivation."
This and that...
The Wildcats won Saturday's opening coin toss and chose to defer their choice to the second half. KU elected to receive the opening kickoff.... Eleven different receivers caught passes in this one, the most since KU's game against Florida International in September 2007.... Senior linebacker Ben Heeney finished his career with 335 tackles, good for eighth most in KU history.... Senior JaCorey Shepherd finished fourth all-time at Kansas in kickoff returns (63) and kickoff return yards (1,350).... Temperature at kickoff was 64 degrees, under sunny skies with winds of 9 mph out of the south.
---
More news and notes from Kansas vs. Kansas State
---