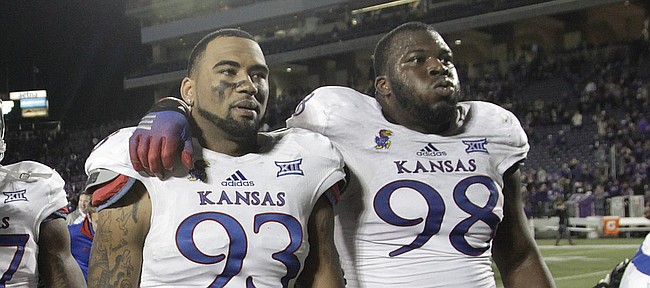 Photo Gallery
Kansas football vs. Kansas State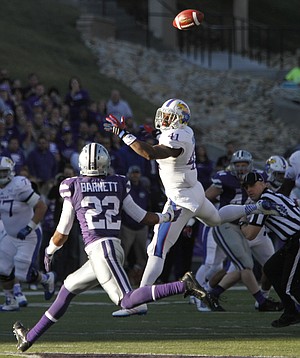 Images from Saturday's game between the Jayhawks and the Wildcats in Manhattan.
Podcast episode
Clint Bowen breaks down KU's season-ending loss to K-State and the future of Kansas football
Podcast episode
KU athletic director Sheahon Zenger discusses Clint Bowen's 9 weeks as interim head coach of KU football.
KANSAS STATE 51, KANSAS 13
Manhattan — With a little more than 12 minutes to play in a game that turned hopeless more than an hour earlier, Kansas University quarterback Michael Cummings slammed the ball into the turf after falling victim to yet another sack by the Kansas State defense during Saturday's 51-13 whipping by the Wildcats at Bill Snyder Family Stadium.
Cummings' demonstration was the first obvious sign of the despair and disappointment of another blowout loss setting in for KU's normally unflappable quarterback, and, although that specific play had very little to do with Saturday's outcome, which came in front of 53,439 fans — the third largest crowd in the venue's history — it was the perfect way to summarize the 2014 season for Kansas, which ended in Manhattan much the way it began heading south in Week 2, in Durham, North Carolina, after a 41-3 loss at Duke, with all kinds of wild twists and turns unfolding along the way.
"They jumped all over us," said KU coach Clint Bowen, who finished 1-7 as the program's interim head coach. "It was 14-0 before anything even happened and we didn't need that. The bottom line, Kansas State was better than us today. You come into a game where you have to play a perfect game, you have to play as good as you can possibly play and you start off with turnovers. That's obviously not the way you need to go."
The worst part about Saturday's loss — K-State's sixth straight victory in the series and the fourth time in the past five meetings that the Wildcats have surpassed 50 points — was not the final score or the grim statistics that added up to another purple reign but the fact that it came just two weeks after an encouraging effort against fifth-ranked TCU, which followed a victory over Iowa State. In the two weeks that followed those promising weekends, the Jayhawks (3-9 overall, 1-8 Big 12) were outscored 95-20 and outgained 1,054-300 in total offense.
It may not have been quite as bad as the collapse that followed last season's Big-12-losing-streak-ending victory over West Virginia, but, at least on Saturday, the two forgettable finishes felt eerily similar.
"It's definitely tough to finish on a game like this," Cummings said. "Especially since we played so well just a few weeks ago. It's a tough pill to swallow to send the seniors out like this."
Things could not have gone much worse for Kansas during the game's opening quarter. After a three-and-out on the first series of the game, KU's defense surrendered a relatively easy six-play scoring drive to KSU quarterback Jake Waters, who hurt Kansas with his arm and legs throughout the afternoon.
KU's next two drives ended with interceptions — one by safety Dante Barnett and the other on a circus catch by Morgan Burns after intended receiver Rodriguez Coleman kicked the Cummings pass high into the air with his left leg near the goal line — and K-State tacked on 10 more points to open up a 17-0 lead less than 15 minutes into the game.
The Wildcats (9-2, 7-1) outgained the Jayhawks 179-54 in the opening quarter and 289-104 in first half while running 11 more plays and averaging nearly six yards per carry. K-State entered the game averaging 3.9 yards per rush.
Even when the Jayhawks were able to get something going, they could not avoid shooting themselves in the foot. After Nick Harwell's 27-yard touchdown catch pulled the Jayhawks to within 17-6, Kansas State blocked the extra point and then returned the ensuing kickoff 65 yards to the KU 23. Four plays later the Wildcats pushed their lead to 24-6 on an 11-yard touchdown run by Charles Jones (42 yards on 9 carries) and the rout was on.
"Everything you just built up gets taken away from you," Bowen said of the back-to-back miscues after the touchdown. "You can't even get the momentum to swing."
After taking a 31-6 lead into halftime, the Wildcats' offense never let up in the second half, scoring touchdowns their first two possessions in the third quarter and adding a 52-yard field goal to open the fourth.
A seven-play, 59-yard drive that ended with a 13-yard pass from Jake Waters (21-of-27 passing for 294 yards and four touchdowns) to Jones got things started. Waters then hit Curry Sexton (141 yards and a TD on nine catches) with a perfect 37-yard touchdown pass midway through the quarter, despite KU senior Victor Simmons spinning around his shoulder pads as he threw.
That made it 45-13 — KU senior Trent Smiley hauled in the Jayhawks' only other touchdown on a 19-yard pass from Cummings — and the rest of the game resembled so many other recent KU-KSU match-ups, with the Wildcats and their fans laughing and celebrating and the Jayhawks standing with a distant gaze wondering what happened.
What once began with great promise and the hope that this season would be different, ended with many of the same sad narratives still in tact. KU's loss Saturday was its 33rd in a row away from home. The Jayhawks won't be able to do anything about that until Sept. 26, 2015, when they travel to Rutgers for the third game of the 2015 season. KU now has lost 17 in a row to ranked teams. And the 2014 season marked the fifth time since Mark Mangino left town that KU has failed to win more than three games.
"This obviously hasn't been what we all envisioned," senior linebacker Ben Heeney, who finished his Kansas career with six tackles. "But I'm sad it's over. It just sucks that my legacy here is over."
---
More news and notes from Kansas vs. Kansas State
---