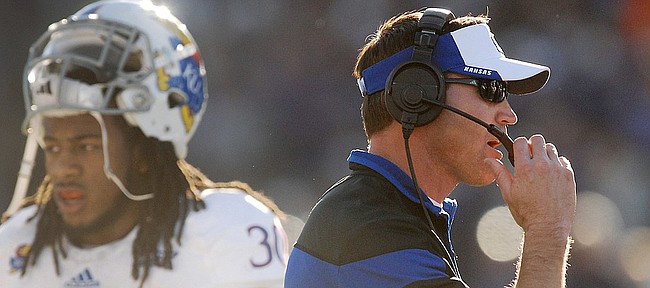 Photo Gallery
Kansas football vs. Kansas State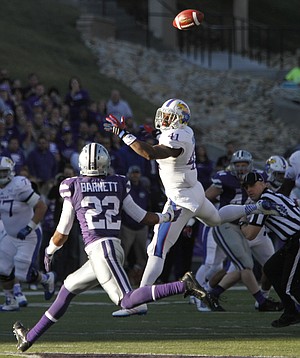 Images from Saturday's game between the Jayhawks and the Wildcats in Manhattan.
Podcast episode
Clint Bowen breaks down KU's season-ending loss to K-State and the future of Kansas football
Podcast episode
KU athletic director Sheahon Zenger discusses Clint Bowen's 9 weeks as interim head coach of KU football.
KANSAS STATE 51, KANSAS 13
Manhattan — Asked, after Saturday's 51-13 loss to Sunflower State rival Kansas State at Bill Snyder Family Stadium, what came next, Kansas University interim football coach Clint Bowen sounded a lot like a man who planned to have a role in the program moving forward.
"We're gonna thank these seniors who gave their heart and soul to Kansas University," Bowen began. "And we're gonna get our players in the weight room next week and get 'em ready for finals.... This is about Kansas football. It's about this football program and this university. Whoever (is hired), everyone that's a fan of KU needs to get behind it and let this program become what it's capable of. We have all the resources in the world. We have everything needed at Kansas University to have a successful football program and it'll happen."
What Bowen's role from here will be, of course, is up to athletic director Sheahon Zenger, who reiterated after Saturday's loss that he was impressed by the way Bowen handled himself and the program during the past nine weeks.
"Clint did everything we asked him to do," Zenger said. "And what you heard him say in there is who he is. He's one of the most authentic individuals I've ever met. I know people like to go day by day and week by week and get high and get low. You have to take the emotion out of it. You have to have a steady hand. As he has said, this is about Kansas football."
Both Bowen and Zenger spoke of the need to focus on every last detail of the program in order to get KU football turned around. That their comments came in the shadows of a stadium — a cathedral, really — that stands because of one of the greatest turnarounds in history of sports only made their words ring louder.
"We did have a goal and an objective that we wanted to set an identity for what we want Kansas football to be and I believe we did make a very good start on that," Bowen said of he and Zenger. "I believe, at this point, our kids understand the importance of playing hard, playing smart and playing tough. They're the same things that K-State demonstrated (today) and I think the kids now understand that there's a price to be paid if you're gonna have success."
Added Zenger: "I've held my tongue on this, but in the four years I've been here, it's about doing the little things right. That's what the program that just beat us does. When we start doing all the little things right, things will get better — in recruiting, in the classroom, in the weight room, off the field but also each and every day in practice. That's what Clint has done a good job of these last nine weeks."
If given the opportunity to continue what he started, Bowen believes KU can be a place that fields a football program of which fans can be proud.
"I don't think it's difficult at all," Bowen said. "I think it's the way you operate every single day of your program. It starts with winter conditioning, it goes into spring practice, it goes into summer time. It's not difficult. Players have to earn everything they're gonna get, and there has to be a standard of excellence, and then your players have to meet that standard. We're headed that way.
"There's zero doubts in my mind that Kansas football can win football games and win football games every year. There's no excuses, there's no anything other than putting the work in, putting the grind in and getting it done."
The guys he led these past nine weeks already seem sold.
"I would love to come back and finish my career playing for Clint Bowen," junior quarterback Michael Cummings said after the loss.
Added senior captain Ben Heeney: "I think the first step is hiring the guy that we've got right now. He's got this thing moving in the right direction. I think that's the first and only step right now."
Now that the season is over, the focus shifts to Zenger, the KU search committee and their next hire. Regardless of whether they go with Bowen as the head coach or in some other capacity, it appears there is room for him in the program.
"He's just one of the most solid people I know," Zenger said. "He is true-blue KU. He cares deeply about this institution. He and I see a lot of things eye-to-eye. Whether it's him or someone else, he's gonna be a part of this program because he believes in the right things."
---
More news and notes from Kansas vs. Kansas State
---