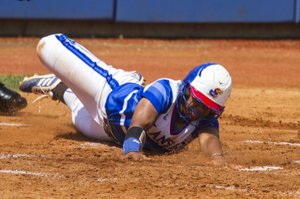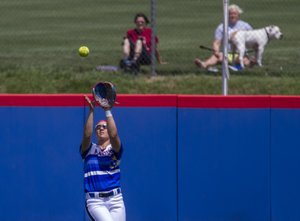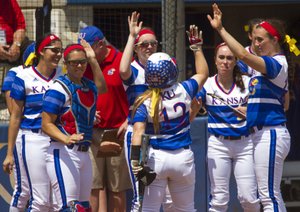 There were no fireworks, but Kansas University's softball team put on a show in its final home game on Sunday at Arrocha Ballpark.
The Jayhawks, who will move into a new facility at Rock Chalk Park next season, completed a weekend sweep over Iowa State with a 4-2 victory in their regular-season finale.
It was only a prelude to a bigger celebration when the Jayhawks found out seven hours after the game ended that they made the NCAA Tournament for the 11th time in school history, their first appearance since 2006.
KU (33-21, 7-11 Big 12) earned an at-large bid and will face the University of Nebraska (40-15) in the Columbia Regional at 12:30 p.m. Friday. The Jayhawks lost to Nebraska, 1-0, on March 15 in Lawrence.
The regional, a double-elimination tournament, is hosted by No. 15 seed University of Missouri (41-16) and also includes Bradley University (27-30).
"I am so excited for our team," KU coach Megan Smith said of the Jayhawks earning a bid. "They are a special group and have worked hard. They have fought all season long for this. This is not just for our current players though. For the last five years, every player and staff member has worked extremely hard for this moment. We are happy to share this excitement with them."
The Jayhawks ended the regular season with their strengths that carried them all season — pitching and defense.
Junior pitcher Alicia Pille puzzled opposing hitters while her fielders provided the highlights.
Sophomore shortstop Chaley Brickey made a diving catch in shallow left field over her shoulder, and freshman catcher Harli Ridling ran down a few pop-ups in foul territory.
"Oh my gosh, everything is just coming together," Pille said. "Chaley today just made some amazing plays. Harli again made some amazing plays, and (senior Taylor Hatfield) in the outfield. It's so easy to pitch when they're playing like that."
KU gave Pille an early lead with two runs in the first inning, when Maddie Stein brought a runner home with a single and Ridling was hit by a pitch with the bases loaded. Pille wouldn't need much more help, allowing just two runs on six hits while striking out four in a complete-game effort.
"It's always nice to get (run support) from the beginning because you can, well, not relax … you know what I mean. Just having a little cushion is always a good thing," Pille said.
With the wind blowing out, Iowa State (23-31, 2-16) sophomore Aly Cappaert lifted a ball into the jet stream and over the center-field wall in the second inning. Pille then allowed just two hits from the next 15 hitters she faced.
"Against a really good-hitting Iowa State team, I thought she came out and was just determined and fought all game," Smith said. "That's what you get from Alicia Pille. She cares out there, and she's out there for her team. I thought she was phenomenal today."
Before the Jayhawks look ahead to the NCAA Tournament, they were glad to end the regular season the way they had hoped.
"This last weekend was all about our seniors and bidding farewell to this ballpark," Smith said. "We wanted to do this park justice and our seniors justice. We did that."
Iowa State 010 001 0 — 2 6 0
Kansas 200 110 x — 4 7 0
W — Alicia Pille (12-6). L — Paris Imholz (4-11).
2B — Aly Cappaert, ISU. 3B — Taylor McElhaney, KU. HR — Cappaert, ISU.
KU highlights — Pille, 7 IP, 6 H, 2 R, 1 BB, 4 Ks; Ashley Newman, 2-for-4, run, RBI, 2 SB; Maddie Stein, 1-for-3, RBI.