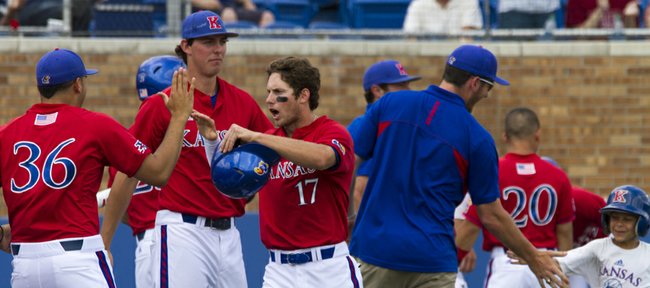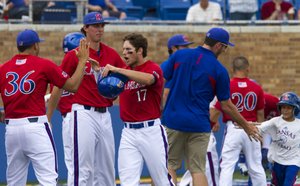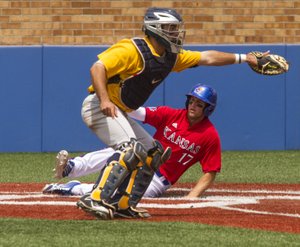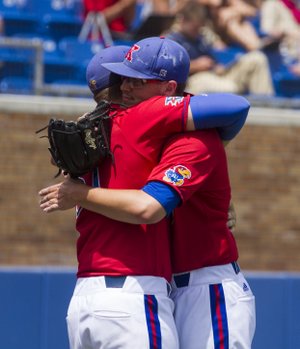 A mere 41 minutes after recording the final out of their third consecutive Big 12 Conference sweep on Sunday, the Kansas Jayhawks hustled over from Hoglund Ballpark to Allen Fieldhouse for their season-ending team banquet.
One problem. The Jayhawks' season is far from over.
Sunday's 9-8 victory over West Virginia locked Ritch Price's squad into the third spot in the Big 12 standings and marked KU's highest finish in Price's 12 seasons.
Although KU (33-21 overall, 15-9 Big 12) will close out the regular season with two games at Michigan next weekend and then head to Oklahoma City for the Big 12 tournament the following week, the feeling around the KU camp is that the Jayhawks already have done enough to earn the program's fifth ever bid to the NCAA Tournament.
"If you're 15-9 in this conference and you've won nine straight and you're the second highest rated conference in the country, I don't know how you could finish third and not get in," Price said. "It'd be criminal."
Although Sunday's victory was typical of a squad that has done whatever it needed to do to win during the past month, it also had plenty of wild and crazy moments.
KU was out-hit 18-11 yet found a way to score more runs. West Virginia opened the game with three straight bunt singles but came away empty after KU starter Frank Duncan fanned the fourth batter and coerced the five-hole hitter to ground into a double play.
Reliever Drew Morovick picked up the victory despite getting just two outs and giving up three hits and a run.
And KU right fielder Dakota Smith trotted in from the field to pitch to six batters and then went back out to finish the game in the position he started.
"That was by design," Price said. "We were trying not to use Morovick more than one inning if possible. We basically had no options when Frank didn't get as deep in the game as he normally does."
Through it all, every time the Jayhawks needed a big pitch or a clutch hit, they seemed to get it.
Price credits his nine seniors for not only being a big part of that, but also instilling it in the younger guys.
"I think it comes from just being really competitive and having the game be really important to you," Price said. "The guys that have to be impact guys — (seniors) Dakota Smith, Tucker Tharp, Michael Suiter — those guys played like they were impact players this weekend."
It's been that way for a few weeks now and, when things play out like that, long winning streaks tend to be the result.
KU's nine-game conference winning streak is the longest in the Big 12 this season and the best since Baylor opened Big 12 play with 18 consecutive victories in 2012.
The Jayhawks and Mountaineers (27-20, 9-11) were tied at 2 until the fifth, when KU senior Ka'iana Eldredge delivered a two-out, two-RBI single to put the Jayhawks ahead. WVU answered with three runs in the top of the sixth and KU fired back with a five-run sixth of its own.
Suiter, Smith, Tharp and Eldredge all delivered RBIs and, in keeping with the wildness of the day, reserve first baseman Ryan Pidhaichuk was hit by a pitch twice in the inning as the Jayhawks' turned over their lineup.
"When they answered back, it was so early in the game and we had a lot of game left," Eldredge said. "The main thing was just to continue to play well, have fun and let the wins take care of themselves. That's what we've been doing."
KU gave up a run in the seventh and two more in the eighth and the Mountaineers put the tying run on second base in the top of the ninth. But freshman closer Stephen Villines struck out Ryan McBroom looking to end the game and complete the sweep.
Villines, who picked up his eighth save of the season, said he relished the chance to slam the door on senior day.
"It's all for them," he said. "Every senior has come up clutch for us all year and this day is theirs. It was awesome. I'm having fun. The whole team's having fun, we're on a roll and it's unbelievable. It's awesome. We're doing everything right."
KANSAS 9, WEST VIRGINIA 8
West Virginia 001 013 120 8 18 1
Kansas 101 025 00X 9 11 1
W – Drew Morovick (8-3). L – Ryan Tezak (4-1). Save – Stephen Villines (8).
2B: Taylor Munden and Billy Flemming, WVU; Dakota Smith and Tucker Tharp, KU. 3B: Billy Flemming, WVU; HR: Billy Flemming, WVU.
KU Highlights: Frank Duncan 5.1 IP, 13 H, 5 ER, 3 K; Stephen Villines 1 IP, 1 H, 0 ER, 1 K; Colin Toalson 1 IP, 0 H, 0 ER; Michael Suiter 2-for-4, HR, 2 RBI, run; Justin Protacio 2-for-5, 2 runs; Tucker Tharp 2-for-4, 2B, 3 RBI; Dakota Smith 1-for-3, 2B, 2 RBI, run; Ka'iana Eldredge 2-for-5, 3 RBI.