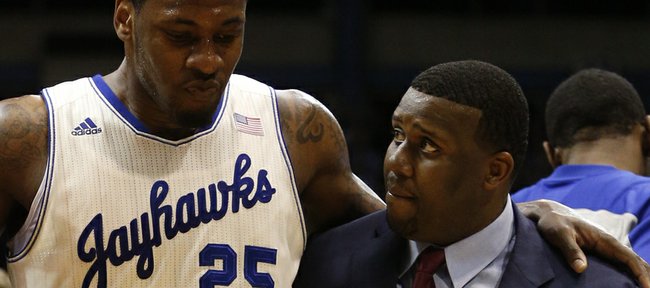 Jerrance Howard, who played for Bill Self at the University of Illinois, now knows what it's like to work for his former coach.
"Unbelievable," the 33-year-old Howard said of his first season on Self's Kansas University basketball staff.
"I am a lot better even as a person, as a husband and definitely as a coach. The preparation ... how I watch film and evaluate players in recruiting, just a lot of stuff I didn't know in just playing for him. It's a lot different working for him. Being on staff, having a relationship with coach as well as coach (Norm) Roberts and coach (Kurtis) Townsend ... I feel more confident about myself as a person and as a coach," Howard added.
Howard, who replaced first-year Florida Gulf Coast head coach Joe Dooley this season, said the fact he played for Self, "makes my job a lot easier as far as relating to the guys, knowing what coach wants on and off the court — just helping guys, being positive and upbeat and bringing energy to practice."
It's also helped that "I'm not too far removed from the game when I played (2000-04)," Howard said.
Sophomore Perry Ellis said having Howard around this season was definitely a plus.
"He came in and did a great job," Ellis said. "As a younger coach, he can relate to us and communicate with us players. Especially the new players ... he did an awesome job with them, getting them ready for games. He knows how to relate to players well. I definitely like him."
Self said Howard brought his own bubbly personality to the program without any prodding from the head coach.
"It's not anything I told him to do. He has to be who he is," Self said. "Myself, Kurtis and Norm ... we are a little bit older and stuff. We needed some youthful enthusiasm. Jerrance has been good for us. He has an understanding of what kids like and what we know.
"My way of communication is to call 'em (players and recruits) and talk on the phone. It's not the way they like to do it much (in age of social media). Jerrance is very helpful. I think sometimes kids can make decisions based on emotions. Recruiters are good at playing to those emotions. The younger you are, the more you enjoy that kind of stuff."
Howard said he enjoyed working with all the players, freshmen through seniors.
"That's one of the best things about being on staff here," he said. "One thing coach wanted me to do is have a relationship not only with the freshmen, but from Niko (Roberts) to Tyler (Self) to Evan (Manning). It's a good feeling they look at me sometimes as a big-brother figure. They know they can come to me for help. It's good."
Howard said he also learned a bunch at his previous stop. He worked at SMU last year for one of Self's mentors, Larry Brown.
"Coach Brown is one of the best. He's big-time. He and coach Self are similar as far as philosophy, defensive minded guys who get players to overachieve and play hard," Howard said. "It was great being around coach Brown. At the same time, he's really no different than coach Self."
Howard said there is a family atmosphere at both programs. He and wife Jessica have a son, Jerrance Jr., and daughter, Jaya Brooklyn-Rose.
"They love it," Howard said of KU. "My son is big-time. He is not your typical 5-year-old that just wants to wear KU gear; he watches every game, every possession of it. Coach from day one had my wife involved with what's going on with the move and the transition. It's been really good."
Of getting to coach in Allen Fieldhouse, Howard, who has also worked at Texas A&M;, Illinois and Kentucky, said: "I tell people all the time ... you can't explain it. You have to experience it. It's one of the best atmospheres I've been part of."
Yes, Howard would like someday to run his own program.
"It's going to be hard to leave this place. I'm not in a rush," Howard said. "I definitely want to be a head coach in the future. I'm just enjoying the process of learning from coach and getting better and developing."
Wiggins honored: KU freshman Wiggins has been named second-team All-American by the National Association of Basketball Coaches. First team consists of: Nick Johnson, Doug McDermott, Shabazz Napier, Jabari Parker, Nik Stauskas. Second team: Wiggins, Cleanthony Early, C.J. Fair, Sean Kilpatrick, Russ Smith.