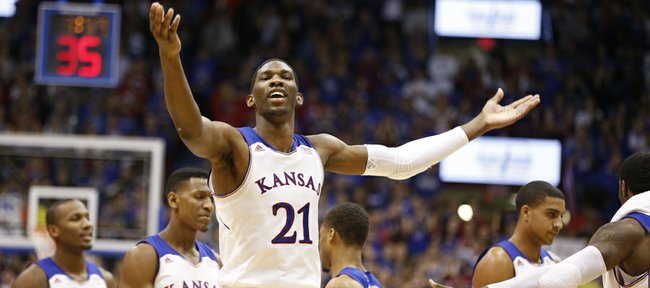 Joel Embiid is still a Kansas Jayhawk ... for now at least.
Embiid on Thursday took to Twitter to renounce an early-morning Yahoo Sports report that said the 7-footer from Cameroon had begun the process of finding an agent and was expected to formally announce his intentions "soon."
"Haven't made a decision yet," Embiid wrote to KU signee Cliff Alexander, who had tweeted his congratulations to the 20-year-old Embiid, who averaged 11.2 points and 8.1 boards this past season for the 25-10 Jayhawks.
Also, Embiid's mentor, Luc Mbah a Moute of the Minnesota Timberwolves, tweeted that Embiid has "not yet made a decision!"
What's more, KU coach Bill Self told the Journal-World late Thursday morning that "positively no decision has been made regarding Joel Embiid's future."
The conversation with the J-W took place with Embiid seated in Self's office.
"I have Jo in my office right now. ... He didn't know where that came from," Self said of the report. "No decision has been made on what he's going to do next year at all. I'm telling you, no decision at all has been made. I think he's still a little ways away from that. That information that was reported did not come from Jo."
Self was asked if any news regarding Embiid's future was imminent and said no.
"As of now, this kid has not made any decision yet. He needs some time to make a good, informed decision," Self said.
Asked specifically about Adrian Wojnarowski's Yahoo Sports report, Self added, "That's the way this business works. There are all kinds of reports out there that are not accurate. That doesn't mean it couldn't potentially be accurate in the future."
DraftExpress.com currently has Embiid being selected second overall in the 2014 Draft behind KU teammate Andrew Wiggins. NBAdraft.net has Duke's Jabari Parker No. 1, followed by Embiid, then Wiggins. One NBA source told the Journal-World that word is Embiid will likely be picked No. 1, Parker 2 and Wiggins 3.
As far as the back injury that kept Embiid from playing in KU's last six games of the season, Wojnarowski wrote: "There's a strong expectation Embiid will make a full recovery, but NBA teams will closely examine the long-term fitness of the injury."
Forward a free agent: KU may have interest in former Temple power forward Anthony Lee, who will graduate in May and has decided to play his final season elsewhere, Rivals.com reported Thursday. The 6-foot-9 Lee, who averaged 13.6 points and 8.6 rebounds in 2013-14, recently told ESPN.com he had narrowed his list to Ohio State, Indiana, Louisville, Iowa State and Notre Dame. According to ESPN, Lee grew up in Maryland but his parents currently live in Moline, Ill.
"It was a tough decision to narrow it to those five schools, but I feel as though those are all great programs with great coaches," Lee told ESPN. "It's going to be hard to pick one of those schools. I want to go somewhere that can help me develop as a player, and also somewhere that my parents can see me play."