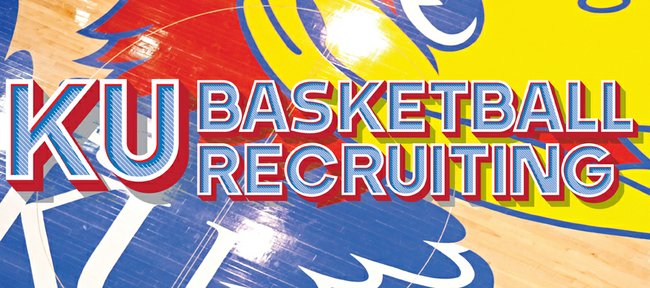 So far, two high school basketball players have said they'll be attending the Oct. 10 Late Night in the Phog.
They are: Stephen Zimmerman, a 7-foot, 240-pound senior center from Bishop Gorman High in Las Vegas who is ranked No. 7 nationally by Rivals.com; and No. 9 Carlton Bragg, a 6-9, 225-pound senior power forward from Villa Angela St. Joseph High in Cleveland.
They'll be able to visit with another accomplished big man — former KU center Joel Embiid of the Philadelphia 76ers, who has announced via Twitter he'll be a Late Night visitor.
"I miss Kansas ... I swear I had the best life and the best time there. I'm gonna try to make it to 'Late Night in the Phog' in a couple weeks," Embiid wrote on Twitter.
It's been said Embiid, who had recent foot surgery, could be ready to play by February.
"Focused on basketball and rehab. How bad do you want it? Just watch me get through this and then ...." Embiid tweeted with pictures of two missiles going skyward.
"Recovery is going pretty well," he wrote in yet another tweet.
Newman blogs: Malik Newman, a 6-foot-3, 180-pound senior combo guard from Callaway High in Jackson, Mississippi, who is ranked No. 2 nationally by Rivals.com, says in his USA Today blog that he will cut his list of schools to five or six after the Under 17 World championships Aug. 8-16 in Dubai, United Arab Emirates.
Newman, who has KU on his long list of schools, said he believes he'll wait until the spring signing period to announce his college choice.
"I'm not in a big hurry; I plan on taking my time with this process," Newman said in his blog. "After I cut my list I'm gonna set up my official visits. I do know that those visits will happen during the basketball season. I really want to see what it's like on campus while the season's going on.
"The other thing is that I'm not really a guy who likes cold weather so I'll have to look at that too; bad part is most of the schools recruiting me are in places that get really cold. It's kind of a lose-lose on that note. I'd love to go somewhere with warm weather, but it still has to be the right situation," he wrote.
Newman recently told Jayhawkslant.com he would visit KU. It's possible he could be a package deal with No. 6 Diamond Stone, 6-10, 253 from Dominican High in Milwaukee.
Newman's blog is available at http://ljw.bz/1nSzFSD
Rabb has interest: Ivan Rabb, a 6-9, 210-pound senior power forward from Bishop O'Dowd High in Oakland, California, who is ranked No. 4 nationally, tells Rivals.com he is "definitely interested" in Kansas.
He's also a target of Arizona, North Carolina, Duke, California, Georgetown, Kentucky, N.C. State, Ohio State, UCLA, USC and others.
"Coach Townsend (Kurtis, KU assistant) and I talk a lot, but I also talk to coach (Bill) Self, too. We did a visit at my school a few months back and they are really good guys," Rabb told Jayhawkslant.com.
"They showed me a lot of things, on paper, about the school and talked to me about how I would fit into the system at Kansas. Kansas is known for having big guys, and coach Self talked to me about how he sees me fitting in (inside and out)."
Jones, Brown have KU on list: No. 33-ranked Derrick Jones, a 6-6 small forward from Archbishop Carroll in Radnor, Pennsylvania, who is considered the best player in the Philly area, tells Jayhawkslant.com he will visit KU. He's also planning visits to Auburn, Indiana, Louisville and Kentucky, philly.com reports. UConn, Auburn, Syracuse and others remain on his list . ... Another visitor figures to be No. 3-ranked Jaylen Brown, a 6-7 senior small forward from Wheeler High in Marietta, Georgia, who also is considering KU, Alabama, Arizona, Auburn, Florida, Georgia, Georgia Tech, Louisville, Texas, UCLA and many others. "We don't have any officials (scheduled) yet, but we love Kansas," Brown's mom told Jayhawkslant.com.