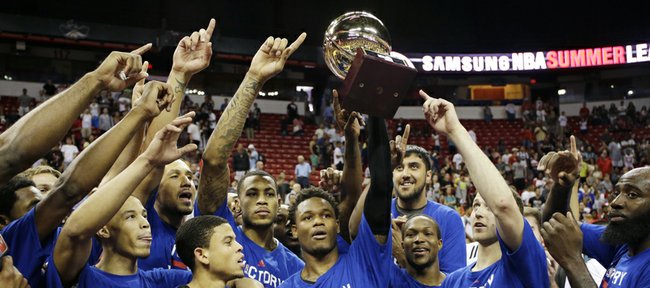 Hoisting the Larry O'Brien Trophy, it was not. But second-year guard Ben McLemore and his Sacramento teammates did get a trophy and on-court presentation after winning the 24-team Las Vegas Summer League tournament this week.
The athletic 6-foot-5, 21-year-old out of Kansas University admitted the team's two-week stay in Vegas wasn't about chasing hardware, but the process led the Kings to the modest title.
"It means a whole lot, man, because I think we learned so much," McLemore said in a video interview posted on Sacramento's website, "and bonded like a team, and we showed it out there on the floor."
The trick for the young shooting guard, who only averaged 8.8 points and made 37.6 percent of his shots as a rookie, and his teammates will be replicating that July success against the world's top players in November through April.
"That's big momentum for us throughout this summer, to take this, what we learned from here in the summer league, into next season," he said.
Kings coach Michael Malone praised McLemore, who started 55 games in his first season, for coming up with three critical buckets late in the Las Vegas title game, after hitting just one of his first 10 shots.
"That's perseverance and that's being resilient," Malone told reporters in a video from the Kings' website. "And I think he showed that during the season, as well. He struggled at times, but he maintained his composure, kept on working hard and played better."
Sacramento Bee reporter Jason Jones said in an online chat Wednesday he expects McLemore will start for the Kings in 2014-15, along with newly acquired point guard Darren Collison, forwards Derrick Williams and Rudy Gay, and big man DeMarcus Cousins.
Jones said, in theory, the departure of offensive-minded point guard Isaiah Thomas should help McLemore's development, because Collison is more of a traditional, pass-first lead guard. But the reporter pointed out Sacramento still has two high-volume shooters in Gay and Cousins, and Collison "has to prove he can make teammates better over an entire season, not just as Chris Paul's backup (his role last season with the Los Angeles Clippers)."
'Big 3' for '15?
The college basketball recruiting world has speculated two of the nation's top 10 seniors, 6-10 center Diamond Stone and 6-3 guard Malik Newman, might choose the same program as a package deal.
Zagsblog.com reports another top prospect, 6-9 power forward Ivan Rabb, could team up with them.
Rivals.com's No. 4 overall player in the Class of 2015, Rabb told Zagsblog he, Stone (No. 6) and Newman (No. 2) have discussed joining forces at the next level
"The two biggest ones are Kentucky and Kansas," the Oakland, California, big man told the website. "Those two are on all our lists, so that's kind of why. We just talk about those."
Connecticut is another school believed to be capable of landing all three players.
Rabb told Zagsblog he is "really interested" in Kansas and he might make some sort of visit to Lawrence, official or otherwise. He also conceded getting all three players to the same school will be difficult to pull off.
KU recruits at USA trials
As reported by Zagsblog, a number of the country's most talented players will spend the coming days at the USA Basketball U17 team trials in Colorado Springs, Colorado.
Some Kansas recruiting targets will be in attendance. Seniors Rabb, Newman (Jackson, Mississippi) and center Caleb Swanigan (Fort Wayne, Indiana) are part of the developmental national team. So are the following Class of 2016 KU recruits: guards Malik Monk (Bentonville, Arkansas), Tyus Battle (Gladstone, New Jersey) and Jayson Tatum (St. Louis), and power forward Harry Giles (Winston-Salem, North Carolina).
Lindsay transferring again
New Mexico junior Merv Lindsay has requested, and received, a release from his scholarship from the Lobos basketball team and will seek a transfer.
Lindsay, a 6-foot-7 wing who transferred two years ago to UNM from Kansas University, played in 20 games last season, averaging 6.5 minutes per game with a season high three points at UNLV on Feb. 19.
Lindsay, a Moreno Valley, California, native who red-shirted during the 2012-13 season after transferring to UNM, would have to sit out the coming season then have one year left to play if he transfers to another Div. I program. Or he could play immediately if he transfers to a non-DI program and have two years of playing eligibility remaining.