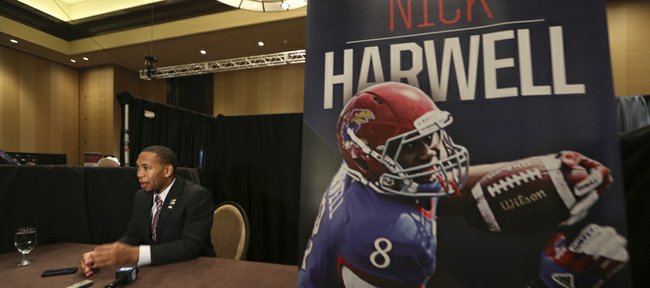 First-year Kansas University wide receiver Nick Harwell's return to playing football on Saturdays has reached the homestretch.
It has been a long and trying wait.
Harwell, a transfer from Miami (Ohio), expected to showcase his talents on the bigger stage of the Big 12 last season and then try his luck in the NFL.
But transfer rules required him to sit out and forced him to watch his new KU teammates struggle to a 3-9 mark without him.
Harwell hardly cares about any of that now. A wide smile was plastered on his face earlier this week at Big 12 media days in Dallas, where he discussed how he handled sitting out while constantly hearing and reading about the high hopes the program and its fans had for him.
"It actually excites me," Harwell said. "It feels good that I've been gone for a year, and I'm still able to be in the mouths and ears of football followers. Last year humbled me. I felt like I was on top of the world at Miami, and I went from having everything, athletically, to not really being recognized for what I do."
That last part is not entirely true.
His new coaches and teammates took notice of how hard he worked last season, when the reward of playing time, touchdowns and adoring fans was nowhere to be found.
"It was pretty tough," Harwell admitted. "I was still around the game, so I felt like myself, but it was tough not being able to contribute to the score and the game and the team. All the work I put in only went so far."
If the way KU receivers coach Eric Kiesau talks about his star pupil and the way Harwell talks about himself are any indication, the two have landed squarely on the same page in a short time.
"He hasn't played a snap of Big 12 football yet," Kiesau recently told ESPN.com. "But his presence on the team and watching him around the guys, his personality is very contagious, and he has the work ethic. When guys see him work and he's working hard, they want to follow him."
Naturally gifted enough to earn a scholarship to play football, it was not until the 6-foot-1, 193-pound Missouri City, Texas, native tasted success that he began thinking about putting more into his craft.
"Coming into college it wasn't, 'I want to play football at the next level,' it was, 'I want to use football to graduate,'" Harwell said. "After my freshman year, I saw I was taking it seriously, and then my sophomore year we actually went from winning the (MAC) championship to going 4-8, and I didn't want to go 4-8 again, so I began to work harder."
Better effort in Year Two produced better results (97 receptions, 1,425 yards, 9 touchdowns) than he recorded in Year One (64-871-8), and Harwell realized people other than his coaches and teammates were starting to take notice.
"My sophomore year, I had a really good season, and I saw that I had scouts and agents looking at me, and that's when I really noticed myself working harder than I usually worked," he recalled. "The biggest reason for my work ethic was probably realizing that I actually had the potential to go to the (NFL)."
That's what made the last year so difficult. Harwell said he loves Kansas and he's thrilled about his decision to come to Lawrence. He even went as far as to call his year off "a blessing in disguise" because it forced him to grow as a person and a player. As it turned out, it also did wonders for his work ethic.
"He has a competitive fire about him that, I think, is what makes him great, makes him do good things," Kiesau said. "It's that inner drive. I've told the guys all along, I can teach you a lot of things, but work ethic, trust and that competitive nature comes from within and is kind of where you're from."
The KU coaching staff, particularly first-year assistant Kiesau, is more than happy to provide the place for Harwell to do what he does one final time in the college ranks.
"He's a very, very good receiver," Kiesau said. "The thing he has that nobody in our group has, is production at the college level. It was at another school, but he's caught 80 balls in a season, so he knows what it takes to be successful."
Success to Harwell is putting up numbers like he put up at Miami. And none of the new challenges he faces — new school, new coaches, new quarterback, new offense, last chance — have changed his outlook.
"I'd like to be not only the No. 1 guy on a team or in a conference but also in the nation, in everything I do," Harwell said. "That's what I'm shooting for."