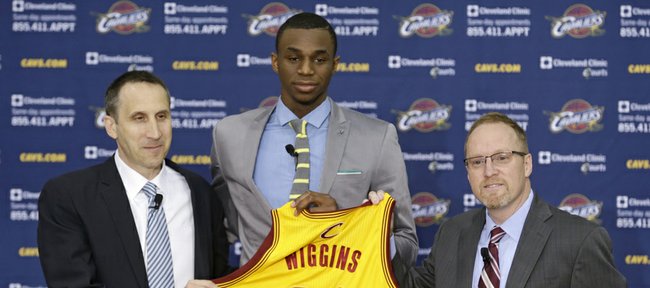 Andrew Wiggins better wait a bit before buying or renting a condo in Cleveland.
Several Cavaliers beat writers — as well as ESPN — reported Thursday that the Cavs are now willing to trade former Kansas University wing Wiggins to the Minnesota Timberwolves as part of a package for three-time All-Star forward Kevin Love.
Prospects of the deal became more likely on Thursday night when Adrian Wojnarowski of Yahoo Sports reported that future Hall of Famer James "has reached out to tell Kevin Love of his desire for them to play together with the Cavaliers."
Curiously, just days ago, Cleveland coach David Blatt said Wiggins, the No. 1 overall pick in the 2014 NBA Draft, wouldn't be traded away in a deal to acquire Love.
"There's no reason for worry on (Wiggins') part because Andrew's not going anywhere as far as I know," Blatt said.
ESPN sources said Love, who will be a free agent after the upcoming season, would sign a long-term contract with Cleveland to play alongside James.
Some say the Cavs will do whatever James wants in pursuit of Love, considering James is playing on a two-year contract that includes an out clause after the 2014-15 season. However, in one dissenting opinion, Fox Sports Ohio wrote late Thursday that, "Several sources familiar with the talks strongly refuted reports Wiggins is being made available." The Associated Press reported a similar stance.
Wiggins, who averaged 13.7 points off 37.8 shooting in the Cavs' first three games of the Las Vegas Summer League, on Thursday scored 21 points off 3-of-5 shooting (15-of-20 from the line) in a 96-90 loss to former KU teammate Tarik Black's Houston Rockets.
Wiggins grabbed five rebounds, had four turnovers, one block and no assists in 31 minutes.
Black scored five points and grabbed two rebounds for the Rockets. He went 2-for-2 from the field and hit his only free-throw attempt. He also had a steal, a block and assist in 21 minutes.
After the game, Black tweeted: "Felt great playing against lil bro (Wiggins). He's looking good out there and talking a little trash too. Gotta back it up."
There's a possibility Black, who has played well in both Vegas and also the Orlando Summer League, will gain an invitation to the Rockets' preseason camp.
"I'm just trying to have fun with the whole process. I'm not trying to wrap my head around who I have to prove wrong (for not drafting him) and who I have to prove right," free agent Black said in an interview with Big 12 Digital Network. "If I have fun ... if I go out there and play hard, I get good results. It's been proven in the past with my game.
"It's a whole next level from the coaching staff to the players I've met," Black added. "They've been schooling me on how to calm down and go out and have fun playing the game, to be in a comfort zone and play at your own pace. I've been picking up on a lot of different things, and I'm grateful for the opportunity."
Asked how college prepared him for the NBA, Black said: "I was very blessed to go to two top-notch programs (KU one year; Memphis three years) and night in and out play in front of the great fans. Even to go on the road and play against some interesting crowds ... it definitely prepared me for situations like this, coming out in front of people and performing, keeping your mind in the right place and being in a comfort level when on the floor."
McLemore goes for 22: Former KU guard Ben McLemore scored 22 points off 7-of-11 shooting in Sacramento's 100-86 victory over Minnesota on Thursday in Vegas summer-league action. McLemore hit two of four threes and also grabbed six rebounds with four assists and three turnovers in 31 minutes. First-round draft pick Nik Stauskas of Michigan scored four points off 1-of-3 shooting in 24 minutes for the Kings.
"I like Nik. He's a great player and great kid," McLemore told Sacramento News 10 ABC.
The Kings are experimenting playing both shooting guards at the same time.
"He can put the ball on the floor. He can move it as well. We are learning to play together," McLemore said. "We're working to build that chemistry together and that momentum."
McLemore continues to work on his shot. "One dribble pull-up, things like that to get my shot consistent," he said.
Robinson may need surgery: Former KU forward Thomas Robinson of the Portland Trail Blazers will seek a second opinion on his right thumb, which has a ligament tear, Comcast Sports Net Northwest reported Thursday. Robinson, 23, would be sidelined six weeks if he needs surgery, reporter Chris Haynes indicated.
Robinson, who averaged 13.7 points, 8.7 rebounds and 2.3 steals in three summer games, sustained the injury in Tuesday's victory over Atlanta when he attempted to break his fall in the second half.
"I'm in good spirits, man," Robinson told CSNNW.com Thursday. "I'll be back in no time. I'm good."
Newman update: Malik Newman, a 6-3 senior shooting guard from Callaway High in Jackson, Mississippi, who has been sidelined due to an injury, tells Zagsblog.com that KU, UConn, Kentucky, North Carolina State and Miami are recruiting both Newman and Diamond Stone (6-10, Milwaukee Dominican High) as a package deal.
"He (Stone) is a great player. He's a great person," Newman told Zagsblog. "I'd love to play with him in college because he's a dominant post player. That's something I've always wanted to play with because I figure that if he can get the post going, that can help me out because that can really spread the floor."
Stone, who recently visited UConn without Newman in attendance, told Zagsblog there's a "50 percent chance" he and Newman will go to the same school.
KU coach Bill Self, as well as Kentucky's John Calipari and UConn's Kevin Ollie, watched the No. 6-rated (by Rivals.com) Stone play Thursday at the Under Armour event in Georgia. No. 2-ranked Newman, who will cut his list to five after the USA Basketball Under 17 training camp that begins July 24 in Colorado Springs, watched Stone from the sidelines Thursday.