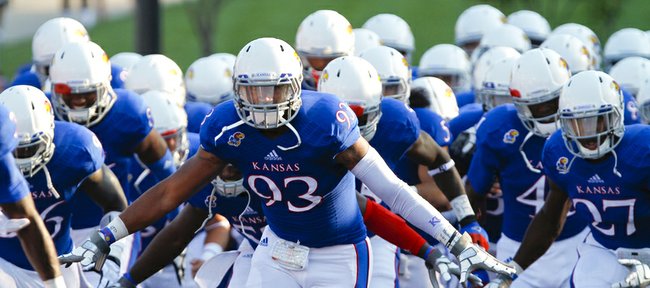 Ben Goodman has to admit, there are far worse things a college football player can hear from his coaches.
After playing all of his sophomore season as a Kansas University "buck," a hybrid defensive end/linebacker position, Goodman learned early this offseason that the staff wanted him to play as a traditional lineman in 2014.
Easy as that might sound for a guy who began his KU career as a defensive end, there was one cumbersome problem: the 6-foot-3 Goodman, at 235 pounds, was no longer large enough to play in the Big 12 trenches.
With that came some satisfying news. A year removed from an offseason of salads and cutting weight in order to become a buck, Goodman had clearance to attack every meal to his stomach's content.
"Now I'm back savage with it," a smiling Goodman said this spring. "Eating any and every thing."
Thanks in part to stops by the Burge Union for chicken strips, the junior worked his way up to 250 pounds. That was the easy component of the equation for Goodman, who played strong-side end his first two years with KU (one as a red shirt).
"The toughest part, really, is battling with the O-linemen every down," he said, adding it was nothing new, at least. "At buck, sometimes I would be in coverage, or the play would be away from me, and I wouldn't have to be physical with O-linemen every play. But playing the interior line, I'm gonna hit some O-lineman. The guard or the tackle, I'm gonna hit one of them every play."
Doing so facilitated Goodman's progress throughout spring ball. Steps, pad level, technique — all evolved and improved as he shook the habits he had developed as the Jayhawks' starting buck for all 12 games in 2013.
The Beaumont, Texas, native might still be significantly smaller than his fellow linemen — seniors Keon Stowers (297 pounds), Tedarian Johnson (290) and junior Andrew Bolton (285) — but the unit's coach, Buddy Wyatt, expects Goodman can use that to his advantage against offensive linemen.
"He's a lot quicker than the guys they're used to going against," KU's defensive line coach said. "You can do a lot of things with him that you might not be able to do with a big, 300-pound guy."
Stowers, the line's leader, saw that first-hand during spring practices. He said Goodman more than held his own, and didn't need to be as hefty as a typical lineman.
"With me playing a little bit of end, and Ben at the other end, we are much more athletic than we've been in the last two years," Stowers said. "I think it's gonna give us a good chance this year to really get after the quarterback and do things we haven't done these last two years."
Even before the start of spring football, Kansas coach Charlie Weis predicted the Jayhawks would be "pretty salty" on the defensive line, and expected Goodman to be a part of that.
"We aren't going to take somebody who weighs 250 and put him inside and let him get whaled on by a bunch of 300-pounders," Weis said. "I mean, we have a plan in place. I think we have a pretty good idea of how we are going to do this."
Kansas defensive coordinator Clint Bowen said converting Goodman back into a down lineman wasn't so much about getting smaller and faster on defense. KU's coaches, Bowen explained, want to cater to the players' abilities, and not be stubborn in trying to make guys do things they aren't capable of doing.
"We're just trying to get our best 11 guys on the field," Bowen said.
During the spring game, Goodman got in on three assisted tackles. Not bad. Not great. But part of the transition. And he has the demeanor to make it work.
"I liked buck a little bit better, personally, because if you look at the NFL statistics, it's the second-highest paid position," Goodman said, grinning. "I just want to win, and if me playing defensive end or me playing buck — if I had to play safety — I'll play anything just for us to win, and just to turn this program around."