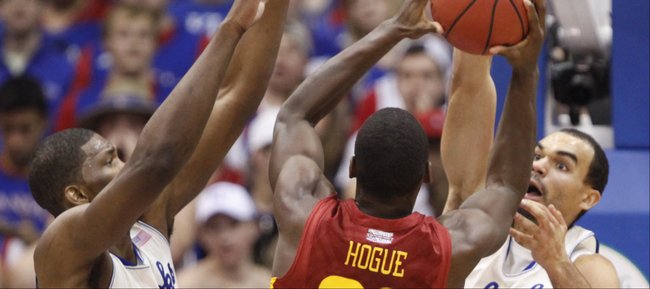 Photo Gallery
Kansas basketball v. Iowa State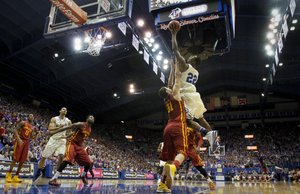 Images from Wednesday night's game between the Jayhawks and Cyclones at Allen Fieldhouse.
Podcast episode
Bill Self discusses KU's home win over Iowa State
Podcast episode
Andrew Wiggins, Naadir Tharpe and Perry Ellis discuss home win vs. ISU
Podcast episode
Iowa State's Georges Niang, DeAndre Kane and Fred Hoiberg credit KU for strong showing in 92-81 win.
KEEGAN RATINGS
Kansas 92, Iowa State 81
After suffering a seven-point home loss to Kansas two weeks ago, the Iowa State Cyclones walked away stewing over a 31-percent shooting performance that included an ugly mark of 4-of-25 from three-point range.
It stands to reason then, to think that the Cyclones entered Wednesday's rematch at Allen Fieldhouse believing that if they just could shoot better, they would have a good shot at winning.
Didn't happen. Iowa State did shoot better — 48 percent from the floor and 10-of-26 from three-point range. Much better, in fact. But so did Kansas, which shot 52 percent from the floor and fought off several Cyclone charges in the final 30 minutes to win, 92-81, and improve to 16-4 overall and 7-0 in Big 12 play.
"I think we did everything better tonight than we did at home," said ISU's Georges Niang, who led the Cyclones with 24 points on 10-of-17 shooting. "Tonight we were back to our old selves."
KU coach Bill Self said the Iowa State that played the final 30 minutes on Wednesday was as good a team as the Jayhawks had played all year. That team battled back from a 30-14 deficit early to trail just 46-43 at halftime. It also trimmed KU's lead to a single point late in the game.
But a couple of timely Kansas runs — the one to open the game, another at the start of the second half and the knockout blow in the waning minutes — proved to be too many hills for Iowa State to climb.
"They came out on fire," ISU coach Fred Hoiberg said. "I've been in this building enough as a player, a coach and a scout, and it happens. Pretty much every game."
Because of that, Niang and ISU point guard DeAndre Kane (22 points) were quick to credit KU's performance.
"We got down early, but we battled back," Niang said. "They made some tough shots to beat us, so kudos to them. They played a hell of a game, especially (Andrew) Wiggins."
The KU freshman poured in a career-high 29 points on 10-of-16 shooting and was the focal point of a 6-0 spurt that turned a three-point game into a nine-point Kansas cushion with under three minutes to play. The play that sparked it was an intentional foul that gave Wiggins two free throws and Kansas the ball.
"It looked, to me, like Dustin (Hogue) was trying to prevent a layup," Hoiberg said. "I didn't get to see a replay of it, but it was a big play."
Added Niang: "That (intentional) call was a big call. I'm not saying it was a bad call at all. That's when they took off."
The victory was the 19th in the past 21 games for Kansas against Iowa State. Perhaps more importantly, it was KU's seventh consecutive victory and further tightened the Jayhawks' choke hold on the Big 12 Conference race. Asked if he thought KU could run the table in conference play this season, Hoiberg wasted no time before answering.
"Sure. I think so," he said. "If they're hitting shots like that, that's going to be a tough, tough team to beat."