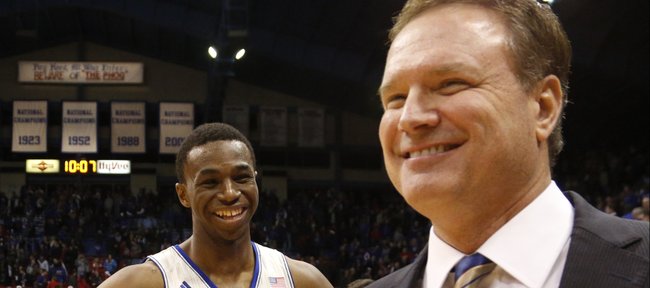 Photo Gallery
Kansas basketball v. Iowa State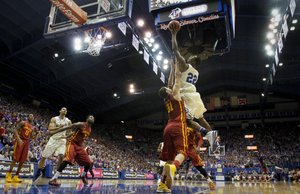 Images from Wednesday night's game between the Jayhawks and Cyclones at Allen Fieldhouse.
Podcast episode
Bill Self discusses KU's home win over Iowa State
Podcast episode
Andrew Wiggins, Naadir Tharpe and Perry Ellis discuss home win vs. ISU
Podcast episode
Iowa State's Georges Niang, DeAndre Kane and Fred Hoiberg credit KU for strong showing in 92-81 win.
KEEGAN RATINGS
Kansas 92, Iowa State 81
A 6-foot-8 guard from Ontario, Canada — much as another KU rookie did a year ago — exited to high fives and pats on the back after a stellar performance against Iowa State.
Andrew Wiggins exploded for a career-high 29 points off 10-of-16 shooting and dominated when needed down the stretch in the Jayhawks' 92-81 victory over the Cyclones.
"I would say I'm feeling more comfortable on the court. Things are slowing down for me," said Wiggins, who hit four of six threes and five of six free throws, resembling current Sacramento Kings rookie Ben McLemore, who burned ISU for 33 points a year ago in an overtime win in the fieldhouse. "My teammates (including Naadir Tharpe, who tied a career high with 12 assists) are looking for me. Getting the whole team involved is what it's about."
Wiggins showed his personality in trading comments with various Cyclones through the game.
"It wasn't trash talk. I know a lot of them. It was just friendly chit-chat," Wiggins said with a smile.
He was hit hard up high by Dustin Hogue with 3:27 left and KU leading, 75-72. Wiggins swished two intentional foul shots, then followed a missed shot by Joel Embiid (14 points, 11 rebounds) with a stickback layup, giving the Jayhawks (16-4, 7-0) a comfy 79-72 lead at 3:09.
"I did," Wiggins said, asked if he thought the Hogue hit deserved to be called an intentional foul. "Just the way I felt after (getting hit). I felt something was wrong," he added, again with a big smile.
KU coach Bill Self jogged toward the players after that intentional foul call, hoping to restore order.
"Somebody gets knocked down and a teammate goes to stand up for him and there can be pushing and shoving. We're not the most mature group in the world. A couple times in that situation we have played a role in double technicals. I didn't want that to happen," Self said.
After an Iowa State turnover, Tharpe pitched ahead to Wiggins who rammed a vicious two-handed slam to give KU an 81-72 lead at 2:49.
Wiggins looked back to make sure no Cyclone was storming in to hammer him on the breakaway.
"Better safe than sorry," Wiggins said. "I tried to make a safe basket, two points is two points at the end of the day."
ISU (15-4, 3-4) would get no closer than six the rest of the game.
"I said all along his numbers will go up as he gets more comfortable," Self said. "He appears more comfortable and more aggressive.
"He still took only 16 shots. It's not like he's hunting shots. He'll have a game he gets 22 looks," Self added noting Wiggins could really put up some big numbers if "he shoots the ball like that."
Perry Ellis scored 20 points and grabbed six rebounds, while Tharpe had 12 points to go with his 12 assists. Wayne Selden had 11 points.
Frank Mason had three points. The freshman guard cashed a huge three with 7:21 left, upping a 68-63 lead to eight points.
"I was excited for Frank," Self said. "Frank's boy (Trey Songz, recording artist) was in the house. I thought he was a little nervous when he saw him. Trey came to see Frank tonight. He was sitting in the front row. Frank may have been a little nervous, but that was a big shot and he made a couple of bad plays  prior to that and needed that for his confidence."
Mason said he's known Songz for seven years.
"We had a talk and he decided he was going to come out and support me," Mason said. "We went to the same high school. This was his first time seeing me in college. I wouldn't say I was nervous, but it felt a little different," Mason added.
Does he have a favorite Songz song?
"All of 'em," Mason said.
Does Self? "Bottoms Up," Self stated with a grin.
KU had game-high leads of 16 points the first half, which ISU completely erased early in the second stanza. The Jayhawks led by 13 in the second half, ISU cutting that down to one point with 4:31 left.
KU will next meet Texas at 3 p.m., Saturday, in Austin, Texas.
Injuries: Conner Frankamp and Tarik Black did not play in the game.
"Conner hurt his knee two days ago. He couldn't practice yesterday or today. X-rays were negative. It's a bruised knee," Self said. "I'm not overly optimistic he'll be back tomorrow. He's day to day. Tarik (ankle sprain) might have played. It would have been a tough game, a guy on one leg chasing (Georges) Niang."
This, that: Billy Butler and Jeremie Guthrie of the Kansas City Royals attended. ...  A fan in the student section had maybe the sign of the year that read: "I Kissed Frankamp in 8th grade." Frankamp was shown laughing on the video board as the picture was shown.