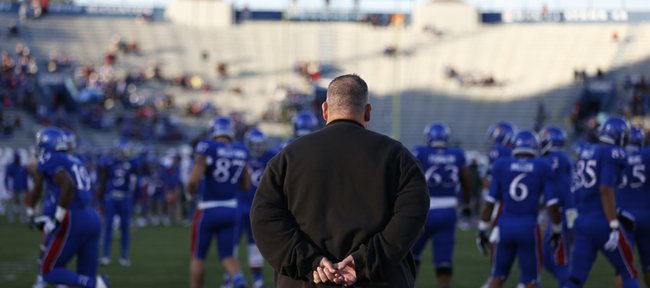 The Kansas University football team offered a sneak peek at the 2014 squad when it released an updated roster on its website Tuesday.
The most significant revelation was that offensive lineman Dylan Admire, who started two games at center last season, dropped some weight and moved to tight end/fullback.
Admire, a 6-foot-3, 230-pound junior-to-be from Blue Valley West High, is down 50 pounds from his weight at this time last year. Admire earned his shot at center — his high school position — because of his intelligence and work ethic, but his lack of size was too much to overcome up front.
To accommodate the position change, Admire switched his number from 66 to 86.
Other notable nuggets from the updated KU football roster include:
— The absence of Ricki Herod, Brian Maura and Neal Page, all former scholarship players who are no longer with the team.
— The absence of H's or F's from the position column. From here on out, it looks like running backs will be called running backs and wide receivers will be called receivers. On that note, senior-to-be Tony Pierson and red-shirt freshman Colin Spencer both are listed as wide receivers.
— Junior running back Darrian Miller is on the roster and reported for Tuesday's first day of spring semester classes.
— Tight end Kent Taylor, who transferred to KU from Florida and will have to sit out the 2014 season, is not yet listed on the roster but is in town. After taking his official visit last weekend, Taylor returned to Florida with his family on Sunday per NCAA rules and then came back to Lawrence on Monday. He took in Monday's KU hoops game with linebackers Ben Heeney and Schyler Miles.
— Mid-year signees Ronnie Davis (CB), Keyon Haughton (OL) and Anthony "Fish" Smithson (S) all are listed on the roster and are in town for the start of the spring semester. Davis is slated to wear No. 23, Haughton will wear No. 70 and Smithson No. 9.
— Position changes of note: Former cornerback Greg Allen is now a nickelback; former Buck Ben Goodman is now a defensive lineman; former linebacker Kellen Ash is now listed as a Buck.
— Number changes: Senior wide receiver Nick Harwell switched from 88 to 8; red-shirt freshman receiver Colin Spencer switched from 20 to 88; junior nickelback Courtney Arnick switched from 58 to 28; sophomore kicker Matthew Wyman switched from 28 to 17; sophomore cornerback Piers Christian switched from 28 to 39; sophomore offensive lineman Sean Connolly switched from 75 to 62; and sophomore kicker Austin Barone switched from 39 to 19.
— It should be noted that, with the exception of Admire, none of the weights were updated on the most recent roster. That likely will take place before the start of spring practices in March.