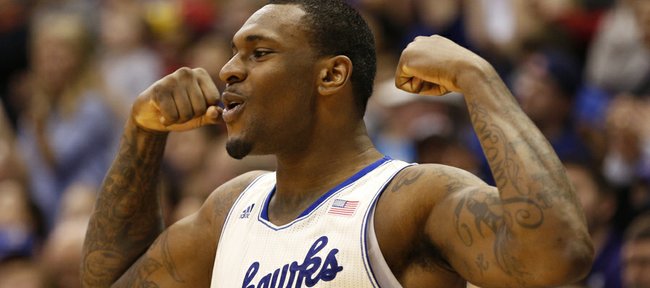 For all of his life, senior reserve center Tarik Black was groomed for the role he plays for the seventh-ranked Kansas University basketball team. He's big brother to younger, even more talented athletes.
He knows the view from both sides of that equation.
The last of three sons born to Lawrence and Judith Black, Tarik credits oldest brother Bilal with preparing him and middle brother Amal for more than just life on the basketball court.
"Bilal Black, he doesn't raise any softies," Tarik said after a recent practice. "You can't have any softness in your blood being Bilal Black's little brother."
With their father out of the house for as long as Tarik can remember, but still in their lives, Bilal assumed the responsibility of toughening his brothers for what inner-city Memphis might bring.
"My rough days were dealing with my brother, getting beat up every day," Tarik said.
Many of the beatings took place in games of two-on-one basketball, Bilal taking it to Amal and Tarik, five-and-a-half years Bilal's junior.
"Tarik came up through the big-brother boot camp and I made sure I administered a lot of punishment to Tarik and Amal, to make sure they were tough outside the house," Bilal, a tattoo artist in Memphis, said during a telephone interview. "I figured if you can fight with your big brother, fighting for your life, when you get outside, you should be able to hold your own against people your own age. Tough love. People weren't messing with Tarik. They left him alone."
They still do. At times when tempers have flared during games, Black, a sculpted 6-foot-9, 260-pound man never in retreat, needed only to stick his chest out to cool boiling heads. He so looks the part of indestructible enforcer that when he sprained his ankle in a January game against Baylor in Allen Fieldhouse, sidelining him the next two games, coach Bill Self cracked, "I didn't think you could hurt him."
Black seems to find it amusing that he gets credit for welcoming contact.
"My style of play, you can tell there is not really a softness about me," he said. "Never in basketball. You have referees, 15 other guys on the bench, no need for you to ever even be soft. It's not even a real situation. You're not even in real trouble for that. You're just playing basketball, throwing bodies, getting rebounds, scoring points."
His softness resides inside the left side of his barrel chest.
Brawny and brainy
To watch Black play basketball is to picture him serving as the bouncer at bar. To talk to him afterward is to envision him owning the bar and several other businesses.
He did more than throw bodies around the court in three years at Memphis. He also studied seriously enough to graduate in three years, enabling him to transfer to KU without sitting out a year.
"Some people have been intrigued by how I am as a person, the contrast between my physical looks and then when I start talking," Black said. "When reporters sit down and interview me after a game, I can tell they're like, 'Wow, that guy's very articulate. His answers are on point a lot of the times. The words he uses, we didn't see that coming. It came out of left field.'"
Actually, it came out of a home headed by Judith Black, director of media relations for St. Jude Children's Research Hospital in Memphis.
Tarik is quick to express gratitude for the opportunities his "really intelligent" mother delivered to him.
"I'm blessed with a mother who worked her way up the scale, so she was able to move us to a more suburban neighborhood with a better high school," said Black, who graduated from Ridgeway High. "I grew up in the inner city, so I got to see both sides, and the opportunities are like night and day. I'm blessed to make it out of my neighborhood."
Black said experiencing the view from both sides of economic opportunity has instilled in him a desire to return to Memphis and make a difference once he is done playing basketball.
"I saw it first-hand," Black said. "I know what the kids need in Memphis in order to succeed and go past the stereotypes that are against them. I really want to give back so some kids can have the same opportunity I had, just in a different form."
What do they need?
"Education, that's No. 1," he said without hesitation. "Better books. Better mentors. More people that they see who look like them, but aren't in the streets, aren't going back and forth to prison, can speak properly but still relate to them, can articulate their words. I was advocating for that a lot (when a student-athlete at Memphis), speaking at elementary schools, high schools. Just be a new face they can see and think, 'Oh, OK, it's cool to make all A's.'"
Clearly, Black has thought a lot about the difference he wants to make, "doing non-profit, community service in inner-city Memphis."
"I want them to speak proper English," Black said. "My mother's very articulate. I grew up in the inner city, but my mom is director of public relations at St. Jude's. That's not by accident. My mom raised three children by herself. That's why the situation at first was like it was. Her work, that's why we were fortunate to move out. She moved up and some things fell into place."
His hurtful expression reveals that it pains him to think of all the smart children whose circumstances are such they might not get educational opportunities that enable them to turn their smarts into a better life.
"My grandmother's very intelligent, my grandfather's highly intelligent," he said. "My dad's intelligent himself. I've always been around intellectual people. The physical (environment) situation, was different. The mental was always upper-echelon."
He plans to use his long reach and strong hands to pull others up the way his mother's hand pulled him up.
Adjusting on the court
Part of the No. 2-ranked Class of 2010 recruiting class (behind only Kentucky), Black knows all about battling expectations. That and so many other aspects of his three years at Memphis have come in handy in dispensing advice to freshmen who aren't shy about talking about how much they look up to him.
But in a sense, Black was a freshman all over again when he came to KU to play in a new system, for a new coach and living away from his hometown for the first time.
He struggled with the adjustment, which coincided with a change in the enforcement of rules aimed at creating more fluid movement for offensive players. Black was hearing whistles in his sleep.
In his first 10 games, he averaged 9.7 minutes, 2.8 points, 2.4 rebounds and 2.7 fouls. In 12 games since, he has averaged 12.7 minutes, 5.3 points and 3.4 rebounds.
With starting center Joel Embiid's minutes on the decline the past three games as he battled knee and then back woes, Black picked up the slack, averaging 22 minutes, 8.7 points, 7.6 rebounds and 2.7 fouls.
He said he never — not even when he went scoreless four games in a row — regretted his decision to leave Memphis, where he averaged 22.6 minutes as a freshman, 20.8 as a junior.
Self 'cooler than us'
"Man, toughest decision I ever made in my life. Memphis is still right here," he said, pointing to his heart. "It was bigger than basketball. Getting away from home, experiencing something different. Having the opportunity to play for a guy like coach Self. How much can I learn? How much better can I get?"
He said he has gotten a great deal better as a basketball player and person.
"I can take back to the city things I've learned," he said. "For one thing, maturity. Being under coach Self, I've learned how to be so much more patient with myself, my teammates, and just with people in general, just accepting things around me. Taking it for what it is, figuring it out, assessing it to my life. How is it going to help? What are the negatives about the situation? Then moving on. That's the way he coaches."
The polished Self who appears in public doesn't always have the same delivery in practice, but to hear Black tell it, KU's 11th-year head coach forever is in control.
"He's so calm," Black said. "He's so cool. I've never experienced it before. When I came out here I didn't expect it. I expected him to be even more rowdy than the coach (Josh Pastner) I previously had. I figured, well, they win, so he has to be jumping on them, going crazy every day."
Not so in practice or games, Black insisted.
"He's so cool," he said. "He's cooler than us. He'll tell us, 'Guys we're going to be OK. Just run the play the way I told you to and we're going to be fine.' I didn't expect it. I didn't know. These are things I hadn't experienced."
His birth order on his second family is new to him as well.
"He gets to be me for a second," Bilal Black said with pride. "And I know he's being a good big brother. Tarik has always been a real good kid."