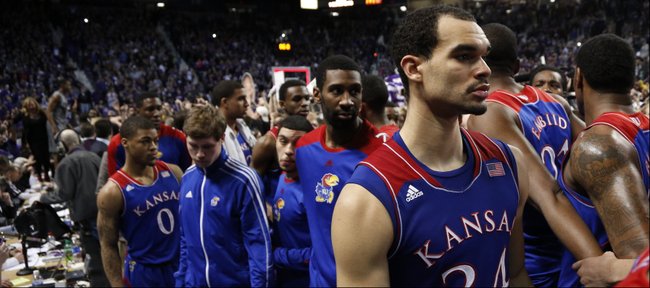 Photo Gallery
Kansas basketball v. Kansas State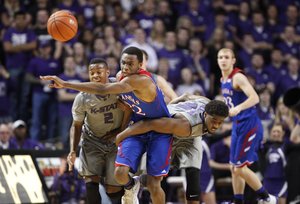 Images from Monday night's game between the Jayhawks and Wildcats in Manhattan.
Podcast episode
Bill Self after 85-82 overtime loss at Kansas State
Podcast episode
Naadir Tharpe and Perry Ellis on KU's overtime loss at K-State
KEEGAN RATINGS
KANSAS STATE 85, KANSAS 82 (OT)
Manhattan — Nobody confused Bramlage Coliseum for "Allen Fieldhouse West" on Monday night.
Kansas University's basketball team, which entered 23-2 in the home of the Kansas State Wildcats, fell to KSU, 85-82, in overtime — a somewhat surprising result since the Jayhawks pounded the Cats by 26 points earlier this year in Lawrence.
A sea of fans stormed the court after Conner Frankamp's last second three dropped through the hoop, cutting the final margin to three points as the Wildcats snapped a six-game losing streak versus the Jayhawks and won their first game in Bramlage over KU since 2011.
"The crowd was great. It was a great atmosphere. It was a fun game to be part of. In my mind the wrong team won," KU coach Bill Self said after his fourth loss versus KSU against 22 wins.
"It was an entertaining game, a good college game. I just wish we competed a little harder on defense," Self added.
He thought the Jayhawks were in good shape entering overtime after storming back from a nine-point deficit with under two minutes to play.
"We played catch-up in overtime. We didn't play well in overtime," said Self, whose Jayhawks took the lead, 71-69, on a Tarik Black layup but trailed, 75-73, following a three-pointer by Will Spradling and bucket and foul shot by Marcus Foster. 
KU never regained the lead.
"Give them credit," Self added. "That can be deflating the way we came back against them but they responded well in overtime. They had guys step up and make some plays."
The Jayhawks trailed, 68-59, with just 1:53 left, but put on a furious rally that managed to tie the game and force overtime, 69-69.
Andrew Wiggins, who missed a three-pointer that could have tied the game with 42.7 left — in fact it was an air ball — put in a stick-back rebound bucket of his own miss at 6.9 seconds to tie the score at 69. KSU was unable to get off a shot on its final possession of regulation.
A hero in forcing OT was Brannen Greene, who first put in a rebound of a miss to cut the gap to 68-63 then stole the ball and scored again to cut the gap to 68-65 with a workable 1:19 left.
"I thought Brannen did some good things," Self said. "We shot 3-for-17 (from three) and missed 11 free throws. We've got to shoot better than that. Brannen did make some plays late," he added after Greene's final line read 10 points and five boards with three steals in 15 minutes.
The Wildcats were led by Marcus Foster, who had 20 points (4 of 5 threes) and two assists in 36 minutes. Spradling, who went 2-2 at home versus KU in his career, had 15 points. He hit three of five threes on a night KSU hit eight of 15.
Perry Ellis led the Jayhawks with 19 points and 11 boards. Wiggins had 16 points and five boards, while Naadir Tharpe had 13 points.
Black had eight points and seven boards on a night he sprained the same right ankle he hurt earlier in the year.
"I'm good, though," Black said after the game. "Somebody fell on it again. You saw I was able to go back out there. I'm fine."
Joel Embiid had six points and six boards in 18 minutes. Self said the freshman big man is basically "beat up" and needs some time off. Self said he didn't know if that meant Embiid would miss any games.
"I don't know. We're going to re-evaluate and see if he needs a little rest and a little time off. I don't know how much time," Self said, indicating Embiid's back has been bothering him as well as his knee. "There's nothing structurally there, but he's beat up. His body ... it's taken a toll the last two weeks."
The Jayhawks fell to 18-6 overall and 9-2 in the Big 12; K-State is 17-7, 7-4.
"We just had a lot of defensive lapses," said Tharpe. "I felt there was a time we'd get the lead and keep it. They didn't stop. They (Wildcats) were relentless and played the whole game. We didn't compete at the end.
"They had second-chance rebounds at will. We didn't get any stops. They played harder than us at times."
Noted Ellis: "We felt good and energized going into overtime. We just couldn't get stops at the end of the second half and overtime. This means a lot to Kansas people. We've got to move on now."
Forward  Jamari Traylor dressed for the game but did not play because of disciplinary reasons.
"He ticked me off," Self said. "Being irresponsible. I think the world of him, but he needed to sit. I don't know yet," Self added, asked if Traylor would miss another game. "I'm still evaluating it."