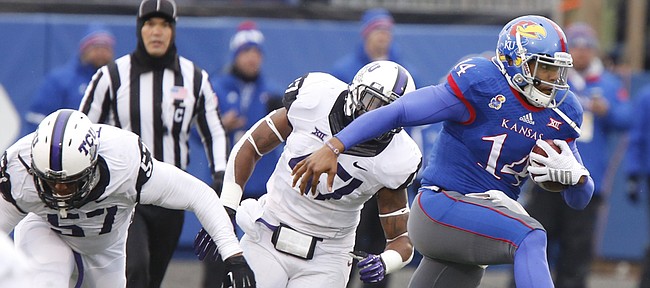 When new Kansas University football coach David Beaty arrived on campus, much of the buzz surrounded his successful track record with wide receivers.
Beaty coached that unit as an assistant at Texas A&M.; Under his guidance, the Aggies' Mike Evans — who would become the seventh overall pick in the NFL Draft — earned consensus All-American honors in 2013 (1,394 receiving yards, 20.2 yards per catch, 12 touchdowns).
The season before that, Evans and Ryan Swope each hauled in more than 70 passes, with quarterback Johnny Manziel slinging the ball around.
Even when Beaty first coached receivers at KU, in 2008 and 2009, he worked with the top two targets in program history: Dezmon Briscoe (3,240 career yards, 219 receptions) and Kerry Meier (2,309 career yards, 226 receptions).
All of this must have the Jayhawks' incumbent quarterback stoked, right?
If he is, fifth-year senior Michael Cummings is downplaying it publicly.
"My expectation offensively is to win games. That's the bottom line for me," Cummings said after Beaty was introduced. "I'm not a big stat guy. I just want to do my part to put my team in the best position to win. If that's handing the ball off 50 times or throwing the ball 50 times, either way it doesn't matter."
At his introductory news conference earlier this month, Beaty described the offensive style he plans to implement: "Fast‑paced, up‑tempo offense that places high pressure on defenses, things that don't allow them to communicate with their coaches at the sideline," the KU coach said. "It's going to attract top recruits, and it's going to be an exciting brand of football that's going to make people want to come to Memorial Stadium."
KU's 202.9 passing yards a game this past season ranked 85th nationally. Cummings isn't making any bold proclamations about how those numbers should skyrocket in 2015, now that Beaty is in charge.
"We'll see over time, right? I mean, he's a great football mind and a great coach," said Cummings, a red-shirt freshman during Beaty's last stint at KU, in 2011. "So I think he'll do the best job that he can to develop young players and bring them along."
That part of the equation figures to be a prominent storyline throughout the offseason, with Nigel King (30 receptions, 537 yards) the only pass-catching threat from KU's top four (Jimmay Mundine, Nick Harwell, King and Tony Pierson) returning next fall.
"The spring will be time to get acclimated to the new staff and learn their ins and outs and how they work," Cummings said. "I'm excited to get to spring ball, so we can actually be around the coaches more."
The quarterback from Killeen, Texas, who admitted the Jayhawks felt skeptical about how the coaching search would turn out before Beaty was hired, at least knows what he and his teammates are getting in Beaty, whom Cummings described as an honest guy.
"He's gonna tell you like it is," Cummings added. "And he's sort of like Clint Bowen in his fire and his passion for the university and the game. And that's always great to have, as a leader."