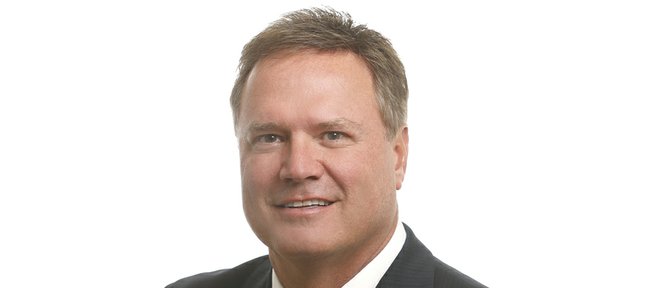 The high school basketball recruiting Class of 2015 — which includes blue-chippers Ben Simmons, Malik Newman, Jalen Brown and Stephen Zimmerman — is considered quite deep in terms of talent.
It follows a strong Class of 2014, which included Jahlil Okafor, Emmanuel Mudiay, Cliff Alexander, Kelly Oubre Jr. and Karl-Anthony Towns and a Class of 2013 that had Andrew Wiggins, Julius Randle, Jabari Parker, the Harrison twins, Wayne Selden Jr.
Unable to talk about specific prospects in accordance with NCAA rules, 12th-year Kansas University coach Bill Self concedes there's been no shortage of top preps for schools to choose from the past many moons.
"I think it's cyclical," Self said. "There may not be a better high school class ever than 1979. That was Isiah Thomas, Clark Kellogg and Ralph Sampson and some of those guys. You look at '81 with (Patrick) Ewing and (Charles) Barkley and (Michael) Jordan and (Chris) Mullen and those guys.
"I think there are more good players today than there ever have been because more kids are playing and the training is so much better for young kids and they are getting so much more exposure," Self added. "Whether or not we'll have top-heavy classes every year, I don't know if that will happen. That's cyclical, but it appears to me there are just more really really gifted kids out there right now.
"There will never not be 50 guys that have a chance to be pros playing high school ball every year because there always will be that potential with these kids."
Self has two scholarships to give in the Class of 2015, more if any Jayhawks turn pro or transfer. KU is in on top-10 prospects Brown, Newman, Cheick Diallo, Ivan Rabb and Zimmerman and others farther down on the top 50-100 list. Self obviously isn't only about signing Top Ten preps.
"If you say 20 to 50 range, bring in those guys, those guys are studs," Self said. "Thomas Robinson couldn't crack that (top 10) group (he was No. 31 in Class of 2009). Marcus Morris (29 in Class of 08) and Markieff (49) couldn't crack that group in so-called high school recruiting services experts. Tyshawn Taylor (No. 77 in Class of 2008) wasn't in that group. Elijah Johnson (No. 24 Class of 2009) wasn't in that group, neither was Travis Releford (No. 70 Class of 2008). Jeff Withey (No. 36 Class of 2008) wasn't in that group. But they were all good players and I think the key with our guys (assistants) and they've done a good job, you not only recruit kids but you have to evaluate and then be able to project. Our coaches are very good at that."
Self had additional comments concerning the rankings, which fans tend to treat as gospel, so to speak ....
"You can look at guys 1 through 5 or 1 through 7 that are rated that way yearly, maybe 1 through 10, and you know they're going to have a huge impact. You know," Self said. "But there's not that much difference between 11 and 50, maybe what days they played well and who was watching and stuff like that. I think those recruiting services, although I appreciate them and I know they work hard, I think they're so overrated in a lot of ways because it's up to a school to determine who can play and how they fit to make you better, and there's a lot of guys out there that could pick a school that are so, so talented on paper but they can't play the way that that system is designed to play with, or play for, and it just never works out.

"Our guys have done a good job of plugging them into who we are."
As far as where recruits come from ... KU will travel anywhere in pursuit of contributing players. The Jayhawks have had players from Canada (Wiggins), Russia and Ukraine (Sasha Kaun, Svi Mykhailiuk) and all over the USA.
"Recruiting is not easy," Self said. "We have a national brand. We have to go into somebody else's turf to seal the deal. There are not a lot of players in our locale, not a highly populated area. Of course we love to recruit from our own area. We've had some great guys that came from the state of Kansas, whether it be Perry (Ellis) or Travis (Releford) or Tyrel (Reed) or Brady (Morningstar), that the ball moved a little better when they were in there, or they were able to make sure that they piggy-backed screens or went ball side of every curl, that maybe don't translate to be big things, but those are plays that win basketball games.
"I've been real pleased with who we've been able to recruit. I hope there are good players in our state every year. I wish we could get a kid out of here every year because I do think it adds something to your program to have some local flavor."
Self said he has a lot of ammunition in recruiting, including tradition, facilities and great interest. "This is a cool place. Fans love their players," Self said. "I don't think there's a place in America you can say fans truly enjoy players growing into being young men more than Lawrence."
Prospects who are considering KU in the Class of 2015: No. 2-ranked (by Rivals.com) Jaylen Brown, 6-7, Wheeler High, Marietta, Georgia; No. 3 Malik Newman, 6-3, Callaway High, Jackson, Mississippi; No. 6 Cheick Diallo, 6-7, Our Savior New American, Centereach, New York; No. 7 Ivan Rabb, 6-9, Bishop O'Dowd, Oakland, California; No. 10 Stephen Zimmerman, 7-foot, Bishop Gorman High, Las Vegas; No. 14 Carlton Bragg, 6-9, Villa Angela St. Joseph High, Cleveland; No. 18 Brandon Ingram, 6-8, Kinston (North Carolina) High; No. 19 Tyler Dorsey, 6-4, Maranatha High, Pasadena, California and No. 90 Marcus LoVett, 5-11, Chicago Morgan Park High.