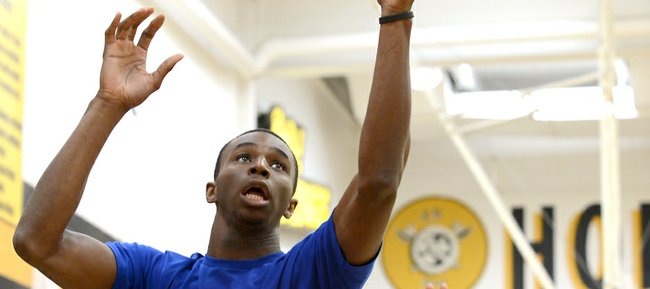 Nineteen years old and soon to be living the life of a multi-millionaire, Andrew Wiggins looked like a guy with no worries Sunday at Bill Self's basketball ProCamp at Shawnee Mission West High.
Wiggins, the 6-foot-8 former Kansas University guard, grabbed the microphone and spoke to 280 campers twice in the span of an hour and also actually entered games to run the court with the youngsters.
There's no stress over a trade that will send the No. 1 pick in the 2014 NBA Draft from the LeBron James-led Cleveland Cavaliers to the lowly Minnesota Timberwolves.
"He's excited," KU coach Self said after the camp's morning session, indicating Wiggins has been enthused about joining the Wolves all along. "Everybody needs a mentor, but when all the trade stuff started, Andrew told me, 'I hope I get traded.' I'm like, 'No, you don't,'" Self added with a smile.
"He said, 'No, coach, I do (hope for trade). I need to go somewhere where I'm kind of forced into being something as opposed to going in there where they are going to be patient with me, and I could be a piece (next to LeBron and Kyrie Irving).'
"He (Wiggins) is right," Self continued. "From his personality and his mind-set after coaching him for a year, he needs to be in a place where people are really depending on him."
Self — he said he could envision Wiggins averaging "15 or 16 (points) a game as a rookie" — said Wiggins has actually "known since the end of summer league that he was going to be traded.
"It's OK. Certainly he's looking forward to going to Minnesota. Everybody would love the opportunity to play with LeBron, which guarantees winning, but the whole thing is, for the longevity of his career, he needs to kind of develop a mind-set to be 'the guy' for him to be great. I think being in Minnesota will help him do that."
Wiggins, a guest instructor at the camp, had advice for the youths in attendance: "Go hard in school. Go hard on the court. Be confident in yourself. Stay true to yourself."
At the NBA rookie photo shoot, he addressed the trade: "I just want to play for a team that wants me. Whichever team wants me, I'll play for."
Wiggins was off-limits to the media in attendance at the weekend camp.
Long line: Wiggins signed autographs at Price Chopper in Overland Park starting at 2 p.m. Sunday. According to the store, fans had started waiting in line at 9:30 a.m. The first 150 folks in line received a wristband that guaranteed an autograph. Those in line past the wristband cutoff were accommodated as time allowed. The autographs were on cards provided with Wiggins in a Cavs' jersey. The trade to the Wolves won't be finalized and announced until Aug. 23.
Self 'OK' with ruling: The NCAA recently ruled for college athletes in the "Ed O'Bannon case," which will allow players to receive as much as $5,000 a year off their own name, image and likeness.
"I'm OK with it. I think it's certainly going to affect how things are done moving forward," Self said.
"Jay Bilas (ESPN) brought it up, and it's a great point. Johnny Manziel could potentially have been suspended for his post-Heisman year last year because of autograph signings, making money off his name. But the NCAA was doing the exact same thing within their own website, making money off Johnny Manziel's name," Self noted.
"I think there's been a conflict of interest that started decades ago that now is going to be handled in a way I think is probably more fair and will be more beneficial to the school, not only the individuals (making the $5000 per year)."
The NCAA has said it plans to appeal the ruling.
Self-governance: Self on the NCAA allowing the five power conference to write many of their own rules. The Big 12, ACC, Big Ten, SEC and Pac-12 will be allowed to rule on things such as stipends and insurance benefits for players, coaching-staff sizes, recruiting rules and mandatory hours spent on their sports.
"At our level, I think personally it's good," Self said. "I think it allows us to do some things from a financial standpoint that everybody would want to do that we couldn't do (before) because the vast majority of (NCAA) membership are mid- to low-majors. They have equal voting rights. I think it'll be good for everybody and is not designed to affect the NCAA Tournament at all."
He sees a big financial payday for college football.
"In football, the powers-that-be have been smarter in some ways than the basketball powers. Basketball has taken great ownership in providing 98 percent of the funds that are distributed through our men's basketball tournament. Football said, 'Now, hold on a second ... that's all good and dandy, but why don't we just keep it all?' Basically, that's what they've done. They are getting ready to blow the top off on the amount of revenue they can generate through the playoff and the new BCS.
"I also think with all the unionization stuff that went on at Northwestern (players allowed to unionize), cost of education, maybe some extra money for kids, it needs to be done in a way where only the schools that could possibly afford to do that be involved, because if they want to take another step forward everybody can't be involved. I think it will be a win/win for everybody," Self added.
Lucas scores 15: KU sophomore forward Landen Lucas scored 15 points and grabbed 13 rebounds in Athletes in Action's 67-66 loss to the Qatar National Team on Sunday in Estonia. Lucas, 6-10 from Portland, Oregon, hit four of seven shots and was 7-of-7 from the free-throw line. AIA, which is 1-1 on its Baltic Tour, will play games Tuesday and Wednesday in Latvia.
Kasongo visit: Ray Kasongo, a 6-foot-9, 235-pound power forward from Canada, completed his campus visit to KU on Sunday.
Kasongo's mentor, Brandon Bender, said the unranked Kasongo, who recently was denied admission to Oregon but is academically eligible to play this season, likely will visit Indiana this week. Kasongo also has Michigan State on his list and has added LSU.
Journal-World sources indicated KU might elect to save the scholarship rather than bring Kasongo aboard. Early Monday morning, analyst Adam Zagoria of zagsblog.com said his sources indicated KU was no longer an option for Kasongo.
Helping out: Camp counselors at the Self camp in Overland Park included former Jayhawk players Tarik Black, Jeff Graves and Jeff Hawkins, as well as current Jayhawk Tyler Self.
Young scores four: Former KU forward Kevin Young scored four points for Puerto Rico in a 74-49 loss to Kentucky in an exhibition game Sunday in the Bahamas. Young hit two of seven shots and had three rebounds in 19 minutes. He is trying to make Puerto Rico's national team. Aaron Harrison led UK with 15 points.
Dorsey to visit: Tyler Dorsey, a 6-4 senior shooting guard from St. John Bosco in Bellflower, California, who is ranked No. 18 in the Class of 2015 by Rivals.com, will likely visit KU this fall, Pangos tourney organizer Dinos Trigonis tweeted Sunday. No date has been set. Other schools in the running: Cal, UConn, Arizona State, Oregon, Louisville, St. Johns, Georgetown, Colorado, Tulsa, UNLV, Utah and Oregon State.