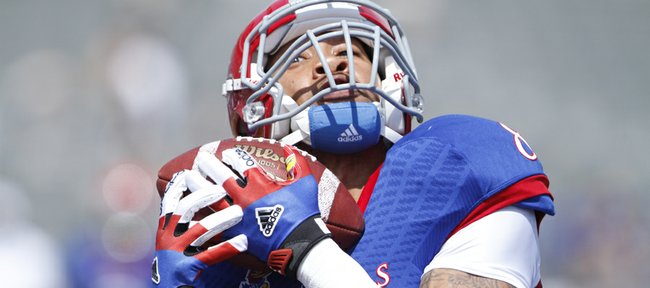 For a guy joining a football team that finished 117th out of 123 FBS programs in passing yards per game a year ago, wide receiver Nick Harwell sure seems upbeat about what Kansas University can accomplish by throwing the ball this season.
KU's quarterbacks threw for just 140.4 yards a game in 2013. Former Jayhawk Jake Heaps, new first-stringer Montell Cozart and backup Michael Cummings combined for 154 completions on 329 attempts with 12 interceptions, and only nine touchdown tosses. KU completed 46.8 percent of its passes, compared to 57.7 percent accuracy from its opponents.
Still, Harwell, about to play his one season at Kansas after transferring from Miami (Ohio), expects something much greater when the season finally arrives.
"I feel like moving the ball through the air really isn't a barrier to our offense being successful," Harwell said in late July, at Big 12 media days. "I just can't wait to see it."
Why so much optimism?
"I'm so confident," Harwell explained. "We've got Tony (Pierson) and Rodriguez (Coleman), we've got (tight end Jimmay) Mundine, who obviously has played a lot. We flex out our running backs and they can catch the ball, as well."
KU has upgraded its down-the-field talent even more, just in time for the start of preseason practices. Coach Charlie Weis announced Thursday the addition of junior receiver Nigel King, a graduate transfer from Maryland who is eligible to play immediately.
On its initial 2014 depth chart, Kansas listed senior Justin McCay, Harwell and senior Pierson as its No. 1 receivers, with juniors Coleman, Tre' Parmalee and King backing them up.
But there is still the matter of getting the football in their hands. As a true freshman last year, Cozart went 23-for-63 on pass attempts, with two picks and no touchdowns. In six appearances, the quarterback from Kansas City, Missouri, never threw for more than 69 yards in a game (which came in his college debut, a blowout home loss to Baylor).
With the disclaimer that Cozart and Harwell are tight off the field, the receiver is excited to team up with the sophomore QB whom he called a great athlete.
"He knows what he's doing," Harwell added, admitting Cozart lacked confidence at times as a rookie, leading to many overthrown passes.
"It came with inexperience, and nervousness a little bit, too," the upperclassmen said. "But now he does well, whether it's seven-on-seven against DBs or his team against the defense or throwing catch against nobody. He's shown that he has the ability to throw the ball in the right spots."
Offensive veterans also find themselves operating with quiet confidence due to the offseason arrival of new coordinator John Reagan. Mundine said he didn't worry a bit about a change in schemes making him less of a passing target.
"I knew (Reagan) was gonna do whatever would make it best for the team," the senior tight end said. "The offense, how spread it is, how fast we can go, how much you don't have to think as far as what the play is, it's just very exciting to have a new start."
For all the preseason affirmations about the passing game, the Jayhawks will have to prove this fall that it's not just talk. First-year wide receivers coach Eric Kiesau said the action side of the equation has to start with consistently strong practices between now and the Sept. 6 opener against Southeast Missouri State.
Kiesau tells his receivers: "Anybody can do it once. The good ones do it twice. The great ones do it every day, day in and day out."
KU quarterbacks coach Ron Powlus plans to put a high priority on proper footwork, throwing mechanics and backfield action, as well as mental development in the coming weeks. Like Harwell, Powlus expects Cozart to operate with confidence.
"He has very good physical tools. He has good mental tools," Powlus said of Cozart. "We've got to blend it all together, and that's gonna be the thing you want to see flourish here in camp."