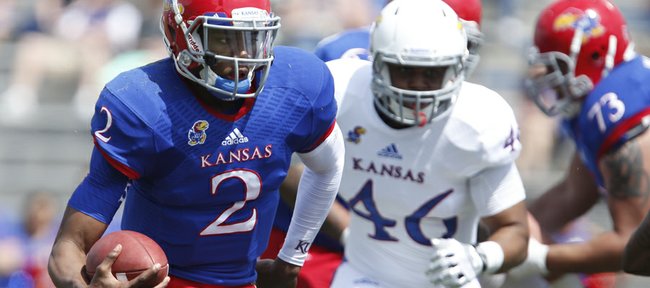 If the Kansas University football team had the Hogs, the famous line of the 1980's fielded by the Washington Pigskins, then Jake Heaps might have emerged from the spring as the starting quarterback.
Since the guys the O-line will face most weeks are the ones with the nicknames, and in many cases fat NFL paychecks are in their futures, waiting for them, Montell Cozart was the easy choice, Heaps not the right fit.
"I think if you look across the country — and Clint (Bowen, defensive coordinator) and I talk about this all the time ­­— regardless of the system you're in, if you have a quarterback who can keep plays alive and make plays with his feet, it's important," offensive coordinator John Reagan said. "It puts a whole different strain on the defense. It forces them to defend the entire field, not just him throwing the ball, but what he can do with his feet as well. With where we are and the development of who we are as an offense, it's probably even more important right now. You need a guy with the ball in his hands who can erase the mistakes of other players."
Reagan, Bowen and head coach Charlie Weis agreed an offensive scheme is only as good as its quarterback, to a large extent.
"When you open up new opponent study as a defensive coach, it always starts and probably finishes with the quarterback," Bowen said. "What is his skill set? What are the things he does well? ... If he's a scramble guy, how are you going to rush him? Those kind of guys can be scary. ... That QB guy is always a huge factor. Guys who can truly be running threats and throw the ball, well, those are difficult to defend."
Cozart didn't throw the ball well last season, completing 36.5 percent of his passes for 3.6 yards per attempt.
In the spring game, played with the defense allowed to tackle the quarterback, Cozart completed six of 10 passes for 58 yards and ran for 70 yards and two touchdowns on seven carries.
"He can run the ball, make some plays with his feet, bail us out of some situations," Weis said. "I mean, the kid's got a lot of athleticism, and he's become a more accurate thrower."
Cozart's accuracy, Weis said, is the biggest factor that makes him a better thrower than reserve Michael Cummings. For his career, Cummings has completed 47 percent of his passes and averaged 5.1 yards per pass attempt with four touchdowns and four interceptions.
KU needs better than that out of Cozart. Kerry Meier numbers (56.5 completion percentage, 6.5 yards per pass attempt, 13 touchdown passes and 10 interceptions) during his red-shirt freshman season would suffice.
Weis did a nice job of capturing what needs to happen for Cozart to improve his accuracy.
"I think the biggest thing is not being nervous, because accuracy is never an issue when you watch him throw in practice," Weis said. "It's what can you do when the pressure's on. Quarterback is totally different when people can actually hit you. It's one thing when you know you're not going to get hit. ... It's a totally different deal when you know they can smack you in the mouth. He was better in just about every facet in the spring time."
Dayne Crist and Heaps hesitated, even ducked for cover, when steadily bombarded by pass rushers. Once Cozart starts turning broken plays into big gains, defenses will think twice about bringing so much heat for fear he'll leave them in his rear-view mirror.
"John likes to run the hell out of the ball," Weis said of Reagan. "What we've done now is added an extra runner. Montell fits John's scheme way better than Montell would fit mine. In my scheme, the quarterback is not a runner. The quarterback hands off to the running backs and gets the hell out of the way. In this scheme, the quarterback is another guy you have to defend."
Cozart definitely is the right style quarterback. He won't get a chance to prove he's the right guy until he plays against opponents.