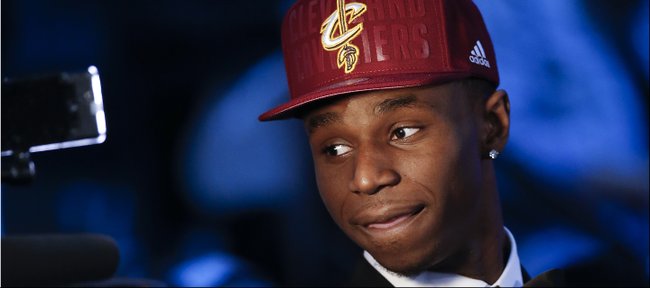 The long-rumored trade of Andrew Wiggins from the NBA's Cleveland Cavaliers to the Minnesota Timberwolves was confirmed by Yahoo Sports and USA Today on Thursday.
"I think this is kind of anticlimactic," Kansas University coach Bill Self said with a laugh Thursday on ESPN radio's "SVP and Russillo" show.
He was speaking after Yahoo Sports and USA Today reported that former KU standout Wiggins, Anthony Bennett and a 2015 first-round pick will be sent from Cleveland to Minnesota for All-Star Kevin Love. The deal will be announced on Aug. 23, one month after Wiggins' signing of his rookie contract, Yahoo's Adrian Wojnarowski said.
"I know what I hope ... I hope it's good for both," Self said. "Obviously, you get a guy (Love) who averaged 26 and 12 to fit in a position that's needed next to one of the best five point guards (Kyrie Irving) in the league and best player in the world (LeBron James). You'd think you'd have something special going on. At the same time, it's at the expense of a guy I obviously coached and was No. 1 pick in the draft."
Yet the 6-foot-8 Wiggins is definitely OK with the deal.
"Visiting with Andrew, I think he's fine," Self said. "It's something that his agent and people close to him have told him that was more than likely going to happen. When I visited with Andrew, he's like, 'Coach I'm good with whatever.'
"It appeared to be an unbelievable situation initially (in Cleveland), which obviously it would be. On the flip side, hey, he'll make the situation in Minnesota an unbelievable situation. He can go be a guy who can be a little bit more of a key component rather than a complementary guy, which I think either way would be good for his career. I think he'll be fine."
Self said in knowing Wiggins like he does, "I think he'll be better in the situation with Minnesota. Knowing him, he will use this as something that will be motivation. Not that anybody did anything wrong. It's a business, but he'll use this as motivation. (He'll say), 'I have to be this. I have to be that.'
"He'll say, 'Hey, they have got to have me do this.' I think Flip (Saunders, Wolves GM) will tell him, 'This is what we need you to do,' which will accelerate his maturity. He'll be humbled early, yet knowing his personality, he thrives on things like that. A lot of people would say, 'I'm totally content being this complementary piece,' which is great for some, but some people raise their level when they say, 'I've got to be better than a complementary piece.' I think he's one of those guys," Self added.
Wiggins last weekend wasn't stressing over rumors he was headed to the lowly Timberwolves.
"I just want to play for a team that wants me. So whichever team wants me, I'll play for," he told ESPN's "SportsCenter." "It's out of my hands. At the end of the day, you've got to remember the NBA is a business before anything, so I'm just waiting to hear. I'm a rookie. I don't really have too much say."
Raptors happy: Michael Grange of Sportsnet/Canada writes that the Toronto Raptors are thrilled at news Wiggins is headed out of Cleveland. That's because they reportedly feel it'll be easier for Wiggins to leave Minnesota for Toronto than Cleveland for Toronto when Wiggins first can be offered an extension on his rookie contract after the 2016-17 season.
"Even if Wiggins wasn't from Toronto, hanging with Drake at OVO Fest and having Caribana parties at the most happening club venues would make Toronto seem like Rio compared to Minneapolis," writes Grange. "This is his hometown. He is at the forefront of an emerging culture shift that has made basketball part of the fabric of his city.
"Wiggins knows all this. Two years ago on the red carpet at the ESPYs he was asked where he wanted to play in the NBA, if he could choose and he said Toronto. Privately he's echoed the same sentiments. ... Leaving Minnesota to come to Toronto wouldn't make him selfish, it would make him a pioneer," Grange writes.
Grange has a source who believes Wiggins is better off in Minnesota than Cleveland.
"With LeBron, Wiggins would defer too much," said the source. "When he's the main man, he's a completely different player. He can show that in Minnesota."
Wiggins on Thursday signed a deal to represent BioSteel, a sports drink in Canada.
Kasongo now lists KU, Michigan State, Indiana: Another native of the Toronto area, Ray Kasongo today begins his recruiting visit to Kansas University.

"Very well," Kasongo's mentor, Brandon Bender told the Journal-World, asked how well Kasongo knows Wiggins, who will be in town this weekend as guest host of a Bill Self camp at Shawnee Mission West.
Bender reported that the 6-9, 235-pound Kasongo has a new list of finalists: KU, Michigan State and Indiana. Former finalist Memphis landed a transfer in 6-7 Calvin Godfrey on Thursday. Cal also has been eliminated as it is too late to enroll in school there. There's a chance Kasongo may visit Michigan State on Tuesday.
Kasongo originally signed with Oregon, but was denied admission last week. Bender said Kasongo, who attended Faith Christian School in Mesa, Arizona, last year, has qualified academically to play next season.
Diallo to visit: Cheick Diallo, a 6-9 senior power forward from Our Savior New American High in Centereach, New York, will make an official visit to KU Sept. 19-21, jayhawkslant.com reports. Rivals.com's No. 5-ranked player is also considering Kentucky, Iowa State and others.