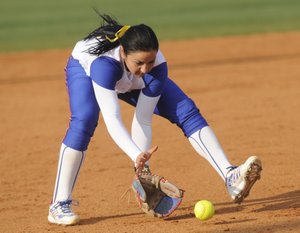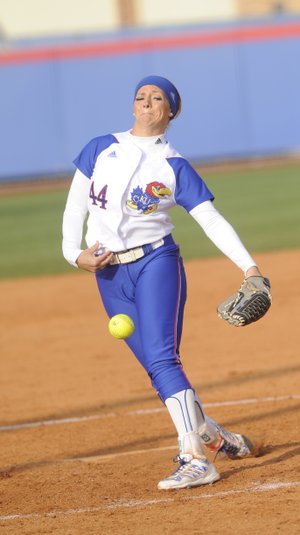 Kansas University's softball team was eager to get back on the field after a nine-day layoff, but opened its series against Texas Tech with a 7-5 loss on Thursday at Arrocha Ballpark.
The Jayhawks hung around but trailed throughout after Cassie McClure's three-run homer broke a scoreless tie in the third. McClure drove in two more runs in the fifth to give her five of the Red Raiders' seven RBIs.
"I think (McClure) is a really good hitter, a talented hitter who took some really good swings," Kansas coach Megan Smith said. "We expect that from her and a lot of their hitters. They're a really good offensive ball club."
McClure's two-run single was the fourth straight base-hit for the Red Raiders to begin the fifth, and it knocked KU starting pitcher Kelsey Kessler out of the game. Texas Tech had an opportunity to break the game open, up 6-2 with two runners on and no one out, but Alex Jones came on in relief and retired the first three batters she faced.
"This was my first conference game to be in this year, and it is always good to come in and do a good job in a position like that," Jones said. "(Kessler) has thrown some amazing innings for us this year, so just to be able to come in and relieve her is a great feeling for myself. I felt great on the mound."
Jones' momentum carried over at the plate in the home half of the inning. Jones hit her second of three singles, and scored on Chaley Brickey's home run to pull Kansas within two.
"(Jones) is a spark plug for us," Smith said. "She has done a really good job against Texas Tech in the past."
Jones was one of three Jayhawks to have a multi-hit game as Brickey and Maddie Stein added two apiece.
The Jayhawks battled, but every time they cut into Texas Tech's lead, the Red Raiders answered with the long ball.

In the top of the sixth, Brooke Scott hit a solo shot — the Red Raiders' third home run of the night — to push Texas Tech's lead to 7-4. The Jayhawks scored once in the bottom of the sixth on an RBI groundout from Lily Behrmann, but that was as close as KU would get.
Kansas threatened in the bottom of the seventh, bringing the go-ahead run to the plate with one out, but Cara Custer coaxed Stein to ground into a double play to end the game.
The Jayhawks (29-14 overall, 3-4 Big 12) host the Red Raiders at 5 p.m. today for the second of three games.
"I think we need to pitch better, bottom line," Smith said. "I think offensively we did a good job; defense looked really strong. We will pitch better. Our pitchers will show up and do a better job tomorrow."
---
Texas Tech 003 121 0 – 7 11 3
Kansas 002 021 0 – 5 10 0
W – Gretchen Aucoin (10-7). L – Kelsey Kessler (17-10). SV – Cara Custer (3).
2B – Harli Ridling, KU.
HR – Cassie McClure, Texas Tech, Brittany Lee, Texas Tech, Brooke Scott, Texas Tech; Chaley Brickey, KU.