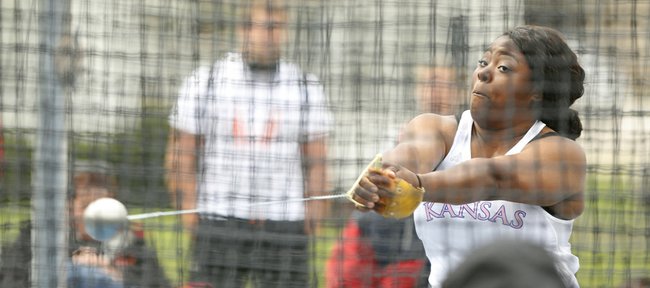 Kansas University sophomore hammer thrower Daina Levy can't imagine choosing between two of her greatest loves — track and medicine — in the future.
"Balancing both will be the hardest issue. I plan on doing both right now," said the 5-foot-8 world-class athlete who is on the fast track to the Olympics, where someday she figures to compete for Jamaica. She's also majoring in biomedical sciences and wants to be a surgeon, just like her brother, Asaph, a former Georgia triple jumper who is currently in med school.
"I want to pursue, ride this train as far as it takes me, until everything falls off," Levy said with a smile, referring to track and field. "But ideally, being smart, thinking about my career, I have to go to medical school at some point."
Levy, who transferred to KU from Auburn University in January, placed first in the Kansas Relays hammer throw Thursday with a heave of 197-4 (60.14 meters). Nebraska's Carlie Pinkelman was second in 183-3.
"It's fantastic," Levy said of winning in her Relays debut outside Memorial Stadium. "But it's not the mark I wanted. It's bittersweet for me.
"I am far beyond 60 meters, (but) there's something not connecting right now. I think it's a mental thing I need to push through and work on. I'll give it a week, then I should be where I need to be."
Levy, who has dual citizenship in both Canada and Jamaica as well as permanent residence in the U.S., said she loves Lawrence, now her second college home.
"I clicked with coach Andy (Kokhanovsky, weight coach) in the whole recruiting process," Levy said. "It was a personality thing I was looking for after changing coaches. Also they have a med school here. It was a natural fit.
"KU is fantastic. The team has been so welcoming and willing to welcome me into their family. They want me to do well, which is always challenging coming into a semester so late. So that was a really nice surprise."
As to why she's chosen Jamaica over Canada as her future Olympic representation, she said: "My entire family was born in Jamaica. I was born in Canada. To me it was more a cultural fit. I was raised more Jamaican than Canadian. It felt more at home to me, competing with the Jamaican family."
Levy, who has a personal best throw of 64.36 meters, said at some point she's going to need to take care of a medical issue. She's been throwing with a vertical tear in her left knee.
"I've learned to deal with it," Levy said. "There's no pain right now. It's a hit-or-miss kind of thing. Even going up or down stairs can hurt it sometimes."
She was jokingly asked if someday she'd operate on herself.
"No ... my brother might do it though," she said with a smile.
Morgan wins: KU freshman Grace Morgan won the 5,000 in 17:11.88. In doing so, the former Lawrence High standout became KU's first-ever winner in a race at the new Rock Chalk Park. Morgan defeated Iowa Central Community College's Hanna Maina, who placed second in 17:14.45.
This, that: Truman's Rebecca Nelson won the heptathlon on Thursday at Rock Chalk Park with 4,982 points. KU's Mercedes Smith was second with 4,461. Nebraska's Guy Fenske won the decathlon with 6,603. Nebraska's Will Lohman won the men's hammer with a throw of 201-3.
---
Thursday at Rock Chalk Park
Kansas Results
MEN
800 (Unseeded): 8. Daniel Koech, 1:55.06 meters. 14. Dominique Manley, 1:55.56. 18. Nick Seckfort, 1:56.57. 19. Teddy Oteba, 1:56.61. 22. Kellum Schneider, 1:57.13. 29. Ben Brownlee, 1:59.19. 30. Adel Yoonis, 1:59.79.
1500 (Unseeded): 14. Daniel Frazier, 4:03.23. 22. Conner Day, 4:07.53.
3000 steeplechase (Unseeded): 16. Logan Sloan, 10:08.95.
5000 (Unseeded): 10. Tyler Yunk, 14:49.74.
10000 (Unseeded): 4. Julia Dury, 36.38.35.
WOMEN
Hammer (Collegiate): 1. Daina Levy, 60.14 meters. 7. Dasha Tsema, 53.69 meters.
800 (Unseeded): 4. Nashia Baker, 2:12.82. 8. Malika Baker, 2:15.20 meters. 20. Kaylee Farmer, 2:22.94.
1500 (Unseeded): 15. Jasmine Edwards, 4:52.02.
5000 (Unseeded): 1. Grace Morgan, 17:11.88. 6. Rachel Simon, 17:32.87. 10. Jennifer Angles, 18:04.99. 13. Hayley Francis, 18:15.19.
10000 (Unseeded): 4. Julia Dury, 36.38.35.
Heptathlon: 2. Mercedes Smith, 4,461 points.