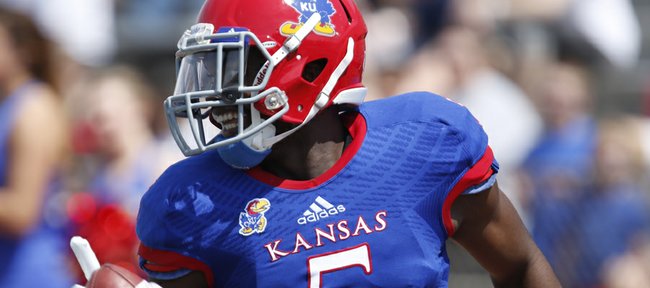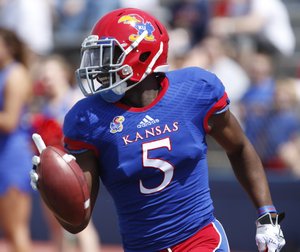 Let it never be suggested that Kansas University safety Isaiah Johnson is taking his reign as the Big 12's defensive newcomer of the year too seriously.
"I joke about it a lot," said Johnson, a junior who transferred to KU prior to last season after a stint at Iowa Western Community College. "I say, 'Hey, you gotta listen to me because I got the award.' I'm just joking with them, of course. They laugh. They know I'm playing."
Johnson finished 2013 as the Jayhawks' interception leader, with five, and second-leading tackler, with 73.
Teammates can't help but occasionally roll their eyes at Johnson's attempts at humor.
"That's Isaiah," said senior cornerback JaCorey Shepherd. "That's his personality. He's a goofball. It's all fun and games. We know he's not serious with it, and we don't take it the wrong way."
Every once in a while, though, Johnson will let the jokes linger a little too long. That's when Shepherd and the rest of the upperclassmen in the KU secondary gladly intervene.
"It just depends on what he's saying," Shepherd said. "Sometimes we listen. Sometimes we're like, 'Man, come on. You haven't even been here that long.'"
Added free safety Cassius Sendish: "He fiddles and faddles with everybody in the meeting room, but Isaiah's a humble person. He's definitely got his head on straight. It's all in fun."
Fun is a good way to describe what the past few months have been like for Johnson. Mixed in with his usual offseason routine of hitting the weights and the playbook, Johnson received more than a few opportunities to bask in the glow of last season's accomplishment.
In late February, Johnson was honored at Allen Fieldhouse during halftime of a men's basketball game against Texas. A few weeks before that, random people approaching him on the street to congratulate him had become a regular occurrence.
"That is a great feeling knowing that people care about you and know about the success you've had," said Johnson, admitting the attention surprised him. "On the football field, it's hard for them to actually know who you are because you've got your helmet on."
Johnson said the postseason award was one of his biggest individual accomplishments to date but added he had no plans to settle for one trophy on his mantle. In fact, last year's recognition inspired him to shoot higher during the upcoming season.
"I did gain some confidence off of that," he said. "I'm still gonna be the same humble kid that I am, but it's actually made me push myself harder to try to receive bigger awards than that."
How specific has he gotten?
"Just take that (second) word out," he said, referencing the newcomer portion of his player of the year honor. "That's my goal."
Johnson said he thought this year's lofty goal was attainable. And he's not the only one looking for an even better encore season.
"I was pretty impressed by how he just came right in, and it seemed like he had been here awhile," Shepherd said. "Now that he's had a year in the Big 12, a year in our program, a year learning the system, let's see what you can do now. I know I'm expecting more."