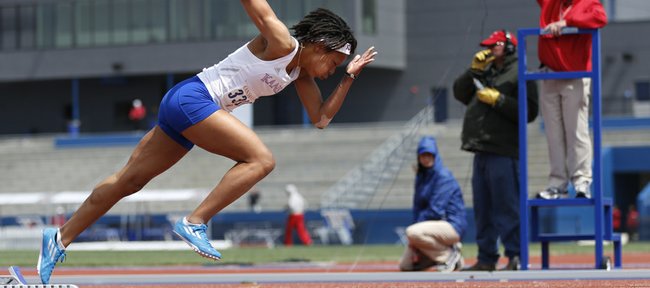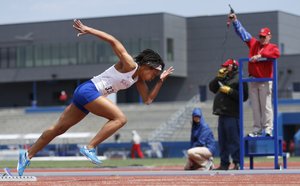 An 11-time gold medalist at Missouri's state high school track meet, Lindsay Vollmer arrived at Kansas University in 2011 with her eyes focused on the ultimate collegiate prize.
"My one goal was to hopefully be a national champion," said Vollmer, a 5-foot-10 graduate of Penney High School in Hamilton, Mo., who claimed the 2013 NCAA Outdoor heptathlon title last spring in Eugene, Ore., as a mere sophomore.
"Now I just have the goal to repeat that," Vollmer said.
She's off to a good start early in her junior outdoor season.
Vollmer was named Big 12 track and field athlete of the week on April 2 after winning the Texas Relays heptathlon with an NCAA-qualifying score of 5,640 points. Her point total leads the NCAA, is the best by a U.S. athlete and ranks seventh in the world in 2014.
"I'm very healthy now. I'm definitely ready for it," Vollmer said of an outdoor campaign that follows an injury-plagued indoor season. "I think that just put a little fire under my skin for outdoor season, to compete harder for outdoor."
Vollmer is not competing in the heptathlon at this week's Kansas Relays. Instead, her coaches have entered her in the high jump, 100 hurdles and possibly a relay.
"That's always a goal as an athlete, to be really competitive (this weekend), but I just want to get a good mark, get more training and practice in," Vollmer said Wednesday, an hour after the conclusion of the first day of the Relays decathlon and heptathlon at Rock Chalk Park.
She said her life hasn't changed much since last spring's victory at NCAAs.
"I feel I'm kind of the same person, just going out there to train and do the best I can," Vollmer said.
"I wouldn't say so," she added, asked if she's now treated differently. "Track is one of those unique sports that the people who know track are really into it, but not a lot of people are huge followers of it. It's not like a basketball or football star."
Vollmer said she's enthused about the future of KU track and field, which figures to get a boost from the new facility at Rock Chalk Park.
"It's exciting to be the first squad to get to compete on it," said Vollmer, a pre-community health major who was valedictorian of her class at Penney High. "Hopefully we can start some great things on this track. It's an elite track that people I think are going to want to come and run on and up the competition."
Spectators this weekend will see a complex that is far from finished. There's a lot of construction going on in the area of the track, softball and soccer fields.
"The construction shouldn't bother you (as an athlete)," Vollmer said. "You should be concerned about the track, which I believe is a very fast track, and we're blessed to have it."
Nebraska's Guy Fenske leads the decathlon after five events with a score of 3,666 points. Truman's Rebecca Nelson leads the heptathlon with her total of 3,042 points after four events. KU's Mercedes Smith is in third in the heptathlon.