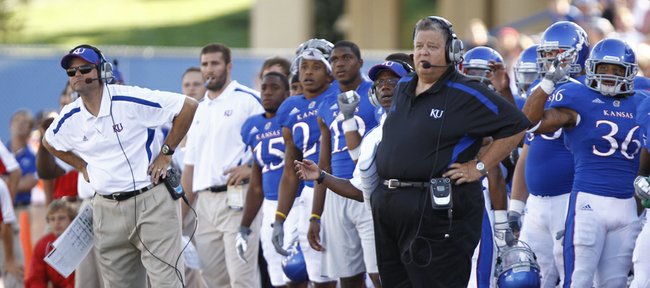 Make no mistake about it: The contest against Rice is a revenge game for Kansas University's football team. But that concept includes more than just getting back at the Owls, who stunned the Jayhawks, 25-24, last season in Lawrence.
Sure, the Kansas players who still feel the sting of last year's loss would like to dish out a dose of the heartbreak the Owls dropped in their laps during the second game of 2012.
"I think we owe them," sophomore defensive lineman Ben Goodman said. "And I think this could be the turning point in the season. Last year, we lost a game that was devastating to us and the entire Jayhawk community. And I think this game could be the statement that says this is gonna be the year that KU turns it around."
Goodman, a Beaumont, Texas, native and one of a handful of Jayhawks who grew up in or around Houston, will be eyeing revenge for a couple of reasons when the Jayhawks take the field at Rice Stadium at 6:30 tonight. During his junior year of high school, Goodman's West Brook High Bruins lost a playoff game at Rice Stadium, 49-26, to Cinco Ranch High from nearby Katy, Texas.
"We lost there, so I'm going for revenge on Rice and revenge on the stadium," Goodman said. "I owe two."
Several of Goodman's teammates feel the same way. Asked if revenge played a role in this week's preparation, junior captain Ben Heeney did not hesitate to answer.
"Definitely," he said, echoing Goodman's sentiments. "We've been talking about that. We owe them one."
But from the perspective of KU head coach Charlie Weis and the rest of the coaching staff, getting back at Rice (0-1) has very little to do with what the Jayhawks (1-0) hope to accomplish this week.
"I don't ever use that," Weis said of the idea of atonement. "I don't talk about getting revenge from what they did because we were the ones that blew it. They deserved to win because we didn't close out the game."
And therein lies the difference in the way KU's two groups view revenge. The players, who will strap on their helmets and engage in three hours worth of collisions with players from the other side, are fired up to regain the upper hand. The coaches, who map out every detail and hope their athletes can execute the game plan, remain focused on fixing the problems within and improving as a team regardless of the opponent.
"You get 12 games a year," linebackers coach Clint Bowen said. "If you can't get excited about each game and play it as hard as you possibly can, you're probably not the right guy anyway. When you only get 12 shots a year, how can you not get as motivated as possible to play each one of 'em?"
Perhaps the beauty of this week's match-up for the Jayhawks is that the two views can go hand-in-hand. Few players were able to articulate that as well as quarterback Jake Heaps, who watched helplessly last year as Rice kicker Chris Boswell knocked a 45-yard game-winner through the uprights as time expired and sent the Owls into celebration.
"For us, that's definitely an image that's in the backs of our minds," Heaps said. "It's not the main factor that we're going down there to get revenge. We're going down there to go 2-0, and we're trying to get this road loss streak out of the way, and it's just about breaking barriers every week."