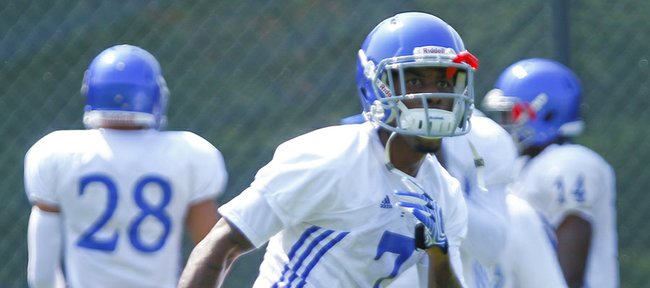 Kansas University cornerback Kevin Short has been declared ineligible by the NCAA and will red-shirt the 2013 season while remaining at KU, KU coach Charlie Weis announced in a press release this morning.
Short, the former junior-college All-American transfer from Fort Scott Community College who arrived at KU's fall camp late after waiting to be cleared academically, was projected as a starter at cornerback for the Jayhawks. During the week leading up to KU's first game of the season — a 31-14 victory over South Dakota which Short did not play in — KU coach Charlie Weis told media members that the 6-foot-1, 185-pound defensive back from Florissant, Mo., was among the most talented players on KU's roster.
Short's grades were not the issue here. He had passed his necessary classes and been accepted and cleared to enroll at KU.
Here is Weis' statement on the matter:
"Late yesterday we received notice from the NCAA that Kevin Short would not be allowed to compete in games this year. Their rationale was that because Kevin has a redshirt year available it would be best spent solidifying his academics. He will still have two years of eligibility remaining after this season."
"We are extremely disappointed with this decision. Kevin's junior college transcript was better than most and indicated no reason to expect anything other than academic success. He was admitted to Kansas as a regular admit with grades and transferable hours exceeding entrance requirements, yet the NCAA ruled to take away competition this year. We asked the NCAA representatives to allow Kevin to speak to them so he could show them how he had overcome adversity in life to become a proud new student, but they rejected that request."
"Although I am disappointed for our team, I am much more concerned for Kevin personally. We discussed the situation with Kevin today and although it was tough to explain the rationale of the NCAA, we are moving forward turning this into a redshirt year focusing on academics."