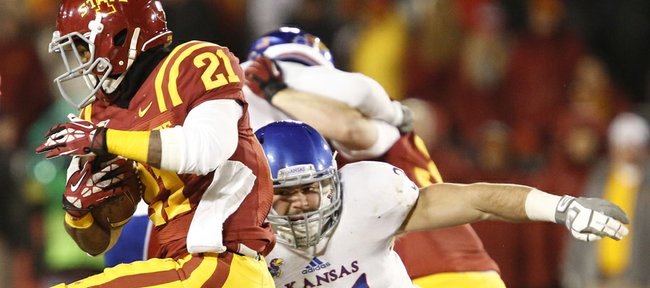 Photo Gallery
KU football v. Iowa State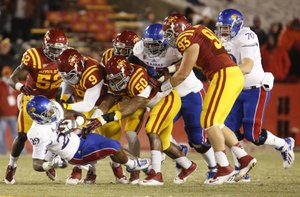 Images from Saturday night's game between the Jayhawks and Cyclones in Ames, Iowa.
Podcast episode
KU football coach Charlie Weis explains how the field impacted play in KU's 34-0 loss to Iowa State
Iowa State 34, Kansas 0
Ames, Iowa — The grass near the boundaries of the football field at Jack Trice Stadium was covered with ice, and for most of the night it looked as if Iowa State wore ice skates and Kansas University roller skates.
The Jayhawks were slipping all over the place, and the Cyclones weren't. Why? Not because Iowa State has more practice in such conditions, which are extremely rare and have not been experienced by either side this year.
So what was it?
The players weren't wearing different skates, but they were wearing different shoes.
Kansas junior cornerback JaCorey Shepherd, in the midst of a strong season, was burned repeatedly Saturday in a thoroughly embarrassing 34-0 white-washing administered by an Iowa State team that entered the frigid night winless in Big 12 play.
I asked Shepherd a series of questions about him and teammates slipping repeatedly on the field, particularly outside the hash marks, and why the Cyclones weren't doing the same thing.
"It was just more maybe the shoes," Shepherd said, an answer that made perfect sense. "Just the bottom of the shoes. Certain cleats are built for certain conditions, and I guess that their cleats were a little more suitable for this type of weather and the way the field was."
How were they different?
"A lot of players on their team had more screw-in or metal bottoms," Shepherd said. "And that helps you get a lot more grip. We just had our regular cleats that we always wear."
So did Kansas bring the wrong shoes? Did the Jayhawks leave at home shoes more well-suited to an icy field?
"I don't think so," Shepherd said. "I think it's more of a Nike and adidas thing, just the way that they make their cleats."
College athletes have no financial stake in shoe companies. They merely want access to the equipment that gives them the best chance to compete. In Shepherd's opinion, Nike had better equipment than adidas for the conditions under which Saturday's game was played. Shame on anybody who gives Shepherd any grief for voicing his honest opinion.
The money shoe companies pay schools to wear their apparel — Kansas signed a six-year, $26 million extension with adidas last June — helps to fund athletic departments. Kansas won an Orange Bowl and a basketball national title in 2008 wearing adidas.
But Saturday, something gave Iowa State superior footing, compared to Kansas, which would have lost the game anyway. Nobody remembered playing on a field quite so icy.
"Outside the numbers, it was a lot more frozen," Shepherd said. "It was a lot more difficult to come out of breaks. For me, it was difficult to do about anything. If you didn't get your feet wide enough, then you would end up slipping. Inside, it was still slippery, but it wasn't as bad.
"I wasn't on the inside as much, but when I did go in there, I had a little bit more grip. But playing corner, I'm always numbers and out. I was pretty much on the frozen part of the field the whole game."
And he and others playing near the sidelines were slip-sliding away.
"All day, even from warm-ups," Shepherd said. "I knew it was going to happen. I tried to prepare for it, but there's not really much you can do to prepare for it. I was slipping on every play. Run play, pass play, whatever it was, getting off a turn, I had to be very careful of the way I approached."
Temperatures were in the low single-figures by the second half.
"We haven't had a game this cold ever, but, honestly, I don't think it was the cold," Shepherd said. "It was just the field conditions and us not executing. You can't blame it all on the field conditions. They were playing on the same field we were playing on, whether they had better cleats or not. At the end of the day, it's all about how we executed. They executed better than us."
James Sims rushed for 96 of his 114 yards in the first half and spent most of his time in the middle of the field. He noticed more slipping from teammates than from Cyclones.
"I guess longer spikes would help because you dig more into the turf, and we just didn't have long enough spikes to dig into the turf," Sims said. "It was kind of difficult for us, and I saw they didn't really have a problem on the turf. I'm not trying to use it as an excuse, but the field … we just weren't used to it, and it came in and got us today."
ISU, better prepared for the game, was the better team in every way, right down to the equipment.