Photo Gallery
KU football v. Iowa State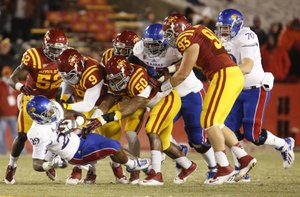 Images from Saturday night's game between the Jayhawks and Cyclones in Ames, Iowa.
Podcast episode
KU football coach Charlie Weis explains how the field impacted play in KU's 34-0 loss to Iowa State
Iowa State 34, Kansas 0
Ames, Iowa — A week ago, Kansas University's football team ended a 27-game Big 12 Conference losing streak with an upset victory over West Virginia.
But Saturday, KU opponent Iowa State ended a losing streak and got a little taste of the joy that the Jayhawks experienced a week ago.
"It's been a long time coming," said senior running back Shontrelle Johnson, who finished with 84 yards and a touchdown on 13 carries in a 34-0 rout of the Jayhawks. "The season didn't quite end up like we wanted, but this win was a big thing for us."
To be fair, the Cyclones (2-9 overall, 1-7 Big 12) hardly were forced to endure the kind of losing that the Jayhawks had known.
ISU has been to a three bowls game since 2008 — the last time KU reached the postseason — and the Cyclones' losing streaks that were snapped in dominating fashion on Saturday night were merely seven games overall and eight consecutive Big 12 losses. What's more, victories over Kansas bookended the ISU streak, as the Cyclones' last conference victory came in similar dominating fashion, 51-23, last season in Lawrence over the one-win Jayhawks.
To make things even more pleasant Saturday, the victory sent Iowa State's seniors off on a winning note at home, something the announced attendance of 54,081 at Jack Trice Stadium enjoyed thoroughly after sitting through frigid conditions. In the locker room, where things were significantly warmer, ISU coach Paul Rhoads said the scene was wonderful.
"It was joyous," Rhoads said. "There was a lot of thanks and expression by the seniors to the rest of the football team. They talked about the bright future of the program."
Although the Cyclones have suffered through a rough season and been snake-bitten by several bad losses and a few close calls, there's hope for them to finish with a winning streak.
Next week, they play at West Virginia.
"It's not a season that we were predicting," said ISU quarterback Grant Rohach, who finished 15-of-20 for 300 yards. "But to get momentum in the later part of the season is really good."