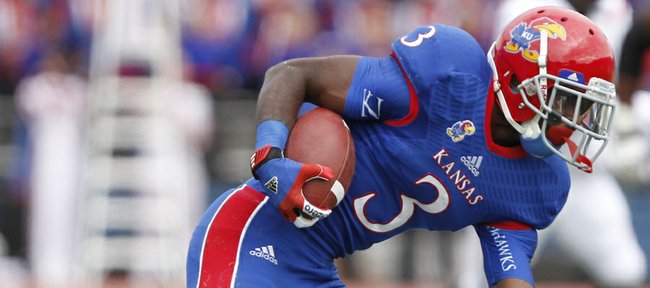 The in-again, out-again saga surrounding Kansas University junior Tony Pierson may have reached a resolution.
Pierson, KU's leading receiver who has missed portions of KU's last seven games, may be done for the season because of the lingering effects of a concussion suffered Oct. 5 against Texas Tech.
KU coach Charlie Weis said Tuesday that even though Pierson continued to be cleared by doctors and was able to play last week against West Virginia, the best thing for the player and the program might be to shut him down.
"I don't think we should be playing Tony the next two games," Weis said. "Even though the doctors, the trainers and Tony would all like to get Tony in the position to play, somebody's gotta make a stand."
The concussion issue has become a hot topic in football circles during the past decade as more head injuries have been diagnosed and studies have been done that examine the dangers of such violent collisions. In addition, lawsuits, such as the one recently filed by former KU fullback Chris Powell, have become increasingly more common. Learning how to handle such injuries and everything that is now associated with them has been a work in progress for many coaches and even several players who beg to get back on the field before fully healing.
"In the old days, guys would get hit and you'd say, 'Count to five,' and they'd count to three and you'd say, 'Get in there,'" Weis recalled. "But that's certainly not the way it is now."
Throughout the past couple of months, Weis has held strong in his belief that Pierson, the 5-foot-10, 175-pound hyrid running back/wide receiver, would only play if he showed no symptoms of the head injury. Although that has been the case multiple times, Pierson has not quite seemed like himself while out there, and that, as much as anything, led Weis to this conclusion.
"With only two games left in the regular season and spring ball not until early March, I think the best thing for Tony's health, therefore, the right thing to do, is for me and the training staff to sit there and say, 'Tony, you might be able to go, but you're sitting down the next two weeks and we're gonna make sure this head of yours clears up and you're 100 percent healthy," Weis said.
KU's second-year coach admitted that it was tough to consider pulling the plug on one of the offense's top weapons — particularly because the offense has struggled throughout the season — but with concussions running rampant throughout football and their long-term impact ruining lives long after players play their final snaps, Weis' focus was on Pierson's health and not the well-being of his offense.
"Having a healthy Tony is critical to the success of our program," Weis said. "But not at the risk of Tony."
Asked where he saw concussion treatment and prevention headed at all levels of football, Weis painted a picture of more strictly enforced rules.
"I think it's gonna get worse before it gets better," he said. "Eventually, there'll be some sort of established protocol that everyone has to follow. It won't be Kansas' version, it'll be mandated that this is what you have to do."
Cozart to start again
Freshman quarterback Montell Cozart was listed as KU's starter at quarterback on the latest depth chart, released Tuesday before Weis' press conference.
The 6-2, 189-pound Bishop Miege High graduate made his first career start last week and led KU to a 31-19 victory over West Virginia and is in line to start again at 7 p.m. Saturday, when the Jayhawks travel to Ames, Iowa, for a showdown with Iowa State.
"Montell might be a young guy," Weis said. "But he's a natural leader. And once you get a game like that under your belt, it helps you because now you go into the huddle and you feel like you're more in command and the players are waiting to listen to you and waiting to follow you."
Cue the sarcasm
Weis said Tuesday that getting to work on the next opponent following a victory was much easier than doing it after losses, and seemed to be looking forward getting started.
"We haven't experienced it that many times since I've been here," he said. "But it's really easy to bring them back to Earth on Sunday. Now you can be overly critical about some things that you wouldn't (normally) be overly critical of. My sarcasm will be at its all-time high because anything they do wrong, I can already hear me now, 'Oh, you win one game and that's the way it's gonna be?'"
Weis said the point was not to take pleasure in being cruel but to hammer home a point.
"I told you, last week, that my juice level was high," he said. "I think it'll even be higher this week because I'll be looking for any signs. I'll probably go overboard. Even when there's not a sign, I'll probably try to create one just to make sure we drive into 'em, let's take this and run with it."