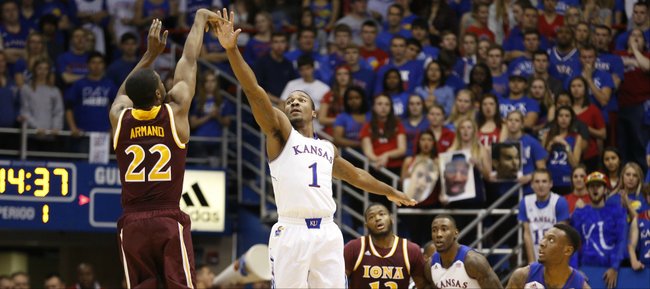 Photo Gallery
KU basketball v. Iona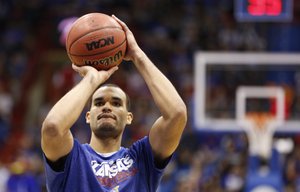 Images from Tuesday night's game between Kansas and Iona at Allen Fieldhouse.
Podcast episode
Bill Self says Joel Embiid and Perry Ellis were by far KU's best players in win over Iona
Podcast episode
Perry Ellis, Joel Embiid and Frank Mason share their thoughts on KU's 20-point win over Iona
Kansas 86, Iona 66
Shortly after Iona's 86-66 men's basketball loss to Kansas University at Allen Fieldhouse on Tuesday night, Gaels coach Tim Cluess took time to set the record straight.
Sure, he was pleased with the way his team competed — particularly in the first half — and, yes, Cluess was thankful for the opportunity to bring his team to Lawrence to face the country's second-ranked team with all that NBA talent, but by no means had anyone on his team predicted an Iona victory.
That thought, however, floated around the Internet all day Tuesday, thanks to an article in which senior guard Sean Armand was quoted as saying the Gaels expected to go to Allen Fieldhouse and win.
"First of all, you know how you writers are," joked Cluess before explaining what was said. "I was sitting right there at the airport, and the question was, 'Are you guys going in there trying to keep it close or what?' And Sean said, 'Every game we play in, we go in to win, and this is not gonna be any different. We respect Kansas, we know how good they are, but if we were here to lose, we shouldn't be playing the game."
Cluess, a hard-nosed coach in his fourth season at Iona, loved the answer and was disappointed that it was taken out of context.
"Unfortunately, they take one bit of it, put that out there, and you (reporters) are very creative," he said. "I knew what the writer wanted to print (that) because he asked me three times. I'm a little bit smoother talking around it. Sean learned a lesson from that. But I do love it. We didn't come here on vacation. We came to play a great team and give it the best shot we could."
For the better part of 30 minutes, the Gaels (1-2) did just that, hanging with deeper, more talented Kansas (3-0) with hot three-point shooting and all-out effort. Kansas led by just five at halftime, 41-36, and the lead remained single digits with as little as 8:24 remaining. But a highlight reel worth of KU offense in the second half allowed the Jayhawks to close on a 25-12 run and caused the Gaels to run out of gas.
"I really thought we gave up too many easy driving lanes, which led to us stepping up and (them) throwing lobs," Cluess said. "Obviously, when that happens, we can't compete with that size for long."
Several of those highlights came in the form of lobs at the rim, and Iona sophomore A.J. English, who led his team with 21 points, said the alley-oops were too much to overcome.
"Watching Kansas for plenty of years, that's what they do," English said. "We understand that we couldn't stop all of them, but we tried to at least keep it to a minimum. (They) gave them a lot of momentum. The crowd went crazy off of the lobs. You could tell that's what the crowd was waiting for."
As for whether he or any of his teammates had any good-natured "thanks a lot" comments for Armand and the contents of his interview, English smiled and shrugged.
"Nah," he said. "He's a captain. I'll live with whatever he says."