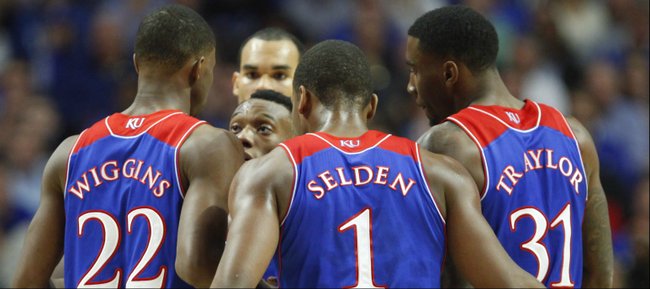 Photo Gallery
Kansas basketball v. Duke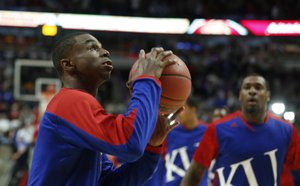 Images from the Champions Classic matchup between the Jayhawks and Blue Devils at the United Center in Chicago.
Document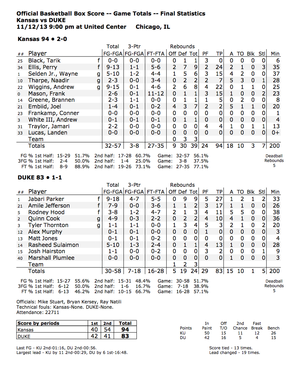 Podcast episode
Bill Self postgame interview vs. Duke
Podcast episode
Perry Ellis and Andrew Wiggins postgame interviews vs. Duke
Chicago — Well, that certainly didn't take long.
Five new starters. Seven freshmen who played before halftime. Ever-elite and fourth-ranked Duke, including even-better-than-advertised Jabari Parker as the opponent. Not even half of the month of November in the books.
And somehow, the players on Bill Self's 11th Kansas team, the most talented, least experienced one he has coached, looked as if they had been playing together since Biddy Basketball.
As freshman Andrew Wiggins sat out the latter portion of the first half with two fouls, classmates Wayne Selden and Frank Mason made sure Duke didn't exploit his absence.
And when the game headed down the back stretch, Wiggins showed why there has been so much fuss about him and showed it in a variety of ways. He proved he's more than a talent, he's a clutch closer.
Riding shotgun to star sophomore Perry Ellis, Wiggins made big play after big play to help Kansas kick to a 94-83 victory in the Champions Classic.
Wiggins not only didn't back down from a big challenge, he embraced it, wanted to keep raising the bar, begged for more on his plate than his coach was willing to give him initially.
"People have made a lot about Andrew's personality because he's so mild-mannered and non-demonstrative in his actions and things look easy to him, but the dude's competitive," Self said. "I kind of wish we played Andrew on Jabari the whole time. I wanted to do that, but i was worried about fouls.
"He came to me all game, 'Let me guard Jabari. I want to guard Jabari.' Midway through the second half, about 13 minutes left, I didn't put him on Jabari. He just went and got him. And and I think he got a piece of his shot. I said, 'Maybe he's right.' "
Wiggins was better equipped than Ellis to chase Parker to the perimeter. Parker, who fouled out with 1:16 left on a fast-break Wiggins dunk, scored 19 of his game-high 27 points in the first half.
Limited to nine first-half minutes after picking up his second foul,
Wiggins scored 16 of his 22 points in the second half. He's a slasher first on a team full of terrific drivers, but the coolest moment from Wiggins came when he noticed a clogged lane and showed confidence in his jumper from the right wing. Jab step right, one dribble left, raises up, swish and Kansas was up 85-81 with 1:33 left.
Selden's forceful presence was felt longer than Wiggins', even if it didn't come in bursts quite as amazing. When Wiggins grew excitable at one point, Selden put his arm on him and brought his head right back into the game. In a game-high 37 minutes, Selden contributed 16 points, six rebounds and four assists. His tip with 2:53 broke a 79-79 tie and he followed it with a huge defensive rebound.
Mason, a jet of backup point guard, made sure Naadir Tharpe's time on the bench with two fouls didn't hurt KU. Fearless with the ball in his hands, Mason pitched in with 15 points and two steals and didn't turn it over once. He made 11 of 12 free throws. Like Wiggins and Selden, he was clutch, fueled by the sellout United Center crowd of 22,711.
"They definitely stepped up, both Wayne and and Frank," Ellis said "They came in and played aggressive. They definitely didn't play like freshmen."
Graceful 7-footer Joel Embiid, another freshman, had seven rebounds and five assists in 20 minutes. Brannen Greene scored five points in eight first-half minutes and watched the rest of the game after his second sloppy pass.