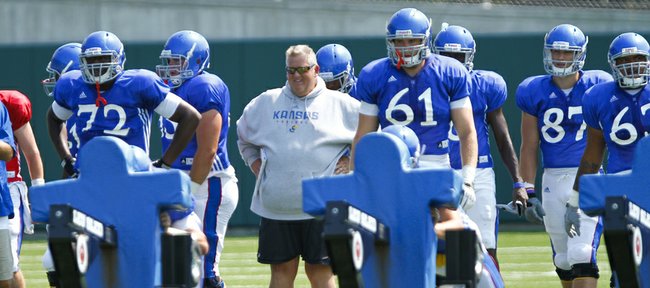 After freeing up his plate by giving offensive-game-planning duties to assistant coaches Ron Powlus and Jeff Blasko, Kansas University head coach Charlie Weis began working more closely with KU's wide receivers, and, just like that, the wide receivers began playing better on Saturdays.
With KU's offensive line continuing to struggle, Weis hopes the same approach with the big boys up front will work this week against Oklahoma State and beyond.
"I think it all starts up front, to be perfectly honest with you," said Weis when asked on Monday morning's Big 12 teleconference about his offense's struggles. "You try to establish some chemistry and get the same guys playing together all the time, but we haven't been very efficient up front."
In addition to making more trips to the end of the practice field where Tim Grunhard works with KU's offensive linemen, Weis identified other alterations that could help and vowed to make them.
After a rough first few weeks of the season, in which KU's depth chart experienced regular tweaks and twists along the offensive line, Weis and the Jayhawks have trotted the same starting five onto the field for the past four weeks. And while that group — from left to right: Pat Lewandowski, Ngalu Fusimalohi, Gavin Howard, Mike Smithburg and Aslam Sterling — showed glimpses of improvement, toughness and consistency, it did not do enough to stick together.
"We haven't made changes personnel-wise in quite some time," Weis said. "This week, we will change that. We will adjust some people around."
While the moves, however large or small, will be made public during Weis' regularly scheduled news conference today, KU's second-year head coach said rearranging the parts only could do so much.
"Changing personnel is one answer. Chemistry is one answer. But when it comes down to it, we just gotta get the guys playing better," he said.
Oklahoma State balanced
Asked Monday what he had seen from Oklahoma State on film, Weis pointed to the Cowboys' ability to beat teams in different manners as the thing that stood out the most.
"Everyone thinks that Okie State is throwing the ball all over the place, but that's really not true," said Weis of KU's next opponent, 3 p.m. Saturday in Stillwater, Okla. "They're running the ball, and they're really running the ball with power. There are a lot of teams that are, by nature, one-dimensional. Oklahoma State is not one of them. ... You can't go in there and say, 'Well, we're just gonna stop the run,' because half the time they're throwing it. You really have your work cut out for you."
It's not just the Cowboys' offense that has Weis concerned.
"First of all (their defense is) getting a bunch of turnovers," he said. "And the field position or defensive scores (are) changing games in a hurry."
Kickoff for WVU set for 11 a.m. on FSN
The Big 12 Conference announced Monday morning that the KU football match-up with West Virginia on Nov. 16 at Memorial Stadium would start at 11 a.m.
The game will be shown on Fox Sports Net.
This week's game — between KU (2-6 overall, 0-5 Big 12) and Oklahoma State (7-1, 4-1), in Stillwater, Okla. — will be televised by FOX Sports One.