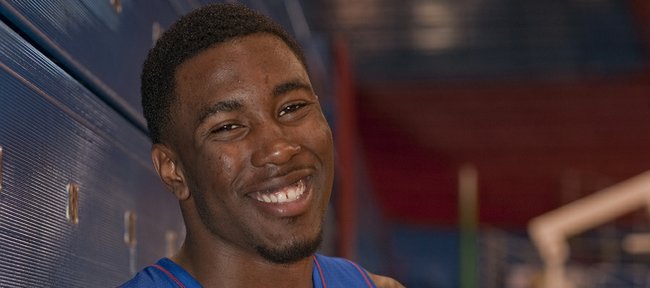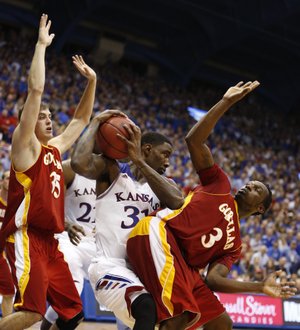 Jamari Traylor joined Kansas University's perennial-powerhouse basketball program and in many ways it was as if practices were in English and he spoke a foreign language. He possessed the raw athletic ability, but didn't have the background to apply those skills with as much purpose as the basketball lifers who surrounded him daily.
"When I first started playing as a junior in high school," Traylor said after a recent practice, "I thought a lot of different things were being thrown at me. Then I got here, and I basically realized I didn't really know much at all. Everything I did know wasn't even a fraction of what I had to know."
Per restrictions put in place by the NCAA Clearinghouse, he and Ben McLemore weren't allowed to participate in basketball activities the first semester of the 2011-2012 season, and their status as second-semester practice-only players was dependent on them showing significant progress academically, which they did.
By then, Traylor's basketball education had fallen farther behind.
Last season, as a red-shirt freshman, Traylor looked like an exceptional athlete trying to become a basketball player. He averaged 9 minutes, 37 seconds of playing time, 2.1 points and 2.1 rebounds. Now he looks more under control, more relaxed, no longer overwhelmed by sharing a gymnasium floor with men who had been playing the game their whole lives.
"I'm definitely getting hold of it," he said. "As far as playing against guys who have been playing all their lives, I guess that kind of motivates me because I've only been playing for X amount of years, and I'm already at the University of Kansas, so I've got a lot more potential in me. I'm trying to reach my ceiling."
It's a high one, especially for a role player.
Every basketball team, especially those loaded with talent at every spot, needs complementary pieces. Most don't bring explosive leaping ability, a sculpted 6-foot-8, 220-pound body, a knack for blocking shots and a quickness that enables him to burst into passing lanes as quickly as a guard. His shooting range is limited, his touch developing. He continues to work on that but knows his minutes will come before his shot will as long as he plays his role in practice and in games.
Part of his job, Traylor indicated, is to introduce the freshmen to the rough realities of the way college basketball is played in the paint by "making them a little tougher, like the guys before me did to me. I try my best to bang around with these guys. I used to be like a pinball in practice with Thomas (Robinson) and Jeff (Withey) taking turns on me. I guess it's my turn to help other guys out by making them tougher."
Traylor defined his role as "definitely bringing energy to the team, be a tremendous rebounder, finish at the basket, be a great defender."
As a red-shirt, he was recipient of painful lessons. Now he dispenses them. Naturally, he enjoys the latter more. And he now knows enough about the game to know that it pays to keep things as simple as possible, which he showed when asked what made Robinson such a monster on the boards.
"Just his motor," Traylor said. "You have to go after every ball. Even if they don't come to you, you have to go after every ball like it would, so on the time it's your time to get it, it's definitely yours. Even when it bounces off the rim and not to you, you've got to have the motor to go get it."
It starts with reading the shooter.
"See if it's going to go short or go long, but it all comes down to how bad you want it," he said.
How badly does Traylor want it?
"I want this team to do great things, so I definitely want it," he said. "It's a little early to be talking about everything, but I know I want to win the Big 12 championship again, and I want to continue and win the whole thing. I think if we continue to work hard, we can do some big things."
Traylor's part in KU achieving big things lies in excelling at the little things.