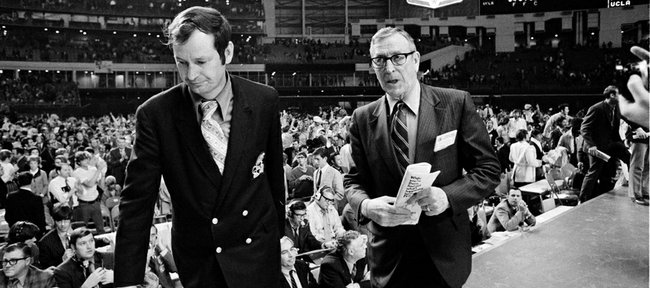 Ted Owens — whose first job was milking and feeding cows, picking up manure and pulling cotton sunup until sundown in the 1930s and 40s on his mom and dad's farm in southwestern Oklahoma — still is entrenched in the working world at the age of 84.
The former Kansas University basketball coach (1964 to '83), who recently completed work on his biography "At the Hang-Up: Seeking Your Purpose, Running the Race, Finishing Strong," is still going strong as an investment business adviser at First Capital Management in Tulsa.
"It's been really good for me. It keeps me active, keeps me alert, keeps me thinking. There's a challenge for you every day, whether in the coaching business or the business world," said Owens, who will speak then sign books at 7 tonight in the Kansas Union Ballroom, which is located on level 5 of the Union (1301 Jayhawk Blvd).
"It gives me something to be interested in every day, keeps me developing relationships with other people. I think one of the reasons my mind is still sharp is I've done that," he added of continuing to work for a paycheck.
Owens, who led KU to a 348-182 (.657) record, six Big Eight titles and two Final Four berths, didn't have the luxury of hitting the golf course exclusively and counting his money after being fired as KU coach in 1983.
"My first year as head coach at Kansas I made $10,000," said Owens, who was elevated off predecessor Dick Harp's staff at the incredibly young age of 34.
"Even after 19 years as head coach, I think I made $53,000," Owens added. "I was feeling kind of sorry for myself. One day I went to hear (former UCLA coaching legend) John Wooden speak. He said, 'My last year in 1975, I made $36,000.' I quit whining after that. I figure John Wooden with 10 national championships only made $36,000, I wasn't going to complain any more."
Owens' memories of his KU days constitute just part of his life story, as chronicled in the 270-page book.
Owens ...
Was a standout basketball player at the University of Oklahoma. In fact, during his senior year (1950-51), his teammates unanimously voted him the player they "would want to be in a fox hole with if you were at war."

Served as a field officer in Korea in 1953.
- Played pro ball in the National Industrial Basketball League, which in those days, paid as well as the NBA.
Was head basketball AND baseball coach at Cameron University in Lawton, Okla., where he's in the school's Hall of Fame. He led Cameron to an undefeated regular season in basketball and a national baseball championship in 1958.
After coaching at KU, his jobs included toiling as a securities broker in Kansas City, serving as head coach at Oral Roberts in Tulsa, head coach of the Fresno (Calif.) Flames in the International Basketball League, scout for the New Jersey Nets, head coach of Maccabi Tel Aviv in Israel, headmaster and hoops coach at Metro Christian Academy in Tulsa and athletic director of St. Leo University in Tampa, Fla. He has been with First Capital since the early 2000s.
Owens, who loved coaching, caught a bad break in that no major-college jobs opened the first two years following his dismissal from KU. During the 1970s, he had declined an offer to speak with University of Texas athletic director Darrell Royal about becoming head coach of the Longhorns.
"I visited with the University of California at Santa Barbara, but with the salary they paid, I wouldn't have found affordable housing in that expensive city," Owens wrote in the book. "I took an intriguing phone call from the athletic director at SW Missouri State in Springfield, a D-II school that planned to become D-1 in two years. Because I had visions of coaching at another large school, I decided against visiting further with them. In retrospect I wish I had considered the position as Springfield is a nice city, and the school, now Missouri State, is an excellent institution."
Owens still keeps in touch with his former players, including longtime Lawrence resident Bud Stallworth, who will introduce him tonight at the Union.
He sheds tears when discussing KU and the fact he used to get choked up when telling his players, "Men, you have a huge advantage tonight because you wear Kansas across your chest."
"I didn't coin that phrase. Coach Harp would occasionally say that to the team. He always reminded the players it was Dr. (Phog) Allen who was the person to talk about that. When I did use it, when I still use it, I become emotional about it. Wearing that jersey is special," said Owens, whose good friend, current KU coach Bill Self, wrote the foreword to the book.
Self and Owens have been roommates on various golfing excursions overseas.
"Bill has been a wonderful friend. He has made me and my family feel so welcome. He and his staff have been terrific not only to me but my players. They've made us all feel part of the Kansas family," Owens said.
He figures to visit with some of his former players tonight, who generally show up for their former coach at such outings in Lawrence.