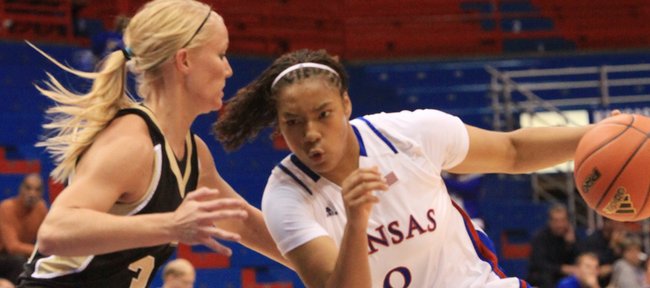 Kansas University coach Bonnie Henrickson was brutally honest with her team in the locker room following an 85-54 exhibition victory over Pittsburg State on Wednesday.
After telling her players they did some nice things in their opener, she warned them they were going to have to be much better in preseason game No. 2.
That's because traditional power Emporia State — today's 2 p.m. opponent at Allen Fieldhouse — is picked to win the MIAA conference and also is ranked No. 5 in the NCAA Division II preseason poll.
"Emporia State's really, really good," Henrickson said.
The Hornets have given the Jayhawks a scare in the past. Though KU is 4-0 all-time against ESU in exhibition play, the Jayhawks needed overtime in 2007 to come away with a 74-64 victory. KU won the teams' most recent matchup, 83-61, in 2011.
In her early viewing of tape, Henrickson saw ESU as a team with legitimate size (the Hornets have two starters over 6-foot-2) and gifted shooters (the team made 36 percent of its threes a year ago).
Henrickson also will get the opportunity to see if a few of her young players can show consistency after impressing in the Jayhawks' first game.
That includes sophomore point guard Lamaria Cole, who finished with 12 points on 6-for-11 shooting with three assists and three turnovers against Pitt State in her first career start.
Henrickson has seen a new Cole this year compared to last. For example, there are times that Cole now takes home her team's practice film, then later approaches Henrickson to see if the two can go over the tape again.
"That didn't exist last year. She wasn't at that level," Henrickson said. " … She has embraced all of what it takes to be really good at this level, at that position."
Cole also has learned to harness her greatest asset: her speed.
In practice, Henrickson has seen the 5-foot-6 guard go from one free-throw line to the other with the ball in a blazing 2.7 seconds.
But that speed also was the reason for many of Cole's problems a year ago. There were times she'd try to go too fast or make a blind spin move that had no chance of working against Big 12 defenders. She ended up registering 16 turnovers in her 45 minutes played.
"(Coach) tells me all the time not to exceed my speed limit," Cole said. "So I try to slow it down and make better decisions."
Today's game also will be a homecoming for former Lawrence High guard Haley Parker, who is entering her senior year at ESU. Parker, who started 13 games and averaged 3 points per game a year ago, scored 11 points in ESU's 94-37 exhibition opener against Central Methodist on Wednesday.