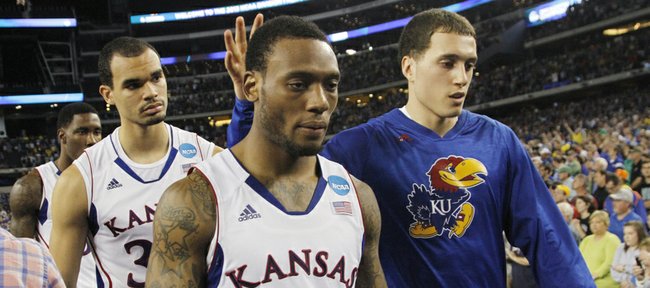 Perry Ellis stared straight ahead in a somber Dallas Cowboys locker room with a pained look on his face Friday night after Kansas University's overtime loss to Michigan in the Sweet 16.
Ellis, who scored eight points and grabbed five rebounds in the Jayhawks' 87-85 defeat, wasn't so sad for himself as much as his mentors — the Jayhawks' four senior starters whose college careers came to a crashing end.
"I just feel bad that we let our seniors down," said Ellis, a 6-foot-8, 225-pound freshman out of Wichita. "We really wanted to let them go out in a great way, and unfortunately we fell short."
Ellis has plenty of games left to play in a Jayhawk jersey, while the college careers of Elijah Johnson, Travis Releford, Jeff Withey and Kevin Young end following a 31-6 senior season. A McDonald's All-American who came on strong late in the season, Ellis finished with freshman numbers of 5.8 points and 3.9 rebounds a game.
Fellow freshman Ben McLemore, who likely will turn pro after scoring 20 points versus Michigan and averaging 15.9 points and 5.2 boards on the season, was equally bummed for his senior pals.
"This is an emotional time. I feel bad for the seniors and thank them for how much they've helped me," McLemore said. "Last year sitting out (as red-shirt) and seeing what they accomplished (in reaching NCAA title game), how far they got, was a great example (for me).
"I enjoyed playing with these guys. We are a family. It was a great team," McLemore added. "I know it's tough for the seniors. It's their last year, but we've all been working so hard since July. It's tough to have it end like this."
Withey is considered a certain first-round NBA Draft pick, while Releford is being mentioned as a possible second-rounder. Johnson and/or Young figure to play for pay in Europe if they do not get drafted in the second round or invited to an NBA team's summer camp.
Withey — he averaged 13.7 points and 8.5 rebounds with 146 blocks in 37 games his senior year — was philosophical after the Jayhawks failed to close out Michigan. KU led by 14 points with 6:50 left and eight at 1:22.
"Sometimes it doesn't work out the way you want," Withey said.
He has high hopes for the 2013-14 Jayhawks, who figure to return just three rotation players in Ellis, point guard Naadir Tharpe and forward Jamari Traylor.
"Naadir is a great player. He will be a great point guard next year. He will have a great career," Withey said of the 5-11 sophomore from Worcester, Mass., who averaged 5.5 points a game, hitting 35 of 106 threes for 33 percent.
A pair of freshmen may back up Tharpe at the point. KU coach Bill Self has signed Frank Mason, 5-11 out Massanutten Military Academy in Woodstock, Va., who is ranked No. 134 nationally by Rivals.com. High-scoring Conner Frankamp, 6-foot out of Wichita North, who is ranked No. 31, is known as a fierce competitor and gym rat who also figures to be in the mix right away.
Seldom-used freshman guard Rio Adams, who has expressed unhappiness on Twitter and Facebook this season, has said he'll be back for a sophomore season, but that remains to be seen. His latest Twitter post Saturday read: "Wonder what god has in store for me from this point on and where I'm going to end up next. the ride was epic...."
Players who transfer out of KU's program usually announce their intentions after season-ending meetings with Self, which are normally held the week after the Final Four.
Traylor, 6-8, 220 freshman from Chicago, averaged 2.1 points, 2.1 rebounds and 9.8 minutes a game with 28 blocks and 17 steals. Self has signed frontcourt player Joel Embiid, 7-foot out of Rock School in Gainesville, Fla., ranked No. 37 nationally. Also, Self has high hopes for Landen Lucas, 6-10, 240 out of Portland, who red-shirted as a freshman this past campaign. Forward Justin Wesley, a senior-to-be, knows the system well and could vie for rotation time depending on the progress of Lucas and the newcomers.
Some outside shooting could come from Andrew White, a 6-6 freshman out of Chester, Va., who hit 10 of 36 threes in his debut season, as well as newcomers Brannen Greene, 6-7 out of Tift County High in Tifton, Ga., ranked No. 25 nationally, and No. 26 Wayne Selden, 6-5 out of Tilton (N.H.) School, who like Ellis is a McDonald's All-American.
KU's four walk-ons — Christian Garrett, Evan Manning, Niko Roberts and Tyler Self — also are eligible to return. One might keep an eye on Manning for potential playing time down the road.
KU is still in the running for No. 1-ranked Andrew Wiggins, a 6-7 forward from Huntington (W.Va.) Prep who is considering KU, Kentucky, North Carolina and Florida State.
"I think they can be better than we were this year, definitely," senior point guard Johnson said.
Self is not ready to close the chapter on this season. He applauds the seniors for their wildly successful careers. Fifth-year senior Releford won 158 games against 27 losses, while Johnson and Withey went 131-19 and Young 63-13.
"What a year ... what a team," Self exclaimed. "This stings now. We'll reflect on it soon, get our legs under us and be real happy with the year."
Positive Twitter talk: Not all Twitter posts from Jayhawks are negative. Lucas stood up for his teammate, Johnson, who had several key blunders that helped Michigan in its comeback victory over KU. Lucas tweeted Friday: "Before I go 2 sleep I just want yall to remember the guy who everyone has things to say bout is the same guy who won us the league @ ISU #EJ" He also tweeted: "Next season starts today."