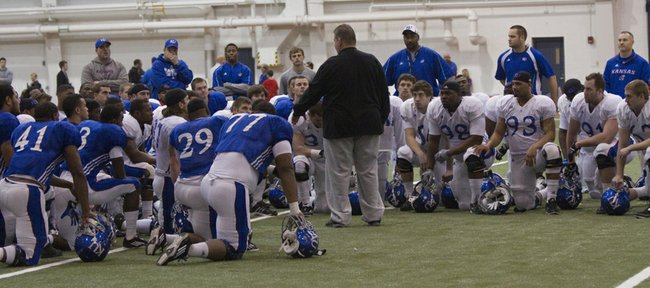 For the first time since 2009, Kansas University football coach Charlie Weis is starting a season in the same place he finished the previous one.
Fired by Notre Dame in 2009 after a five-year run as the leader of the Fighting Irish, Weis became the offensive coordinator with the Kansas City Chiefs in 2010, but he left the area after helping lead the Chiefs to the playoffs. He returned to college football in 2011 at Florida, where he served as the Gators' offensive coordinator before accepting the job at KU in December of 2011.
"I could have stayed at those places too," Weis said. "It just didn't work out that way. I didn't choose to leave Notre Dame; they chose that for me. I went to the Chiefs and my daughter had a bad experience (in Kansas City), so that's why we left there. I went to Florida and really had no intentions of leaving there, but after talking to (KU athletic director) Dr. (Sheahon) Zenger a few times, I just felt like this was a place that I wanted to be, and want to be for a long time. Now, if I want to be here for a long time, there are a lot of things that have to change. One them is we have to start winning more football games. That would be a good place to get to this year."
In many ways, working to improve last season's 1-11 record is what spring football is about for the Jayhawks during Weis' second season in charge. Football was the main emphasis last spring, too, but in addition to worrying about X's and O's, coaching chemistry and player development, Weis had a long list of tasks outside of the game that he made a priority.
"People talk about changing the culture; I don't call it changing the culture, I mean cleaning out the program," he said. "And let's not say that with all a negative vibe, but cleaning out the program meant top to bottom."
In addition to saying goodbye to 29 players — former Jayhawks who transferred, graduated or were dismissed — Weis put a renewed emphasis on academics, accountability and punctuality and did not leave any wiggle room. Although such efforts may not have shown up in the win-loss column, Weis said having such staples in place this spring has made for a much smoother beginning to Year 2.
"They know me and I know them a whole lot better than we did at this time last year," he said. "There's really no gray area any more. It's all black and white. It's this way or that way. There's no, 'How am I gonna look at that?' They know what my reaction's gonna be."
Competition raging
One thing Weis missed throughout his first spring in charge of the Jayhawks was the presence of hardcore position battles throughout the depth chart. There were some, but, for the most part, the separation between the first and second units at this time last year was so vast that Weis had limited options of how he could motivate his guys.
That's not the case any longer.
"We have better competition in two aspects," he said. "You have better competition within your own depth chart on offense and defense and then you have better competition offense against defense. Now you have decent players going against decent players and that makes everybody better. There is competition on each side of the ball and then there's much, much better competition when the offense and defense are going against each other. Much better than it ever was at any time last spring."
Coaching clinic, April 5
Weis and his staff will be hosting their annual football coaches clinic April 5-6 at KU. The two-day clinic, which is open to any coaches interested in attending, will feature access to two practices and several coaching lectures.
For more information, contact assistant director of football operations, Maurice Crum, Jr., via email at mcrum@ku.edu or by calling (785) 864-8203. Registration and a clinic schedule are available online at www.kuathletics.com.
Kids clinic, April 13
The Jayhawks, once again, are planning to host the wildly popular "Train Like a Jayhawk" kid's clinic from 10-11 a.m. on April 13, the morning of the annual spring football game.
The clinic is open to children in grades 1-6 and will feature instruction and drill stations taught by the current Jayhawks. All activity will take place on the KU football practice fields adjacent to the southeast corner of Memorial Stadium. Each participant will receive a free T-shirt.
Following the clinic, the Hy-Vee Hawkzone will be open from 11 a.m. to 1 p.m., with the spring game kicking off at 1 p.m. at Memorial Stadium.
Alumni weekend
Weis and the KU football program will be hosting a barbecue on April 12 for any former KU football players who can make it.
The event, the second of its kind under Weis' leadership, is open to all former players and their families and will take place the evening before KU's annual spring game.
For more information or to RSVP, contact Tracey Dillon at tmdillon@ku.edu or via telephone at (785) 864-3142.