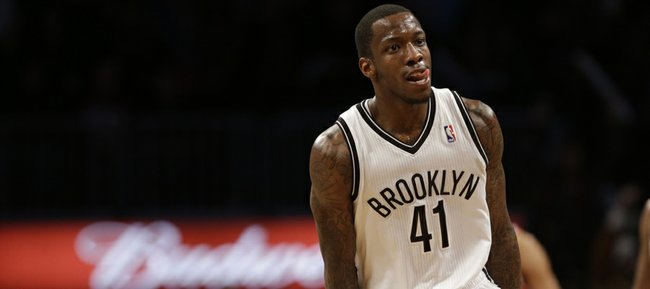 The Brooklyn Nets' signing of point guard Shaun Livingston, agreed to on Saturday, could mean limited minutes for second-year pro Tyshawn Taylor again during the 2013-14 NBA season.
That's not a certainty, however.
Former Kansas University standout Taylor, a second-round pick in the 2012 NBA Draft, enters today's Orlando Summer League opener against Detroit with a chance to impress new Nets head coach Jason Kidd. He figures to choose either Taylor or Livingston as backup to All-Star Deron Williams. Last year's backup lead guard, C.J. Watson, is signing with Indiana.
"This is Tyshawn's chance to show us as a coaching staff that he wants to be the backup. He has every opportunity for that spot, and I'm going to do everything to push him so he can get it," Kidd told the New York Post before the acquisition of Livingston.
Livingston averaged 6.7 points and 3.5 assists in 66 games last year with Cleveland. He started 16 games and logged 22.5 minutes per contest. Taylor averaged 5.8 minutes a game in just 38 games his rookie season with the Nets. He averaged 2.2 points and 0.6 assists.
Taylor scored 12 points and dished two assists while playing 34 minutes in an overtime victory over Indiana in February. He scored four points to open the extra session.
"It's definitely a confidence booster, with the opportunity that I'm good enough to play and good enough to be effective," Taylor told the N.Y. Post. "I think those few games I had (three in which he played 20 or more minutes) definitely helped, and I hope my coaching staff takes that into consideration, too, when they consider playing me.
"I just want to show my coaching staff that I can be a point guard ... make good decisions with the ball, get my teammates involved and just put pressure on the defense. Be a lock-down defender, or a decent one, anyway, and just run the team."
Taylor, who is from Hoboken, N.J., noted that he just wants a fair "opportunity."
"I want to at least be able to compete for it," Taylor told the Post. "I don't want to be looking at the roster and say, 'This guy is here, this guy is here, this guy is here, I'm definitely not going to play.'"
He should definitely garner major minutes in summer league action.
"I want to see him in this situation, this setting, being the leader, that's what I'm pushing. I will lean on him heavily," Kidd told NetsDaily.com. "I'm looking for him to put guys in position offensively and defensively."
Taylor likes freshman: Taylor, who spent some time in Lawrence in June, told Zagsblog.com he's impressed with KU freshman Andrew Wiggins.
"I think the people saying he'll go No. 1 (in draft) next year, that puts a lot of pressure on a young kid, but I think he's had that pressure and been known as that prodigy type of kid for a while, so I think he's embracing it," Taylor said. "He's excited about it and I think coach (Bill) Self is going to put him in the right position to be successful and with the team he's gonna have, they're gonna win a lot of games. They're gonna be on TV a lot, he's gonna get a lot of attention and I don't think he's gonna have to do much to be the No. 1 pick. I think he has the ability to do it. I think he has the ability to play in this league right now."
Of the team, Taylor noted: "Wayne Selden is good. Conner Frankamp impressed me when I played against him. Naadir Tharpe, who was a freshman when I was a senior ... he's come a long way as a proven point guard, Perry Ellis came a long way, so they've got a really good team."
Johnson, Mudiay consider KU, UK: KU and Kentucky are among the schools in the running for blue-chip prospects Stanley Johnson and Emmanuel Mudiay. Johnson, a 6-6 senior small forward from Mater Dei High in Santa Ana, Calif., who is ranked No. 8 nationally by Rivals.com, tells Zagsblog.com he will attend UK's Big Blue Madness on Oct. 18, Arizona Oct. 12 and Florida on Oct. 30. He is also considering KU, Oregon, Duke, USC and UCLA. Mudiay, a 6-5 senior point guard from Prime Prep Academy in Dallas, who is ranked No. 3, will visit Kentucky, likely for Big Blue Madness. He is also considering KU, Arizona, Baylor, N.C. State, SMU and others.
McClure to Late Night: King McClure, a 6-3 junior shooting guard from Dallas' Triple A Academy who is ranked No. 16 in the Class of 2015 by Rivals.com, will make an unofficial visit to KU for the Oct. 4 Late Night in the Phog, Rivals.com reports. Also on his list: Arkansas, Baylor, Duke, Oklahoma, Oklahoma State, Texas, Indiana, Florida and others.