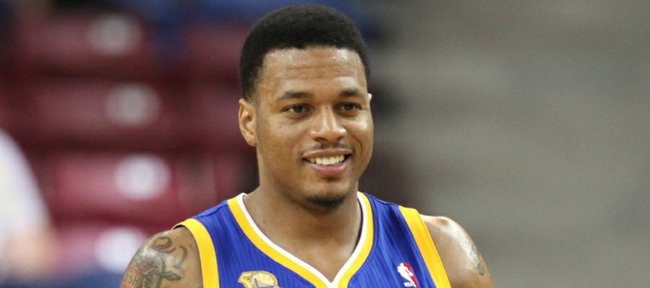 Former Kansas University guard/forward Brandon Rush — who tore an anterior cruciate ligament just two games into the 2012-13 season — will make his comeback with the Utah Jazz.
The 27-year-old Kansas City, Mo., native, who started on KU's 2008 NCAA title team, on Friday was traded from Golden State to Utah with Richard Jefferson, Andris Biedrins and two first-round draft picks (2014, 2017). In return, the Warriors received Utah shooting guard Kevin Murphy. More importantly, Golden State cleared $24 million salary-cap space to help in its pursuit of Denver free-agent guard Andre Iguodala.
Golden State, according to Yahoo!Sports, will sign Iguodala to a four-year, $48 million contract. The Jazz, for financial reasons, also renounced the rights to Paul Millsap and Al Jefferson, who is headed to Charlotte.
Rush, who will be paid $4 million this season in the final year of his current two-year contract, played three seasons for Indiana and two for Golden State with career averages of 9.1 points and 3.6 rebounds per game.
"Thanks for everything Warrior fans. Ready for my new journey with the Utah Jazz," Rush said Friday night on Twitter.
Pacers release Releford: The Indiana Pacers on Friday cut ex-KU guard Travis Releford, who was trying to secure a spot on the Pacers' Orlando Pro summer-league roster.
Releford is scheduled to play with Denver in the Las Vegas summer league July 12-22. If he's cut by the Nuggets, he'll play in Belgium next season.
"In Denver for the next five days getting ready for summer league. Very excited and blessed for this opportunity," Releford tweeted Friday.
Taylor in summer league: Former KU guard Tyshawn Taylor will play for the Brooklyn Nets in the Orlando summer league. He's the only Jayhawk on an Orlando summer-league roster. Kansas State's Rodney McGruder is playing for Orlando and Jordan Henriquez for Houston. Taylor is under contract for next season with the Nets. He'll be paid $788,872 after making $473,604 last season.