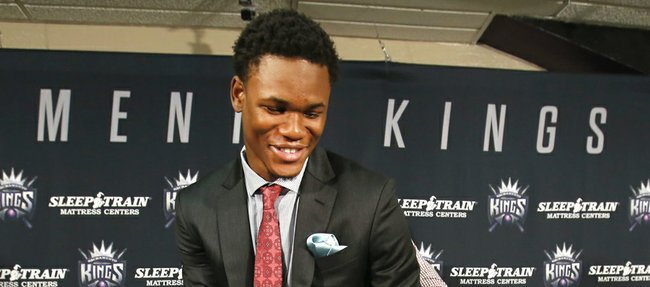 Ben McLemore, who wore jersey No. 23 his one season at Kansas University, has selected No. 16 for his rookie campaign with the Sacramento Kings.
"No. 16 means a lot in different ways. It can also mean 7 — lucky number," former KU guard McLemore said at his introductory news conference on Monday in Sacramento, Calif. He was the No. 7 (or 1 plus 6) overall pick in Thursday's NBA Draft.
"I've been wearing No. 23 all my life — my two brothers and three sisters. I thought of choosing a number that could symbolize a part of me. I chose 16 (in honor of) my mom (Sonya Reid) and her six kids. It definitely has a meaning to it, so I'm going to rock this for the rest of my time with the Kings (while veteran Marcus Thornton keeps 23)."
McLemore was joined at the news conference by the Kings' second-round pick, Ray McCallum Jr., son of the University of Detroit coach.
"I can't resist my line I had on draft night, 'The Macs in Sac.' Here they are," general manager Pete D'Alessandro said.
D'Alessandro, new Kings owner Vivek Ranadive and coach Michael Malone said they were thrilled to acquire KU's McLemore.
"Ben's story is the stuff of legend. This is the story of triumph and hard work over adversity — success against all odds. This is the stuff movies are made of," Ranadive said of McLemore making it big after growing up in poverty in St. Louis.
"This is a young man (who), when he was a kid, didn't know where his next meal was going to come from, and he went on to become part of and shine at one of the country's great basketball programs. I know what Ben's motto is, 'Stay humble, stay hungry,' and these are words we can live by, as well.
"I know you were known as 'The Savage,' so we want you to be humble and hungry, but we also want you to be 'The Savage,'" Ranadive added in speaking to McLemore directly at the press session.
Ranadive grew up poor in India before graduating from MIT and Harvard and founding TIBCO Software in Silicon Valley.
"You can't help but love a story like that. This is the ultimate David vs. Goliath story. And in many ways, the Sacramento story was a David vs. Goliath story, and we prevailed," said Ranadive, who saved the team from moving to Seattle.
McLemore was asked to identify the individuals who inspired him to get to this level.
"I think it's just the people around me — my family members. In high school, I looked up to guys like Paul Pierce (former KU player and Boston Celtics legend) and LeBron (James, two-time NBA champion), but at the same time, I just had great people around me, and my family members all played basketball. So I felt it was the thing that kept me going — I just picked up the ball and kept playing and grew taller. I just stayed in the gym, working hard each and every day to get where I am. I'm just happy I'm at this point in my life."
Kings coach Malone loves McLemore's game.
"The thing that excites me about Ben is he can shoot it from deep. We shot yesterday, and he was very impressive in how he shot — stationary, on the move, deep — as well as his athleticism and explosion, getting to the basket and playing above the rim, which is something that really excites me and I'm sure our whole fan base," Malone said.
McLemore will earn $2,413,300 his rookie season, $2,521,900 his second year and $2,630,500 his third year.
"It's going to mean a lot," McLemore said of his sudden wealth. "At the end of the day, it will not change the person I am, a humble person. I'm a person who will like to give back. Hopefully down the line I will have a chance to give back to my community. Now just to say I can take care of my family is a blessing and dream come true."
'52 team members to be inducted: Three members of the 1952 Kansas men's basketball national championship team — Al Kelley, Bob Kenney and Bill Lienhard — will be inducted into the Kansas Sports Hall of Fame (KSHOF) in ceremonies on Oct. 6 at the Hall in the Wichita Boathouse.

Others to be inducted: Wichita Carroll's All-America defensive end Mike Bell, Pittsburg State's three-time national football coach-of-the-year Chuck Broyles, K-State's two-time All-America place kicker Martín Gramática and Clay Center's two-time All-American basketball player Nicole Ohlde of Kansas State. Kentucky basketball All-American and former Boston Celtic Bob Brannum of Winfield will be enshrined posthumously.
Ohio makes it official: Ohio University coach Jim Christian officially added former KU guard Anrio Adams to the Bobcat roster Monday. Seattle native Adams will sit out the 2013-14 season and will have three years of eligibility remaining for the Bobcats beginning in 2014-15.
"We're excited to have Rio as part of our program," Christian said. "He's played on two state championship teams in high school and at one of the preeminent programs in the country at Kansas. We're looking forward to working with him over the next four years."
— The Associated Press contributed to this report