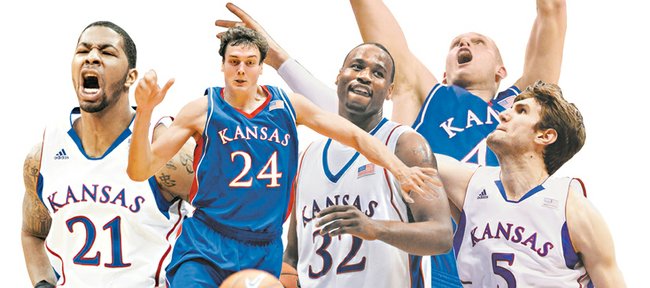 Because of his larger-than-life status as an icon in both Kansas University basketball and NBA history, former Jayhawk Wilt Chamberlain often is the first and sometimes only center than comes to mind when talking about those who played the position at KU.
While that seems fair given Chamberlain's incredible career and the fact that he changed the game in so many ways, plenty of quality centers have come through Kansas in the days since Chamberlain left, many in the past 10 years.
For the fifth installment of our summer series, which looks back at the top players and moments of the Bill Self era thus far, we size up the big guys who protected the rim and made life miserable for opposing offenses.
Although the four writers taking part in this series picked the same five guys for the first time this summer — three even went with the same order — they did so for different reasons and from slightly different perspectives.
Here's a look:
Gary Bedore
1. Jeff Withey: Withey didn't just block shots, he knocked them into oblivion. It's amazing the force of a Jeff Withey blocked shot. He was ineffective after arriving as a transfer from Arizona, ultimately turning into the best shot blocker not named Wilt in KU history. Nice guy, too.
2. Cole Aldrich: A somewhat eccentric player, reminded me a little of Greg Ostertag in the personality department (I said "a little"). The player with the missing front tooth also was a human eraser with block after block. His NBA future is somewhat in doubt for some reason, maybe his offensive game.
3. Markieff Morris: The brother of Marcus so far has been a better NBA player than Marcus. Has a nice touch on his jumper for a big guy. Like Marcus, was a bit immature at times in college, but certainly effective if not spectacular.
4. Sasha Kaun: Kaun, like Russell Robinson, could be considered the heart and soul of the 2008 NCAA title team. Sasha truly wanted to win. Love the picture of him on the mural outside the northwest tunnel of the fieldhouse. He's a winner. It would be nice to see him play in the NBA a few years, but he has too good a contract in his native Russia.
5. Darnell Jackson: The big teddy bear was a vicious force on the court. He came a long way from the unpolished player who arrived as a freshman. He's overcome a lot of heartbreak in his life to be a good pro player and good man.
Tom Keegan
1. Jeff Withey: Tantamount to a 7-foot stop sign, Withey completely changed the way teams tried to score. His shot-blocking ability consistently demoralized the opposition.
2. Cole Aldrich: His powerful dunks were surpassed only by his intimidating blocked shots. Aldrich worked hard on extending his shooting range, and it paid off.
3. Markieff Morris: Terrific passer, decent shot-blocker, physical defender, strong rebounder. And he had a decent set-shot from three-point range. Caught everything that came his way.
4. Sasha Kaun: Simply would not allow opposing big men to establish position and made them uncomfortable throughout the game. So-so hands and awkward shot kept him from being a scoring force, but he set punishing screens.
5. Darnell Jackson: He ran the floor hard, wasn't afraid to use his muscles and developed a reliable 15-foot jumper. Didn't become a starter until his senior year.
Matt Tait
1. Jeff Withey: I've always said this about Withey, and I think it's the main reason I rank him No. 1 here: Cole Aldrich was an incredible shot-blocker and took great pride in rejecting shots, but Withey took great pride in trying to take an opponent's soul. Not content to simply redirect the ball away from its intended target, Withey so often attacked shots with violence, which kept points off the board and made players think twice about going at him again.
2. Cole Aldrich: His triple-double in the NCAA Tournament against Dayton in 2009 was one of the most impressive and memorable performances in KU basketball history. There was not a whole lot of flash to Aldrich's game, but there was plenty of substance. As a true freshman, before he became a force and the anchor of the KU defense, Aldrich broke out by thoroughly outplaying UNC forward Tyler Hansbrough in the 2008 Final Four.
3. Markieff Morris: "Kieff" might be the most underrated Jayhawk of all-time. He was not often asked to utilize his complete game in college and, instead, served as a more powerful inside presence. Still, he was a gifted and versatile offensive player and played defense with great passion.
4. Sasha Kaun: Few KU players have looked as if they worked so hard out there on the floor. The Jayhawks never had to question whether Kaun gave everything he had. Good game or bad game, that showed all over his face every time out.
5. Darnell Jackson: One of the few true enforcers that KU has fielded in the past decade, Jackson never shied away from contact and improved as much from his junior to senior season as any player anywhere. Strictly a role player for much of his first three seasons, Jackson became a key member of the 2008 title team and had moments when he looked like the most important player on the floor.
Jesse Newell
1. Cole Aldrich: According to Basketball-Reference's Win Share statistic, Aldrich's 2008-09 season was the best by a Jayhawk in Self's 10 seasons. The year after KU won the title, Aldrich was the biggest reason KU continued its Big 12 title streak, as he made 60 percent of his twos, was a top-25 shot-blocker and a top-100 offensive and defensive rebounder. His lack of success in the pros doesn't take away from the impact he made for the Jayhawks.
2. Jeff Withey: I've never seen a better shot-blocker in college, and Withey's impact went even deeper than his raw stats. Though he posted top-five block percentages in his last two years, he altered many others and also had a knack for deflecting his rejections to his teammates. Withey developed into a good-but-not-dominant scorer and was a strong-but-not-exceptional rebounder, which puts him just behind Aldrich in these rankings.
3. Darnell Jackson: Because of the talent around him, his 2007-08 season — the ninth-best in the Self era according to the Win Share stat — often gets overlooked. That year, Jackson made 63 percent of his twos, posted top-250 offensive and defensive rebounding numbers and also had the team's second-best turnover rate.
4. Markieff Morris: He had a good sophomore year before breaking out his junior year. That season, he finished 17th nationally in effective field-goal percentage and in the top 60 in both offensive and defensive rebounding percentages. As a center, he also blocked five percent of opponents' twos while making 42 percent of his three-point attempts.
5. Sasha Kaun: A solid four-year contributor, Kaun never became a reliable scorer but still was able to provide plenty of offensive rebounding and blocks, all while keeping his turnovers low.