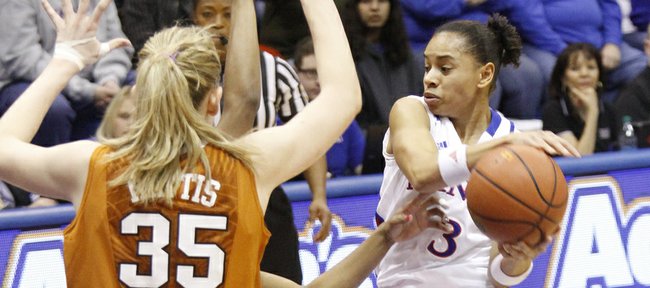 Photo Gallery
KU women vs. Texas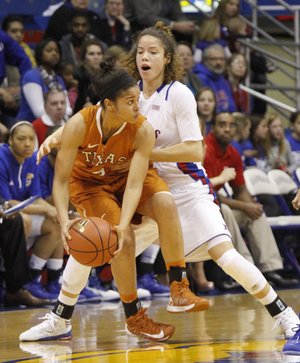 The Kanas women's basketball team defeated the Texas Longhorns 76-38 Wed, Jan. 23, 2013, at Allen Fieldhouse.
Document
Nearly everyone has heard the classic line "Don't mess with Texas." But very little has been discovered about what happens when a team messes up Texas.
Kansas University's women's basketball team did just that Wednesday night at Allen Fieldhouse, unleashing an unusual 76-38 beating on the team in burnt orange and snapping a three-game conference losing streak in the process.
Senior point guard Angel Goodrich led the Jayhawks with 20 points, six assists and five rebounds and became the 26th player in program history to reach 1,000 points in a career.
Of all of Goodrich's highlight hoops during the past several years, the bucket that put her over the top looked very un-Goodrich-like. It was a three-pointer from the right wing that hit three parts of the rim and two spots on the backboard before falling through, and Goodrich responded to it with a shrug of her shoulders and a roll of her eyes as if to say, "Finally."
The shot, one of a red-hot 10-of-21 team performance from downtown, put the Jayhawks up 19-4 with 9:46 to play in the first half. But Goodrich's reaction had nothing to do with joining the 1,000-point club.
"I was just like, 'Golly,'" she said. "'Finally, it went in.' I wasn't even thinking about that being the 1,000-point shot."
With Goodrich leading the way, the Jayhawks (12-5 overall, 3-3 Big 12) dominated Texas (7-11, 0-7) in a way that had been done very few times before. Throughout the first half, the Jayhawks had their way with the Longhorns inside and out.
During one possession, Goodrich swiped at a crossover dribble by UT's Celina Rodrigo and forced a jump ball. Possession went to the Jayhawks. A few minutes later, senior forward Carolyn Davis (18 points, six rebounds) had a shot at three straight old-fashioned three-point plays, all of which came on assists from different teammates. Davis converted two of the three free throws but missed the last. It hardly mattered. Davis' mini-surge on the offensive end came just a couple of minutes after she blocked UT's Gigi Mazionyte while standing flat-footed, and the Jayhawks roared to a 46-12 halftime lead.
"I thought we set the tone early," KU coach Bonnie Henrickson said. "We played confidently, we played aggressively, and we really had a good sense of urgency."
Added UT coach Karen Aston: "I think you always want to commend a team that had that kind of performance against you, so I want to do that. Kansas was good tonight. But that was just an unacceptable performance on our part in the first half."
To be fair, the Longhorns were playing without three starters, including their top two scorers, Chassidy Fussell and Nneka Enemkpali, who were serving one-game suspensions for violating team rules.
Henrickson acknowledged that UT was short-handed but said she was proud of the way her players did not allow that to cut into their intensity.
"I thought we still competed and played hard," Henrickson said.
Added Goodrich, who seemed more relieved about snapping the losing streak than reaching 1,000 points: "The 1,000-point club, it's a great honor, and it means a lot to me, but just playing and having fun and getting a win, that felt great, especially after three losses."
The Jayhawks return to action at 8 p.m. Saturday, when they host Oklahoma State.