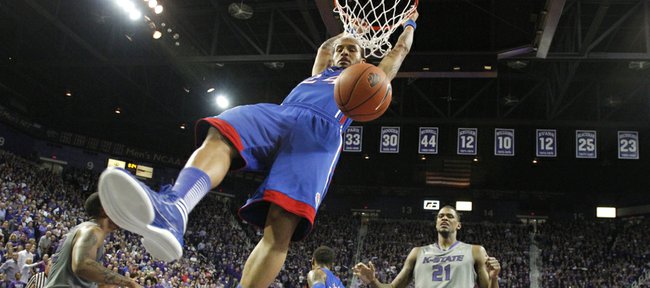 So far, the 2012-13 Kansas University men's basketball team shares an important trait with last year's NCAA runner-up squad.
"The biggest similarity is last year's team thought it should win, and this year's team thinks it should win. That doesn't mean we are a really good team by any stretch. We get in certain situations, and they enjoy that," KU coach Bill Self said on Wednesday's Hawk Talk radio show.
"Hopefully that will continue to be the case. Although we can't live on borrowed time all the time, guys have played well when it has counted the most."
The Jayhawks — 17-1 overall and 5-0 in the Big 12, compared to last year's 15-3 and 5-0 at the same point — have had a batch of nailbiters, as they did a year ago.
KU, which clipped Kansas State, 59-55, on Tuesday in Manhattan, erased an 11-point second-half deficit to win, 64-59, at Texas on Saturday. The Jayhawks also led by two at halftime in a 14-point victory at Texas Tech and needed a last-second three-pointer by Ben McLemore to force overtime and ultimately win, 97-89, at home versus Iowa State.
Aside from that do-whatever-it-takes-to-win-mentality, "It's totally different," Self said of the two seasons.
"We don't have a go-to guy. If you asked me right now, 'OK, who do we run a play (for) that we positively want to shoot the last shot?' I'd say it's situational depending on how people are guarding us or what we need to do now in that situation. Whereas last year, hey, we were going to get the ball to Tyshawn (Taylor), and he was either going to do it or get it to Thomas (Robinson), and he was going to do it. We are different in that regard. We have a little bit more balance. Both teams defend well. We are getting better at rebounding the ball."
The Jayhawks on Tuesday were able to remain the league's only undefeated team while handing the Wildcats their first league loss.
"I thought Travis (Releford) was the best player in the game," Self said of the fifth-year senior who hit five of six shots (two of three threes) and scored 12 points while holding Rodney McGruder to 13 points off 4-of-12 shooting (3-of-9 from three). "It means so much to him playing over here. He went 4-1 (at Bramlage Coliseum during his career). He did a great job on Rodney, who moves without the ball better than anybody in the league. We kept him out of the lane. It was team-effort guarding him.
"Travis was with him step-for-step," Self added. "He (McGruder) got free a couple times. Over the course of 35 minutes that Travis guarded him, he didn't get freed nearly as often as what he has been. He's best when he can attack the lane, get in the paint and get to the free-throw line, curl screens, things like that. Trav played smart. He did a real nice job."
The unlikely KSU culprit was Shane Southwell, who had 19 points, hitting five of 11 threes.
"We knew he was capable of making a (three-point) shot. He made 16 on the year," Self said. "He was 5-of-11 to keep them in the game when I thought we defended all other aspects except transition. We were bad in transition the first half.
"It was an unbelievable win," Self added, "a tough grind-it-out win. If we could just tighten up a few things ... we are not playing as bad offense as what some might think. We've played real good defensive teams. We're just not making shots. We've got to get a little rhythm making shots, but defense and rebounding usually win on the road, and we were terrific in both areas."
KU, which held KSU to 35.1 percent shooting and outrebounded the Wildcats 31-28, scored in the 60s four of the past five games, prior to the 59-pointer vs. KSU.
"The law of averages is you have games when you shoot 40 percent sometimes," Self said, "but in games where people are well-coached and scout ... it's like NCAA Tournament games where you've got to have guys make plays when it counts the most and play to principles. Our guys down the stretch believe they are going to win. It speaks to their toughness and experience."
KU will meet Oklahoma (13-4, 4-1) at 3 p.m. Saturday in Allen Fieldhouse.