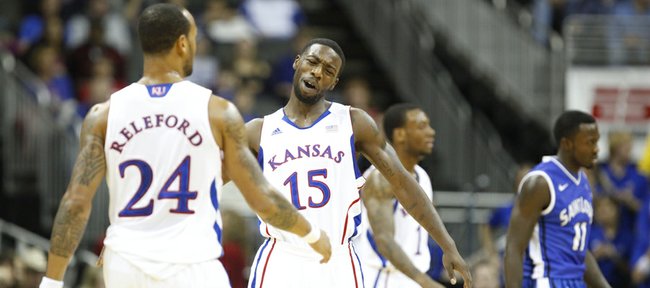 Kansas University senior Elijah Johnson has not suffered a case of the jitters at this week's Portsmouth Invitational for NBA prospects in Virginia.
"I never even thought of it. A lot of our practices (at KU) consist of NBA people being there," the combo guard from Las Vegas told hoopsworld.com. "I look at them (NBA scouts) as part of the crowd. If you pay attention to them, they can make you nervous. Maybe some players did. I didn't even think about it."
Johnson scored seven points off 3-of-7 shooting (1-of-3 on threes) with eight rebounds, three assists and one turnover while playing 33 minutes in helping his K&D; Round Landscaping team to a first-round PIT victory. Johnson also scored five points off 2-of-6 shooting (1-for-4 on threes) with four assists, three turnovers and two rebounds in 26 minutes in a semifinal-round win.
"I need to do a better job of getting my teammates the ball in position where they can do something with it, instead of giving it to them at the wrong times, too early or too late," said Johnson, who is considered a possible second-round pick in the June draft. "I need to make better decisions for them."
Asked if there's an NBA player he patterns himself after, Johnson said: "I can't really say that. A player I definitely respect more (than) everybody else ... that's (Brooklyn's) Deron Williams, the way he makes the game in slow motion. It's at his pace all the time. I think it's too easy for him, almost."
KU senior guard Travis Releford, who is playing for Brown's Restaurant, scored eight points off 4-of-10 shooting and grabbed six rebounds while playing 24 minutes in a first-round PIT victory. Releford scored 10 points off 4-of-12 shooting (2-for-3 from three) with two rebounds, two assists and one turnover in 27 minutes in Friday's second-round win.
The teams of Releford and Johnson will meet in today's finals.
Of Kansas Citian Releford, NBA.com wrote: "Though he hasn't been ignored, Releford never played a starring role in four seasons at Kansas and probably never will on any team in any league. That's not to say he doesn't have a chance to play in the NBA. Releford is a rarity in today's game — a guy who knows what he is and doesn't deviate from it. Thursday's game was a prime example. He ran the floor and got some easy baskets. He made the extra pass when the situation called for it. He took good shots. He played like himself. While it's doubtful he'll hear his name called on Draft Night, he's a guy who can make an NBA team in the right spot."
Releford, by the way, measured 6-foot-41⁄4, 204 pounds (with a 99-inch reach and 81.5-inch wingspan) at the tourney. Johnson measured 6-foot-21⁄2, 193 pounds (with a 97.5-inch reach and 76.5-inch wingspan).
Jordan Brand game tonight: Future KU players Joel Embiid and Wayne Selden will play in the 2013 Jordan Brand Classic at 7 tonight at Barclays Center in Brooklyn, N.Y. The game will be shown on ESPN2. Selden, who is ranked No. 26 nationally by Rivals.com, is a 6-5 shooting guard from Tilton (N.H.) School; Embiid, who is ranked No. 37, is a 7-foot center from Rock School in Gainesville, Fla.
Best in 21st century: Collegespun.com has deemed KU the most successful college basketball team in the 21st century, based on performance in the NCAA Tournament. A team receives 16 points for an NCAA title, 12 for a title-game loss, eight for a Final Four loss, four for an Elite Eight loss; two for a Sweet 16 loss; one for a round of 32 loss; and zero for round of 64 loss.
KU wound up No. 1 with 68 points. North Carolina was second (64), Michigan State (63) third, and Duke and Florida tied for fourth (59).